APN73 returns for the fourth season to Milan Fashion Week to present COSMIC GRUNGE, its FW22 collection
A PERSONAL NOTE 73's Fall/winter 2022 collection will be presented within Milan Fashion week's official show calendar. On January the 18th, COSMIC GRUNGE, the fashion film created for the event, will be broadcasted on CNMI platform (milanofash-ionweek.cameramoda.it).
For the fourth consecutive season, APN73, acronym of A PERSONAL NOTE 73, who de-buted in Milan calendar in July 2020 on the occasion of Milan Digital Fashion Week, will present a COED collection at Milan Menswear Fashion Week. The Chinese brand born in 2019 from the partnership between Italian creative director Andrea Pompilio and fashion multinational JNBY will join once again Milan's calendar in a digital format.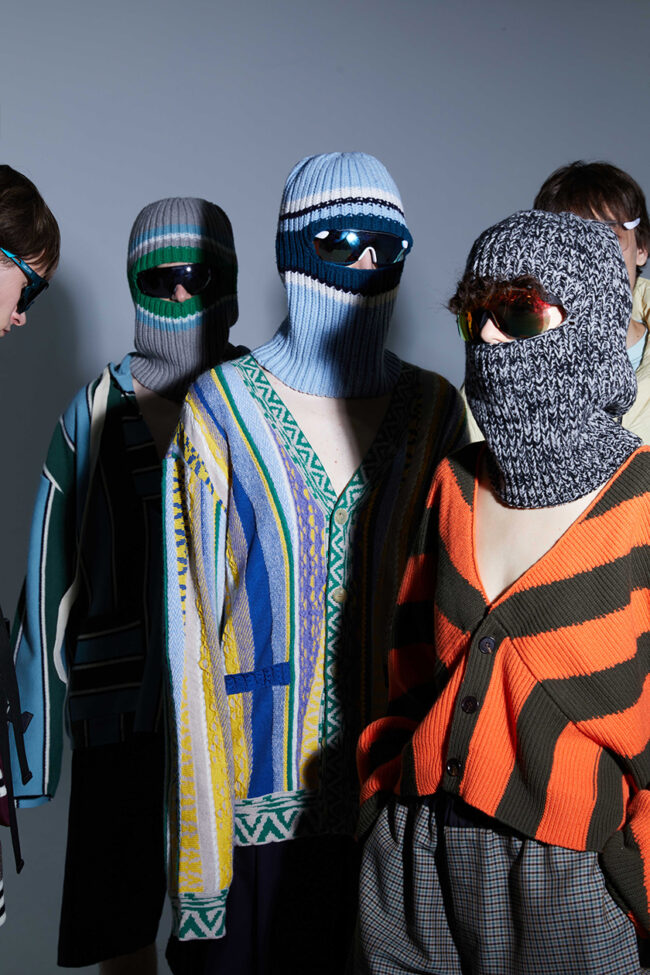 APN73-A PERSONAL NOTE 73 celebrates once again the blend of Italian tailoring and traditions with a contemporary urban, casual and relaxed style and, with FW22, pays tribute to Andrea's youth and to the 90's American grunge mood.
Titled COSMIC GRUNGE, a clear reference to one of the most popular hits of the those years, Jamiroquai's Cosmic Girls, the collection will combine native references with outdoor elements and features baggy shapes and very relaxed silhouettes.
Once again the seasonal inspiration is blended with traditional Italian flavour inspired stripes and check patterns and with reference to the modern tailoring signature of Pompilio's work. Bold contrasts of clashing colours, patterns and styles reference the iconic APN73-A PER-SONAL NOTE 73's DNA.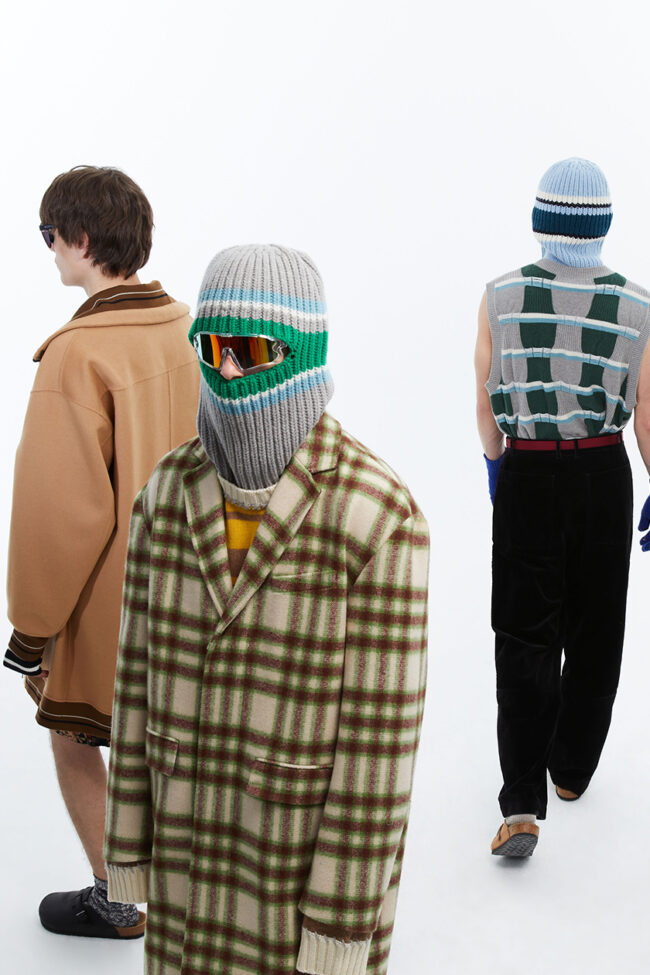 A PERSONAL NOTE 73's FW22 collection is presented through the lenses of fashion film COSMIC GRUNGE, which, shot in Shanghai and directed by Chinese director 47JAS-PER, COSMIC GRUNGE recall the hectic flow and lively rhythm of the brand's previous fashion films. The movie reference the paced and lively rhythm of urban life in Chinese megalopolis. Suspended in a white and neutral space, models walk a chaotic runway pre-senting a 90's grunge inspired APN73-A PERSONAL NOTE 73's FW22 collection, featuring the brand's iconic bold contrasts and its clash of colors, patterns and styles.
Against the white setting, the bright colours and strong patterns of the winter collection stand out loudly. An intentionally chaotic choreography to present intentionally unexpected and unusual juxtapositions of styles. A mix of references spanning native, graffiti, outdoor and formalwear are combined come together to create the A PERSONAL NOTE 73 FW22's new and contemporary urban grunge.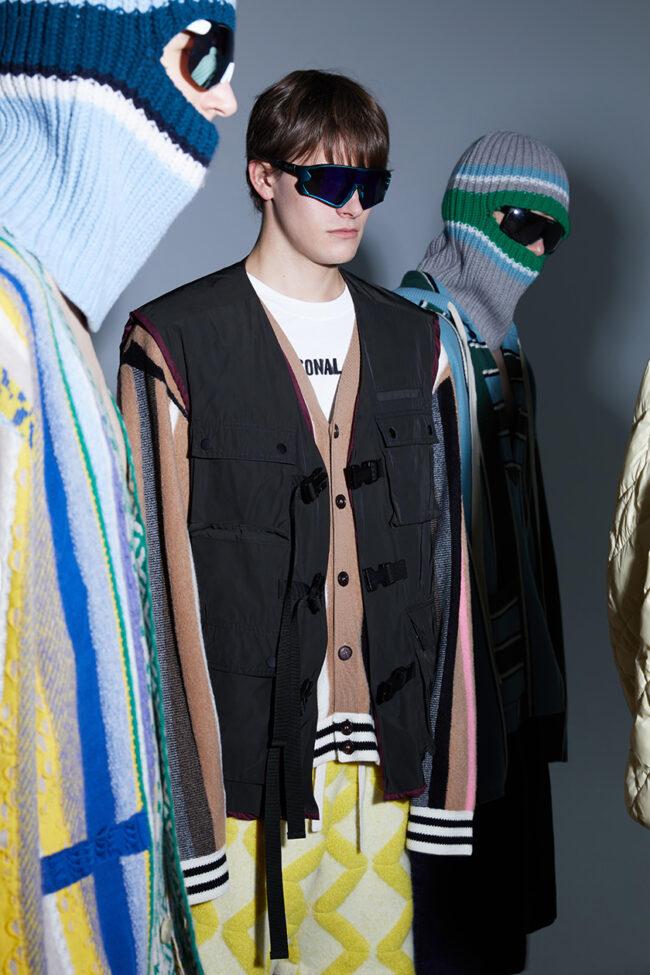 Knitwear plays the role of protagonist in a collection which marks a step further in APN73 A PERSONAL NOTE 73's celebration of beyond genders fashion philosophy approach, a sig-nature of APN73-A PERSONAL NOTE 73 since the outsets. Knitwear is reinvented across the full wardrobe category range from pull-overs, vests and outerwear, to pants, bermudas and accessories, featuring complex constructions of vertical stripes and geometric jac-quards.
A new grunge where every style claims its unique independence and identity. Through a marked over-layering and oversized styling and the clever use of wintery outdoor accesso-ries the gender identity of the models is almost hidden to express a profound transversality of gender. Menswear wool boucle Chanel jackets and floral jacquard bermudas. Womens-wear pants with a strong menswear tailoring design with pence mixed with cropped knitwear or oversize pleated bermudas. The usual contrast between tailoring and formal fabrics and casualwear realised with with technical and functional fabrics.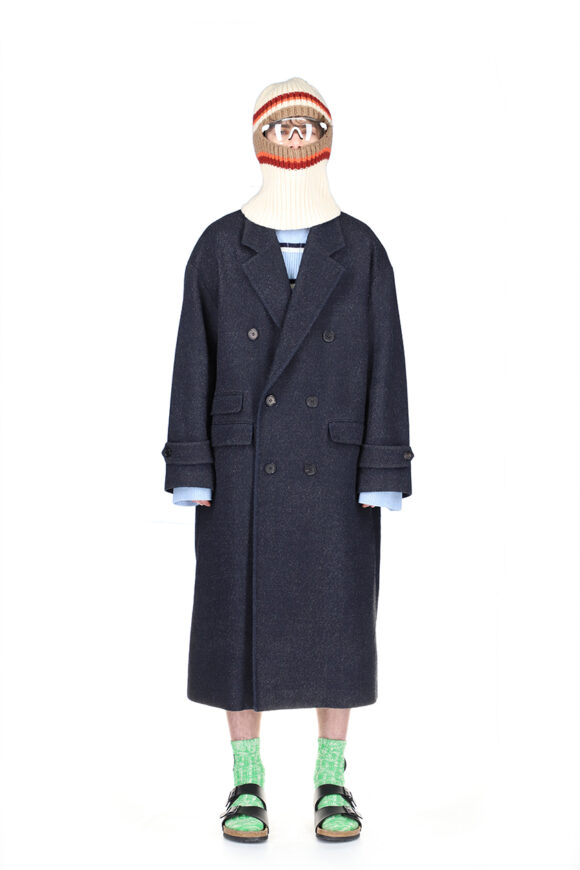 Similarly, FW22 places more emphasis on a no season attitude, which is expressed through unusual jacquard textures and fabric weights' juxtapositions and through creative styling. A melting pot of winter and warm fabrics such as velvet and technical wool styles are styled with knitwear bermudas and sandals wore with heavy and thick wool socks.
Knitwear and wool are combined with technical fabrics applied to outdoor styles including nylon parkas and fisherman jackets.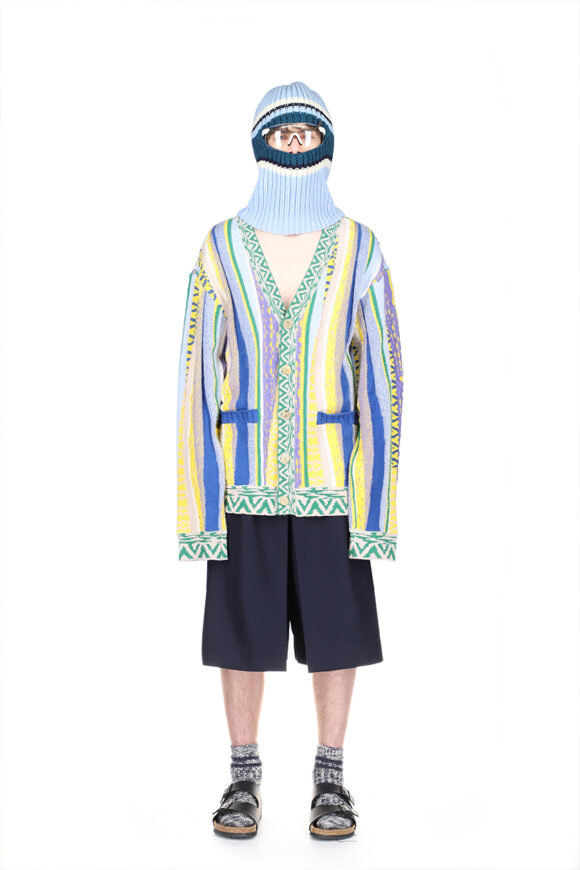 The palette blends hints of natural warm colours spanning burgundy, brown, rust camel, beige, and wintery foundation shades such as black, military green and grey, mixing them with them usual explosion of contrast colours as light and fluo yellow, military green and emerald green, pink and red, bold orange.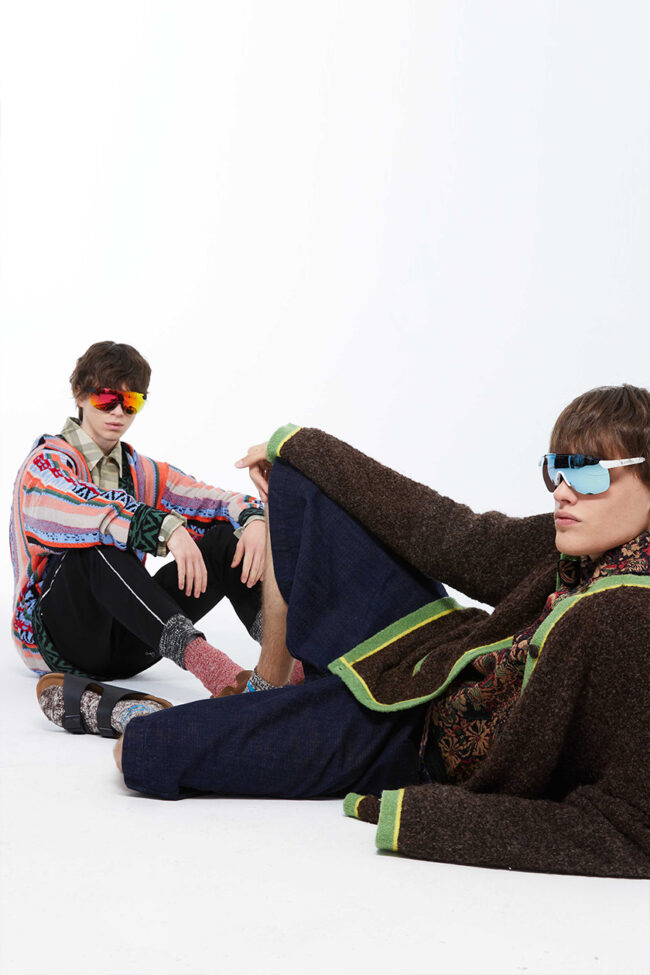 Video Credits
Producer: LeekingA
Producer Assistant: Yichao
Photographer: Lyuo
Director: 47JASPER
Camera Man: Qifan WU
Light: Acorss
Executive Producer: Zichen Zhu
Make up:Yinuo Zhou
Hairstylist: Sheng Long
Model:Nicole Marci Cesar Gero Danik
Props: Junjie
Credits: © Courtesy of Uncnd