Celine Homme SS21 Channels E-Boys and Skaters in Confinement: Hedi Slimane's latest takes to the racetrack in "The Dancing Kid".
The Dancing Kid a teen romance
The concept for the dancing kid took hold in December 2019. Attuned to new adolescent codes, Hedi Slimane photographed Noen Eubanks in London. It became the start of the "portrait of a teen idol" series. In early 2020, this Collection was being  prepared in parallel with the Winter Collection.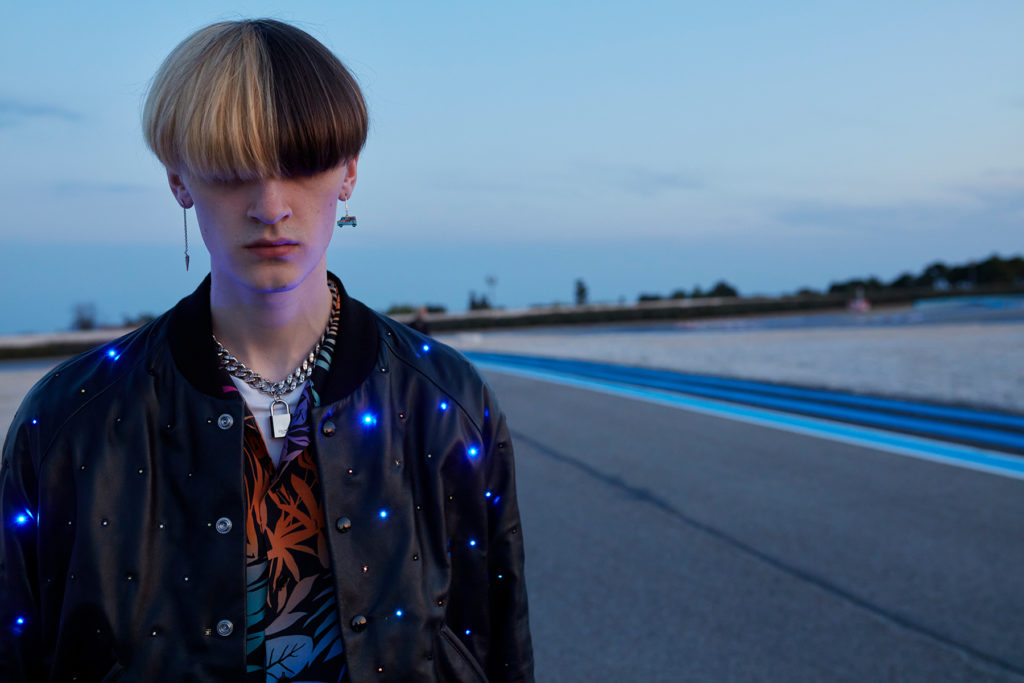 The confinement confirmed Hedi Slimane's direction, but the whole of the Dancing Kid already had come together and was designed entirely in Saint Tropez well before march.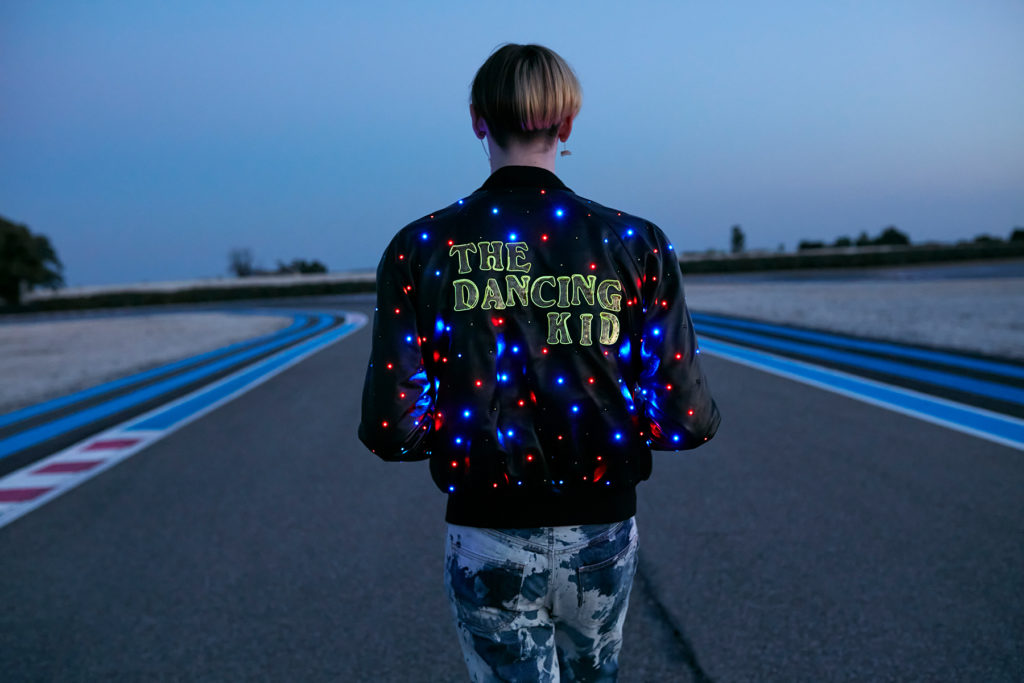 Meanwhile, confined youth staved off boredom by dancing, affirming their creative flair, convictions and culture, notably musical. In america, billboard and the music industry pivoted to a major new influence. The dancing kid is a "documentary" collection spanning eboys and current skate culture, a candid portrait of a generation that took advantage of the confinement and isolation to assert itself and emancipate itself creatively, spontaneously  inventing an initiatory language anchored in dance and teen romance.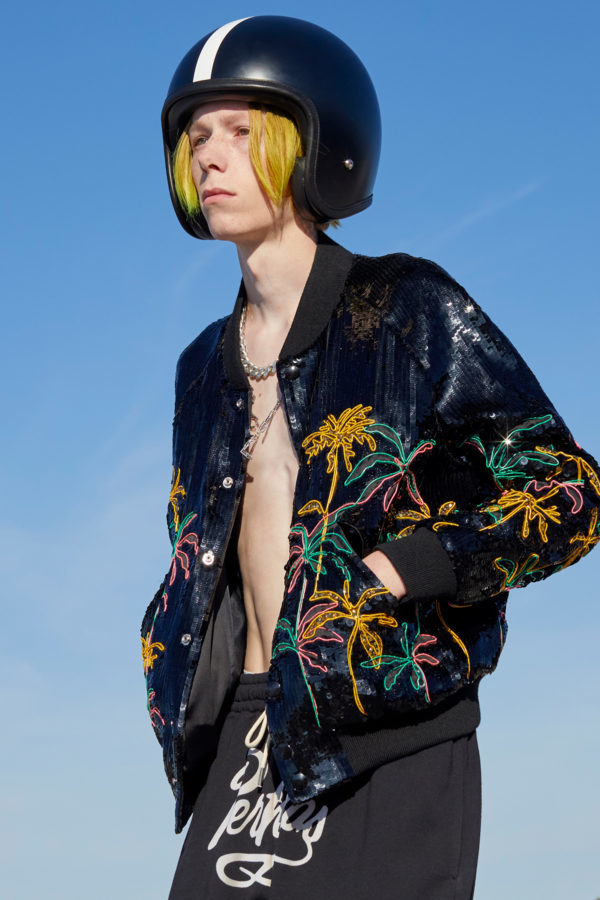 Hedi Slimane invited six artists to participate in the form of the dancing kid editions, in the manner of a group show.​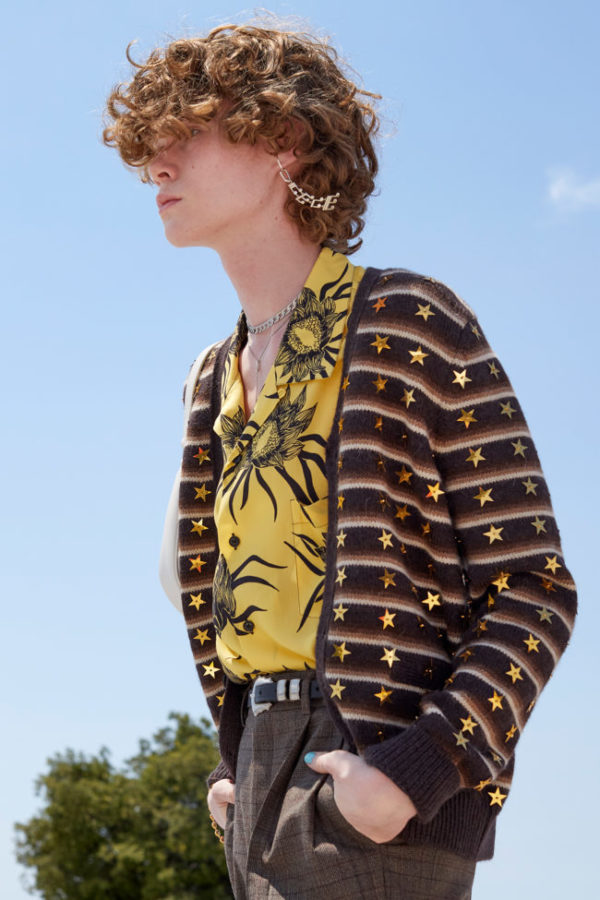 Tyson Reeder
american artist, with two works: "autobahn" (2019) and "sunset van" (2014). Reeder's work has been featured in exhibitions at Jack Hanley Gallery, La/San Francisco, Gavin Brown's Enterprise, NY, and collected by the Museum of Modern Art. Reeder has co-organized many exhibitions and events including drunk vs stoned parts 1 and 2 at gavin brown's enterprise, the early show at White Columns, NY.
Jesse Harris
canadian artist, with two letterist sculptures: "nail me to this wave" (2017) and "perhaps" (2017). Harris' practice includes public projects, two of which are mirror as sign at art metropole (2013) and you've changed, which is still on view on queen street west (2012). Recent exhibitions include Cooper Cole, Toronto (2019); Night Gallery, Los Angeles (2017) and the plug in Institute of Contemporary Art, Winnipeg (2013).
Gregory Edwards
American artist with one work: "stranded in the jungle" (2010). Edwards's work was recently featured in art in the age of  the internet, 1989 to today at the Institute for Contemporary Art, Boston. His work has also recently been shown at Moma/ ps1, New York and k11 in Hong Kong and Shanghai.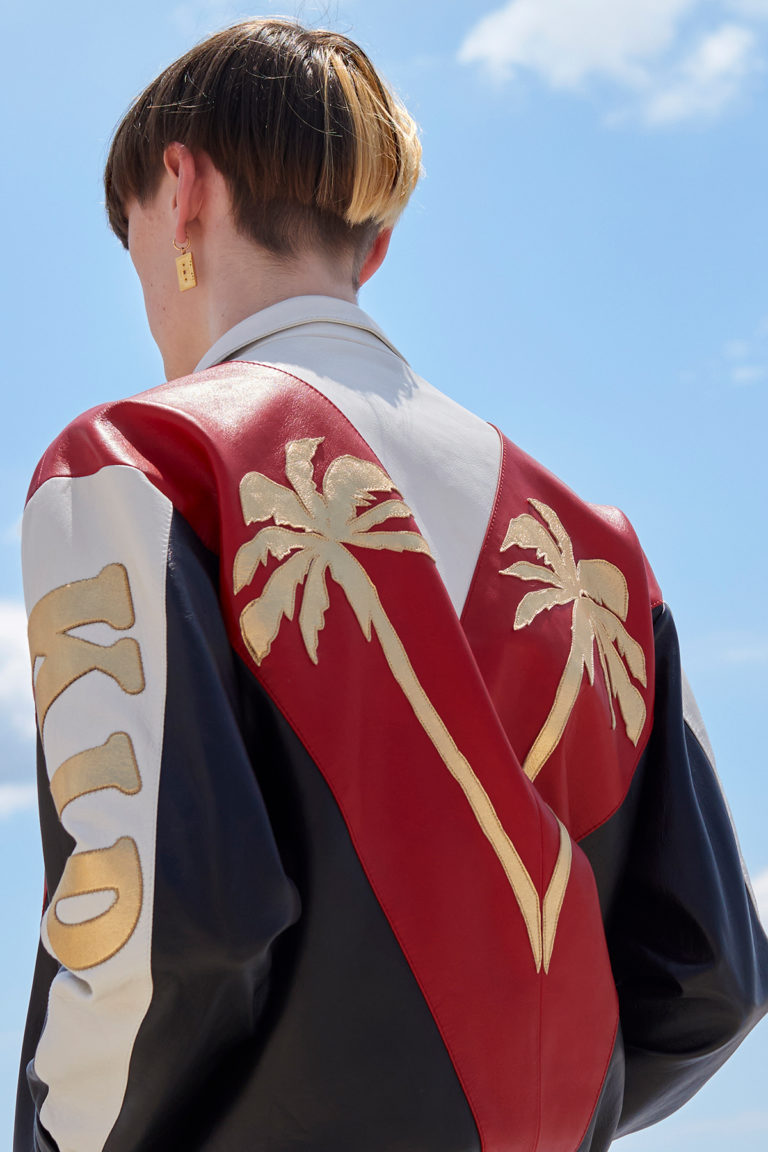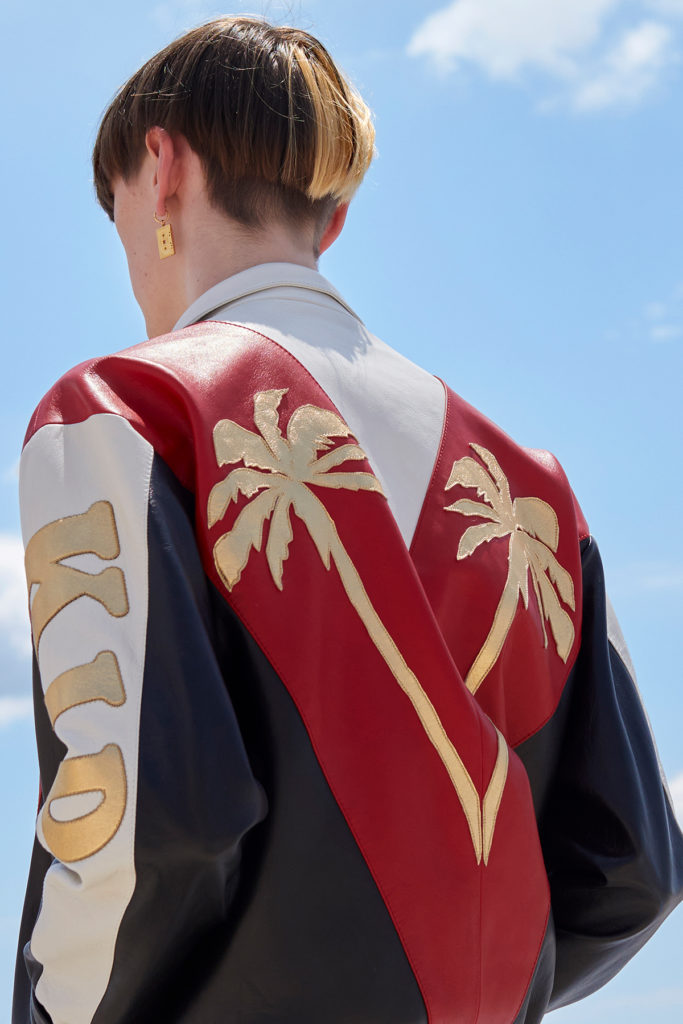 Ryan Ford
american artist with one work: "purple palm" (2017). Ford was featured in hauser & wirth, homegrown, online exhibition, Chelsea, New York (2020), 0.0. La, yin yang, curated by Calli Moore, Los Angeles, California (2019), the hole, untitled Art Fair, Miami, Fl (2015) and reservoir art space, "fur flies," Brooklyn, NY (2015).
Amy Sillman
american artist with one work: "are you fucking kidding me". Sillman is represented by the Gladstone Gallery, New York and Brussels, and also exhibits at the Thomas Dane Gallery in London.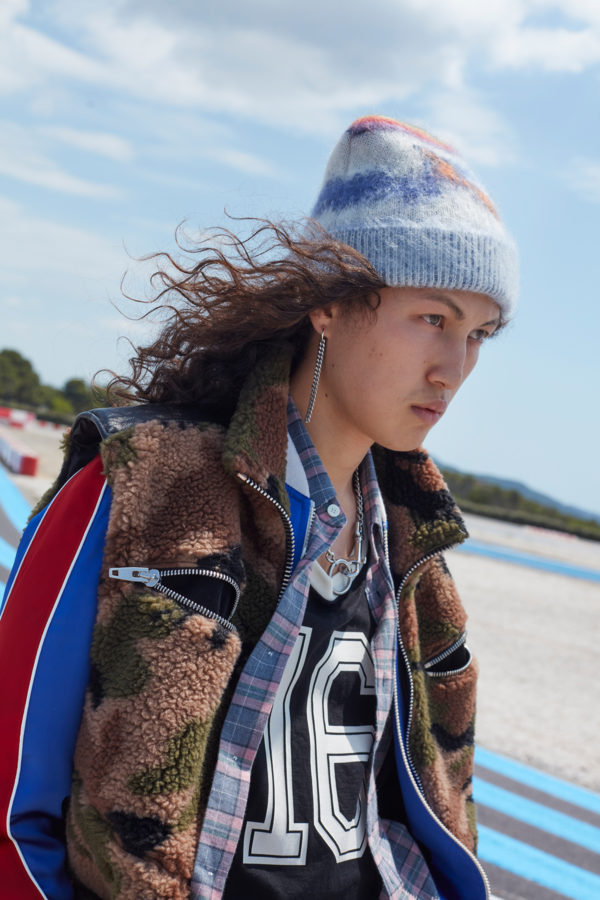 Turpentine
the french collective turpentine with one work: "fun". Turpentine organized exhibitions and screenings at galerie art:concept, paris; mac val, ivry; and the Palais de Tokyo, Paris. It was also featured in events at the K11 Art Foundation, Shanghai; Galerie Anne Barrault, PParis and Foryourart, Los Angeles.
Luminous leather jackets hand-embroidered with the Dancing Kid nod to the ribbons of led lights that invariably decorate teenage bedrooms the world over. It is also — since going out is off the table — a metaphor for reclaiming the night, in "kit" form (since the night and, by extension, concerts and festivals are the confinement's collateral casualties). Lacerated jeans are a constant for Hedi Slimane: his first were designed at Dior in the early 2000s.
The Celine Z trainers tr01 and tr02 will be available for purchase in November 2020. Hedi Slimane invited the 22-year-old canadian rapper tiago garcia-arenas, aka "Tiagz", to compose an exclusive 15-minute version of the anthem "my name is Tiago" for the Dancing Kid.
Hedi Slimane photographed Tiagz in le Castellet, during filming of the dancing kid.
CELINE HOMME
THE DANCING KID
CIRCUIT DU CASTELLET
JULY 13TH 2020
MUSIC ORIGINAL SOUNDTRACK FOR CELINE
"THEY CALL ME TIAGO (THE DANCING KID CELINE EDIT)"
PERFORMED BY TIAGZ
COURTESY OF EPIC RECORDS BY ARRANGEMENT WITH SONY MUSIC ENTERTAINMENT
STYLING AND DIRECTING "THE DANCING KID"
MAKE-UP ARTIST
CHRISTELLE COCQUET
HAIRSTYLIST
ESTHER LANGHAM AND ALEX BROWNSELL
THE DANCING KID A TEEN ROMANCE
Credits: © Courtesy of Celine