With bejewelled colour palettes, oversized prints and fabulously sculptural shapes, Delpozo's debut at London Fashion Week didn't disappoint.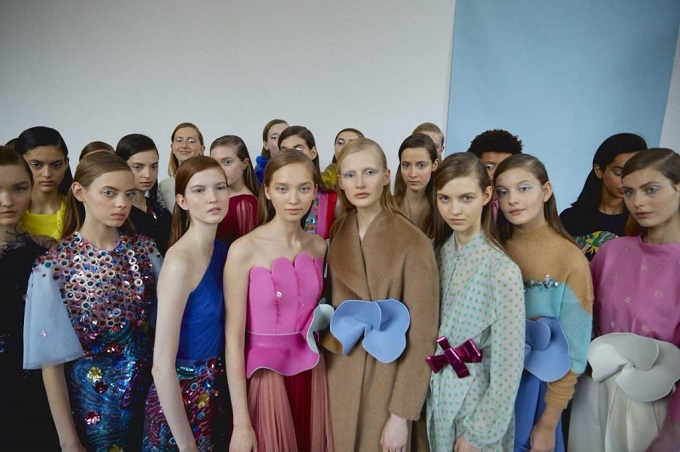 The Royal Institute of British Architects is where Delpozo's creative director Josep Font decided to land the Spanish prêt-à-couture brand's first show in London. With Font's architectural background, it was the location to bring nature and art together in the form of the Fall Winter 2018 collection.
Coming across an unpublished National Geographic picture from the 1930s, where water lilies and lotus flowers turn into the organic inspiration of the season; Font also discovered French artist Inès Longevial. Her portraits radiate a harmonious femininity in shape and color. Simple lines and curvy silhouettes with luminous hues.
Longevial's cubist portraits of feminine fixtures, create the base of this season's color palette: various hues of pink. Pink is the base of this collection, mixed with ivory, camel, canary yellow, chalk blue and navy blue.
Different textures to stay warm from alpaca coats in camel and coral pink, tweed and hound's tooth capes in yellow and tan, and, for the first-time, Klein blue faux fur jackets. Algae effect draped sleeves float across day dresses and blouses; water lily necklines and detachable collars warp around gowns and coats; floral print and patchwork pencil skirts; and, abstract floral guipure and fil coupé with fringe for evening.
Water lilies are translated in the hand-made embroideries of matte sequin flowers. They also become part of the knitwear, with vertical and horizontal embroidered stripes and three-color way knits, in mohair and merino wool. Even tweed effect cashmere sweaters with thermo-fixed Swarovski crystals.
This winter Font introduces a new accessory: belts. Two different styles, one being the iconic Bow silhouette and a second more organic and floral, taken from the lily pads. Artisanship of leather at its most delicate expression. The water lily silhouette shapes into the Flower clutch in orchid red, rose, cobalt blue with faux fur; and the shoe of the season, a sock shoe, with infinite possibilities of color.
© Delpozo