Dior presents a new chapter in the Dior Book Tote Club, an exceptional Literary Event
The Dior Book Tote Club is celebrating the unfailing, ever-reinvented ties between Dior and the arts. Today, it's Dior ambassador Beatrice Borromeo's turn to reveal her favorite reads to slip into her timelessly iconic Dior Book Tote bag.
A meeting at the crossroads of writing and fashion, in the heart of the emblematic Jousseaume bookshop, in Paris's Galerie Vivienne. The documentary film producer and director discloses her most striking* literary memories: from Elsa Morante's Italian novel La Storia, and Silvia Truzzi's Il Cielo Sbagliato, to Khaled Hosseini's poignant A Thousand Splendid Suns. In the course of her (re)discoveries, she also flips the pages of When Nietzsche Wept by Irvin D. Yalom, where the resonances with psychoanalysis and philosophy are manifold. An ode to the power of books, reflecting Dior's passion for creation in all its forms.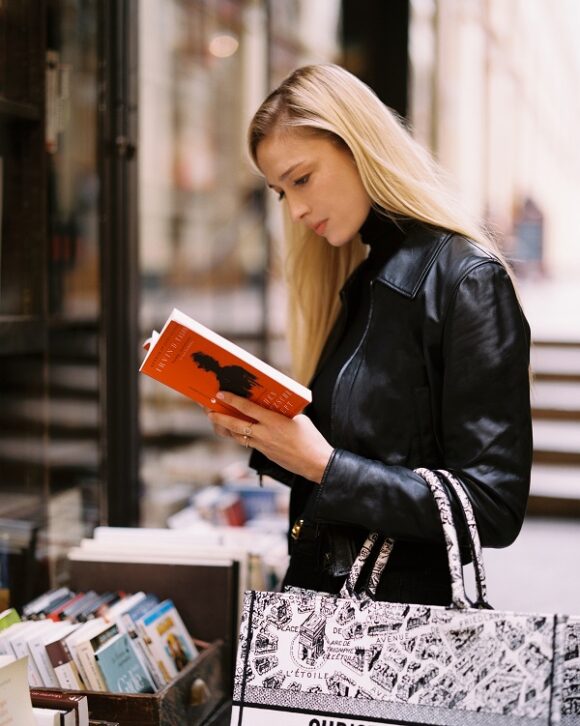 * The works mentioned in the video are the following: A Thousand Splendid Suns, Khaled Hosseini, Riverhead Trade, 2008; When Nietzsche Wept, Irvin D. Yalom, Harper Perennial Modern Classics, 2020; Il Cielo sbagliato, Silvia Truzzi, Longanesi, 2022; La Storia, Elsa Morante, Einaudi, 2014; Stoner, John Williams, Vintage Classics, 2012; Extremely Loud and Incredibly Close, Jonathan Safran Foer, Penguin, 2006.
Video: © Melinda Triana @melindatriana
Ph: © Marion Berrin @marionberrin
Credits: © Courtesy of Christian Dior Couture