Covered in the illustrated Celestial Blue Multicolor Toile de Jouy Voyage design by Italian artist Pietro Ruffo, and finished with hand-hammered brass nails, the Malle Trunk from the #DiorFall23 collection by Maria Grazia Chiuri magically comes to life in the expert hands of House's trunk-makers. Discover the savoir-faire secrets behind this eye-catching object of desire infused with the spirit of travel.
Unveiled in the Dior Fall 2023 collection dreamed up by Maria Grazia Chiuri, a precious trunk is dressed in entrancing shades of yellow, pink, and blue. Finished with touches of antique gold, the case is enhanced by the reinvented iconic toile de Jouy – an enchanting interpretation of the flora and fauna of Indian landscapes through a kaleidoscope of vibrant colors.
The infinitely meticulous gestures of Dior artisans have brought this object of desire to life, an expression of unique excellence. Each leather component is scrupulously examined to ensure that the motif is perfectly aligned with the form of this creation, while its wooden structure is rigorously shaped and adjusted. Reflecting outstanding craftsmanship, strips of leather are assembled one at a time by hand around the edges, with the utmost precision. Inside, the lining, adorned with a leather label embossed with the "Christian Dior" signature, is delicately arranged, ready to receive numerous treasures. An exquisite detail, the initials "CD" are engraved on the clasp.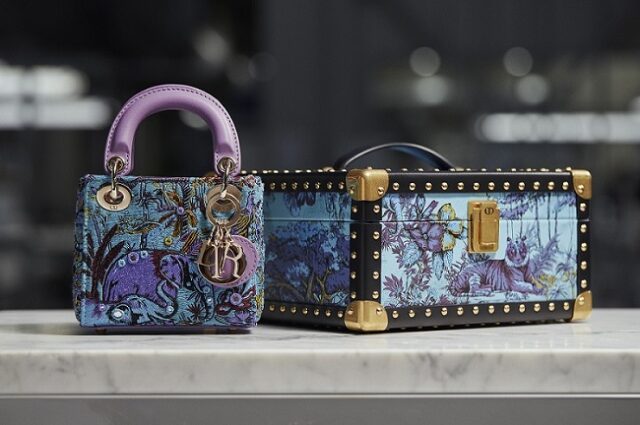 Striking an ideal balance between elegance and functionality, this sumptuous work encloses a micro version of the emblematic Lady Dior, the House's essential symbol.
© Piotr Stoklosa @piotr_stoklosa
Credits: © Courtesy of Christian Dior Couture