Kim Jones Taps Artist Peter Doig for Dior Men Fall Winter 2021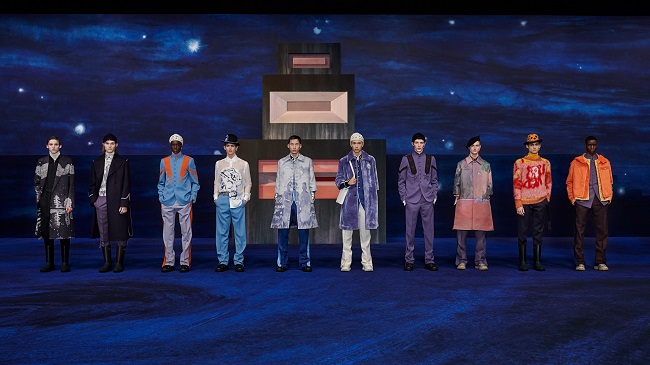 The ceremony of the everyday. For his Winter 2021-2022 Collection for the House of Dior, Men's Artistic Director Kim Jones draws inspiration from the masculine extravagance of ceremonial garb – a living link with the past, still dynamic and alive today. Like Haute Couture, it connects the now with then: a window into History and Heritage. Alongside Heritage, the Contemporary: with this collection, Kim Jones and Dior debut a collaboration with the scottish-born, trinidad-based artist Peter Doig.
Couture is itself a ceremony: Christian Dior himself described the ceremonial entry of his models for each new look. For Winter 2021-2022, uniforms with embroidery and embellishment — notably inspired by the académie des beaux-arts — offer a masculine interpretation of Couture.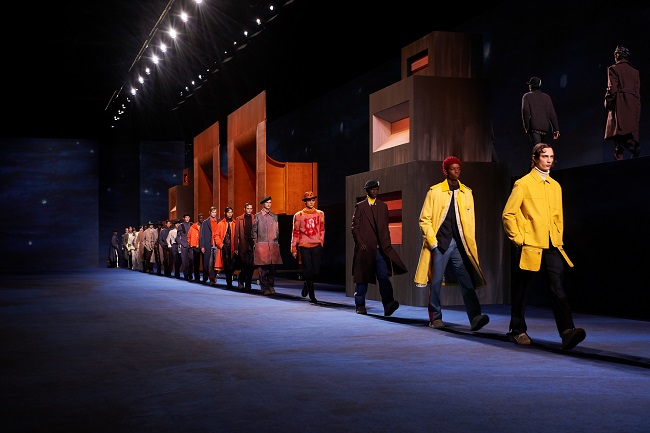 Decorations and motifs from the Dior archives are reinvented. Covered buttons are those of the iconic bar jacket; the gilded embroidery of rosella, an haute couture evening gown designed by Marc Bohan in the sixties.
Christian Dior translated dreams to reality: today, Kim Jones does the same by translating the work of Peter Doig into fashion.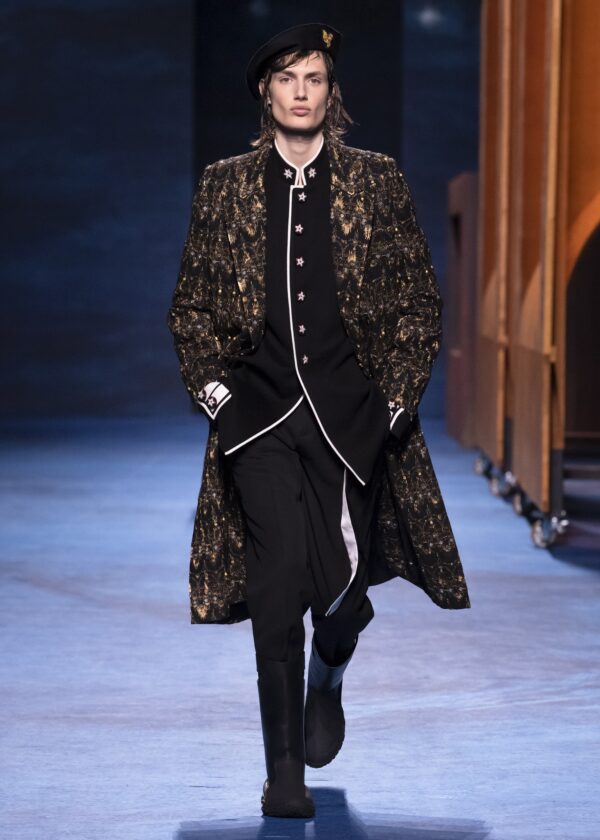 Jones, Doig and the Dior ateliers collaborated intimately to realize this collection: exceptionally, Doig himself has not only devised motifs, but has worked by hand on a selection of wool felt hats by Stephen Jones, adding captivating handpainted designs inspired by his own work, memories, and connections with the house of Dior.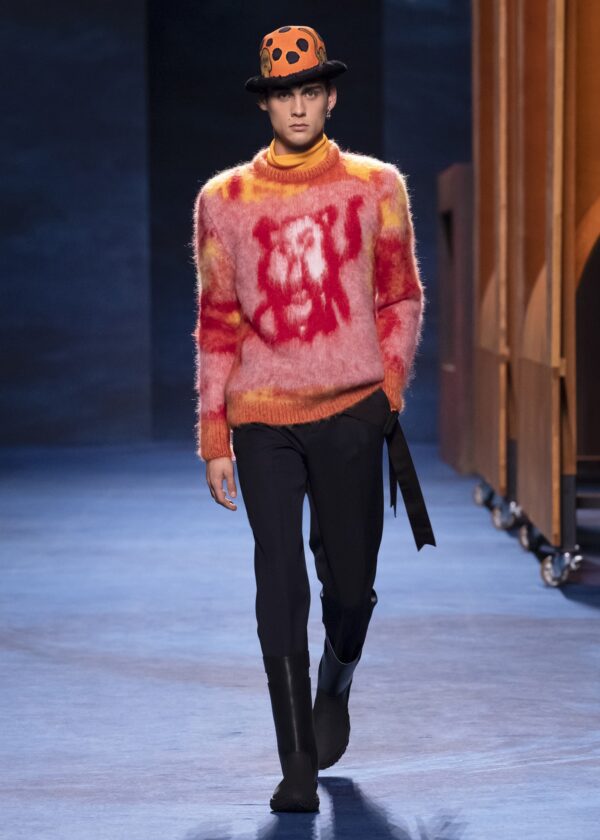 Art and fashion dialogue: two animalistic emblems were specially created by Peter Doig for Dior, a likeness of Christian Dior's dog bobby, and a lion that simultaneously recalls characters from Doig's paintings and a masquerade costume made by Pierre Cardin for Christian Dior in 1949, an echo evoking the steadfast friendships mr. Dior had with artists like Jean Cocteau and Christian Bérard, a passion for art and artistry that the house has always cherished.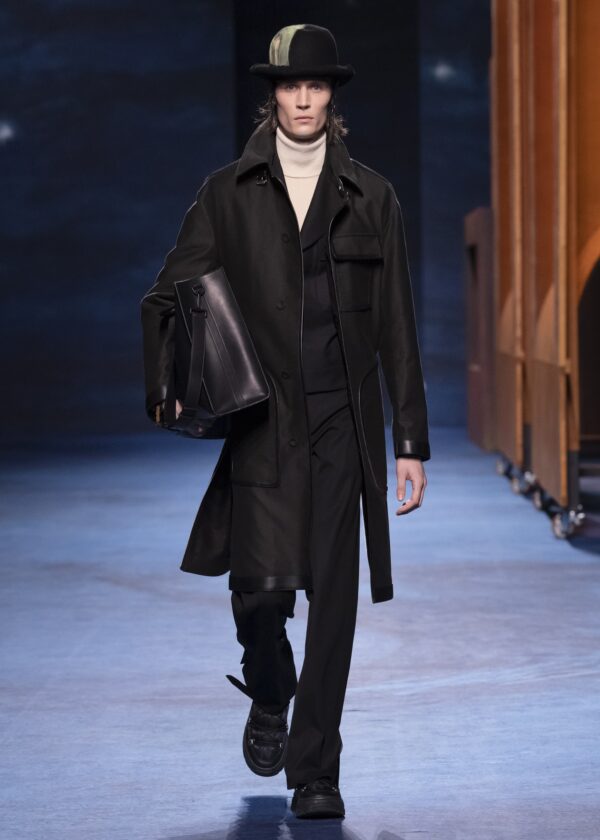 Fashion is a form of Art. Jewelry and belts are embellished with a lion figure sculpted by Doig. Fabrics recreate canvasses and etchings through intricate jacquards and prints. The night sky taken from Doig's milky way (1990) constellates various looks: the stars align with those of Dior.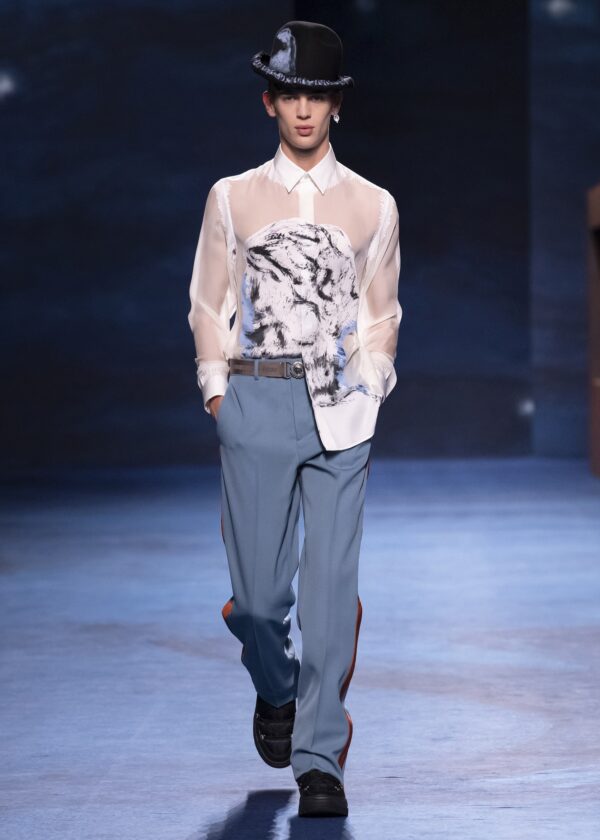 The palette directly references the work of Doig via Dior – soft, muted blues, navy, dusky mauve, dior gray, alongside brilliant yellow, blood-orange and green -, vibrant hues expressing joie de vivre. Handcraft replicates brushstrokes through embroideries, knit and hand-painting. Piping, bound trims and baroque embroideries 'frame' garments, as if they themselves were paintings. The shapes and forms of the collection become canvasses for art.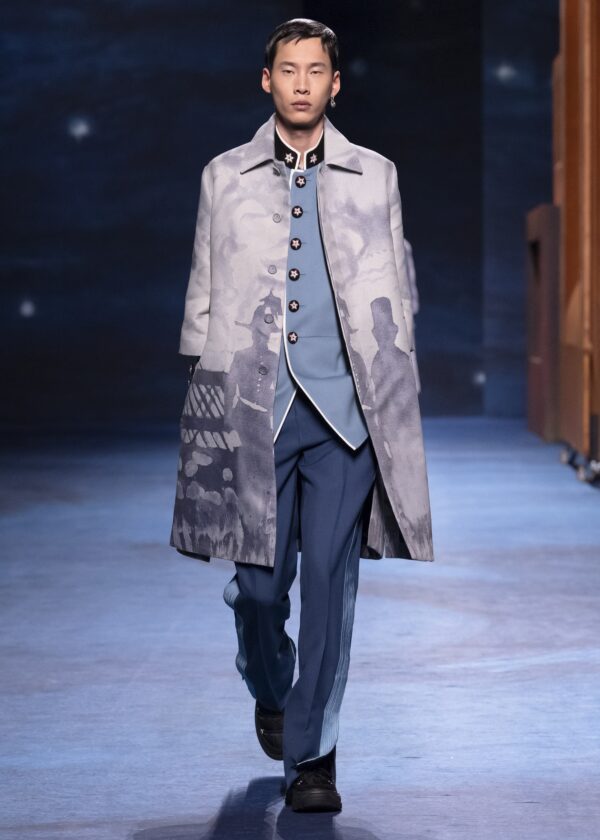 The collaboration between Kim Jones and Peter Doig extends to the décor of the digital show: the stage is an artwork, an installation devised by Doig, of blue skies. Stacked sound systems reference those in Doig's paintings such as speaker/girl (2015).
New Art, New Looks.
©: Brett Lloyd for Dior
Styled @themelanieward
Hair @guidopalau
Beauty @peterphilipsmakeup
Casting @shelleydurkancasting
Art collaboration @peterdoig
Jewels @yoon_ambush
Credits © Courtesy of Christian Dior Couture