Discover the looks of the Dior Men Spring 2023 show by Kim Jones, unveiled yesterday in Los Angeles. The laid-back pieces in the capsule collection, guest designed by ERL, brought together the best of the Parisian House and the Californian designer.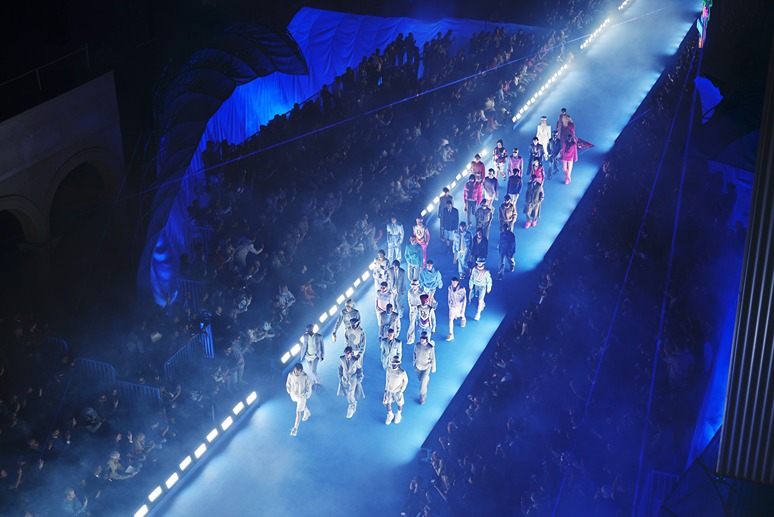 "We have worked with lots of different people on our collections, but this time I wanted to work with someone in a different way; i wanted somebody to see Dior from a different angle. With Eli Russell Linnetz, not only do i like his work but working with a younger designer on Dior Men and seeing things from his perspective, felt incredibly inspiring. It was both familiar and revelatory; reaffirming why we both dreamed about working in fashion in the first place." Kim Jones
"We started looking at the Dior Archive from the year of my birth, 1991. This was during Gianfranco Ferré's period as Artistic Director and was a part of the history of Dior that felt completely fresh for both Kim and me. The idea of 'maximalism' comes from there and from me – a coming together of chaos and perfectionism. There's a collision of moments in time and history throughout the collection, of cross-generational and spatial meetings in time." Eli Russell Rinnetz, Erl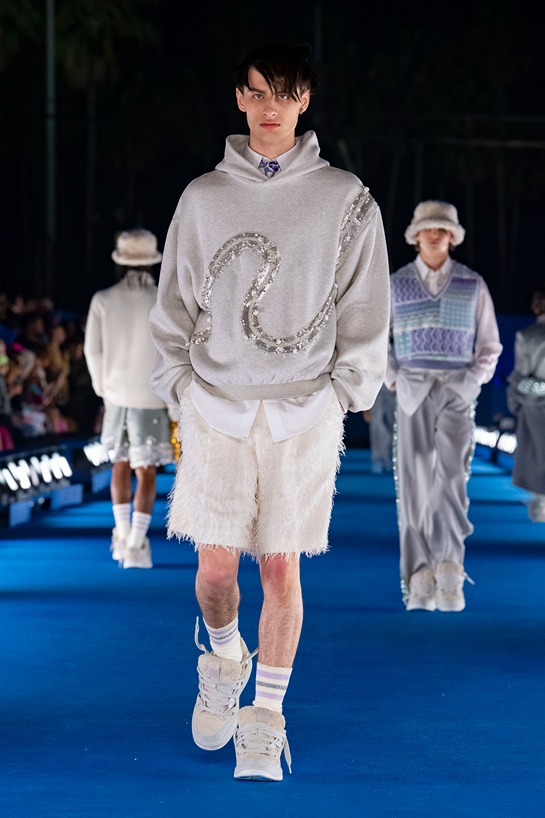 A spring evening on windward avenue in Venice, California… here, on an iconic street so familiar from film, a merging of art and life takes place, of art and fashion's role in the artistic direction of the not-so-everyday. Silhouettes emerge – that Parisian high fashion savoir-faire with Californian pop culture pomp; Venice Beach with the 8th arrondissement; perfection and subversion, tempered with a sincere appreciation of everything.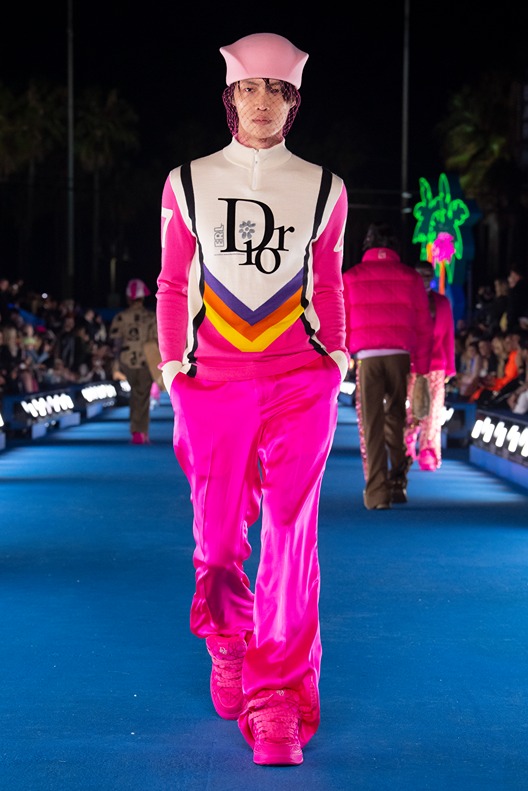 The temporal flow of fashion, where successive generations inspire each other, is made more formal with Kim Jones, Artistic Director of Mens Collections, choosing to work with guest designer Eli Russell Linnetz, Creative Director of Erl, on this latest Dior Collection.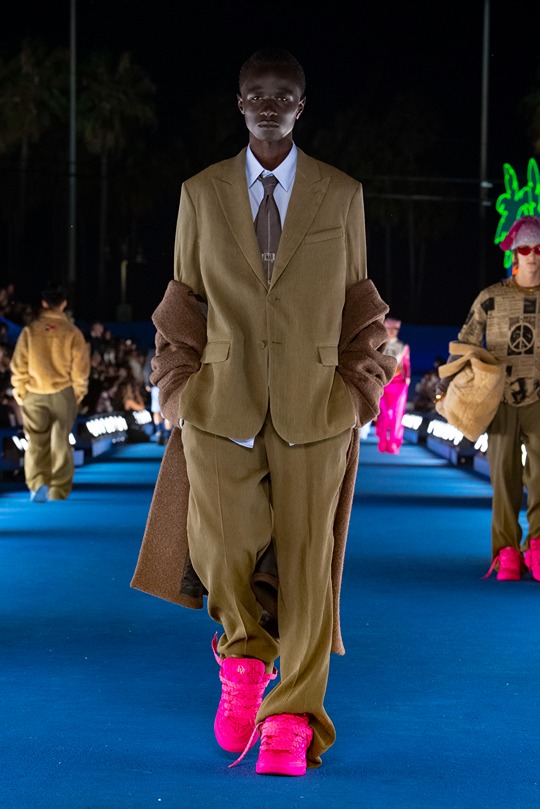 Here the house is again reimagined and revivified by each designer, combining their autobiographies with that of the legendary line of predecessors who have been the artistic directors of women's and menswear from Christian Dior onwards. After all, Linnetz was born and raised in Venice, and the history of the place peppers the garments, drawing parallels with that of Paris. A pop sensibility and american male archetypes infuse classic house motifs writ larger than life. Thus cannage made into satin and leather quilting into skate sneakers or unravelling on crystal encrusted trousers.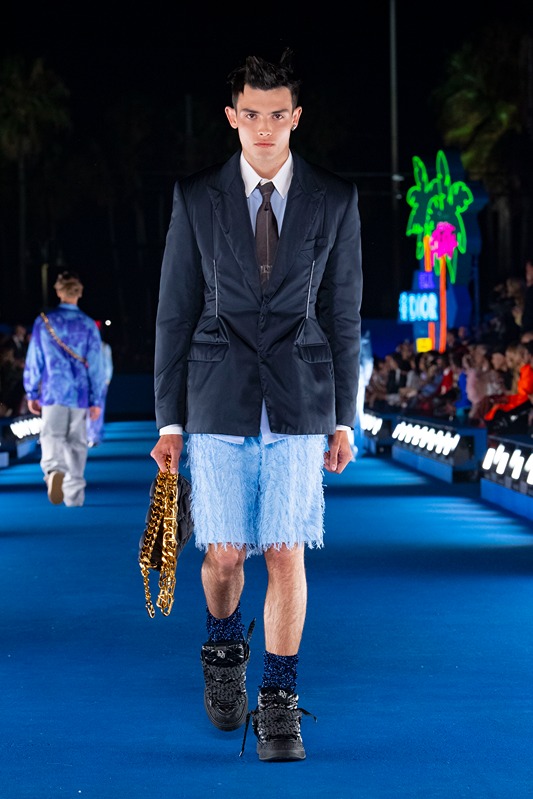 A slouching, easeful everyday sensibility belies the precision of tailoring and mastery of fabric in the atelier, in particular with the ocean-recovered polyestor tailored looks, padded, as a nod to the Ferré-Dior Archive. Seemingly inside-out tailoring, in Christian Dior's beloved gray is as much a nod to Kim Jones' first collection for the house as a mischevious take on the school blazers worn by one fresh prince down the road in bel-air.
Tinsel proliferates – we are in tinsel town after all – and is celebrated for its christmas connotations as well as being handled with characteristic Dior precision and savoir-faire, at times supplanting the traditional leatherwork in a new take on the saddle bag.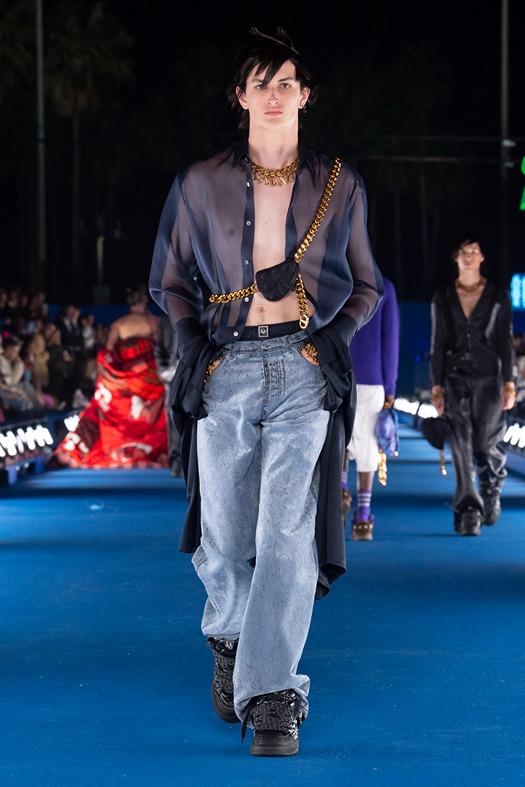 The saddle is further celebrated in a new precious gold 'male minaudiere', while what could be seen as a dramatic opera cape is composed of a patchwork of plaid shirting and sports jerseys – all remade by the atelier – to envelop the wearer, becoming part beach blanket and part hollywood royalty robe.
PRODUCTION & DIRECTION: @villaeugenie
MUSIC: SIMON PARRIS
"ONLY SHALLOW" PERFORMED BY MY BLOODY VALENTINE
WRITTEN BY KEVIN SHIELDS & BILINDA COYNE
"OCEAN" PERFORMED BY LUSH
WRITTEN BY MIKI ELEONARA BERENYI
"GOODBYE HORSES" PERFORMED BY Q LAZZARUS & WILLIAM GARVEY
WRITTEN BY WILLIAM GARVEY
STYLING: @themelanieward with @elliegracecumming
CASTING: @shelleydurkancasting
MAKE-UP: @peterphilipsmakeup for Dior
HAIR: @guidopalau
HATS: @stephenjonesmillinery
COSTUME JEWELRY: YOON AHN @yoon_ambush
DIOR JOAILLERIE: @victoiredecastellane
@matthewmwilliams
A SPECIAL THANKS TO @erl__________
A WARM THANKS TO THE ATELIERS AND THE SUPPLIERS OF THE HOUSE
Photo: © Eric Staudenmaier @ericstaudenmaier
Credits: © Courtesy of Christian Dior Couture