Dior unveils the Winter 2023-2024 Men's Collection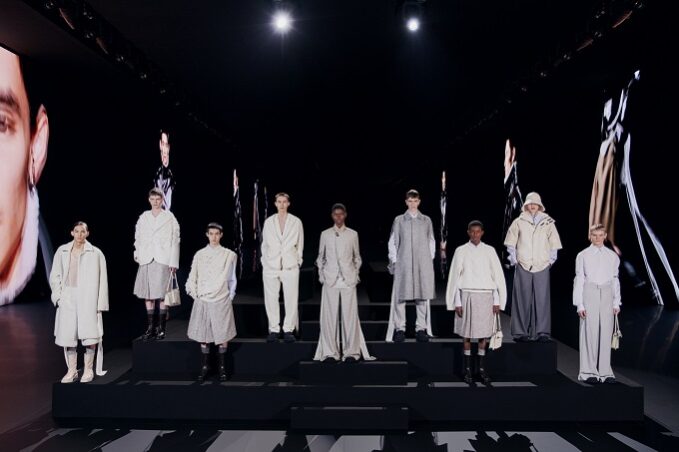 The great rivers of London and Paris serve as living inspiration for Kim Jones, the Artistic Director of Dior Collections. Here, the eddies and flows of the water reflect those of fashion, including the Dior Winter 2023-2024 line, in which flux, movement, ease and fluidity are central. It is also a reflection of the dynamism sought by Yves Saint Laurent with his accession to the helm of dior at the age of 21 – the youngest couturier in history.
Models absorb the lessons of the past and apply them to the present and future: clothes are hybridised and metamorphosed, worn in individual ways with the agency of the wearer. Garments are taken directly from the archive, transposed and transformed: the sailor top from the marine ensemble designed by Christian Dior's successor is loosened in cavalry twill and also becomes an elongated fisherman's smock.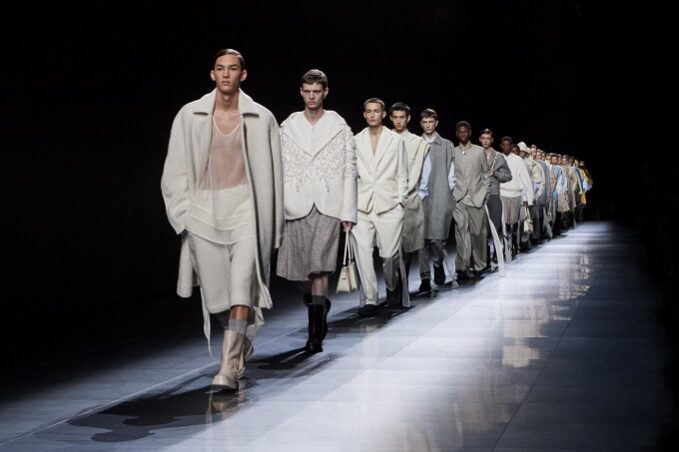 The traditional vernacular language of knits is subverted through a sculptural approach to styling and draping together with a melding of tailoring. An effortlessness infuses all, belying the precision and complexity of a wardrobe that never looks over-complicated.
PRODUCTION: @villaeugenie
CONCEPT: KIM JONES & BAILLIE WALSH
DIRECTOR: BAILLIE WALSH
MUSIC: @MaxRichterMusic
STYLING: @themelanieward
CASTING: SHELLEY DURKAN
MAKE-UP: @peterphilipsmakeup
HAIR: @guidopalau
HATS: @stephenjonesmillinery
DIOR JOAILLERIE: @victoiredecastellane
COSTUME JEWELRY: YOON AHN
MATTHEW WILLIAMS
A SPECIAL THANKS TO GWENDOLINE CHRISTIE ROBERT PATTINSON
Finale © Adrien Diran @adriendirand
Credits: © Courtesy of Christian Dior Couture