Shown in the shadow of the Eiffel Tower, the Dior Winter 2019-2020 men's collection by Kim Jones reflects Monsieur Dior's passion for art through a collaboration with the American artist Raymond Pettibon.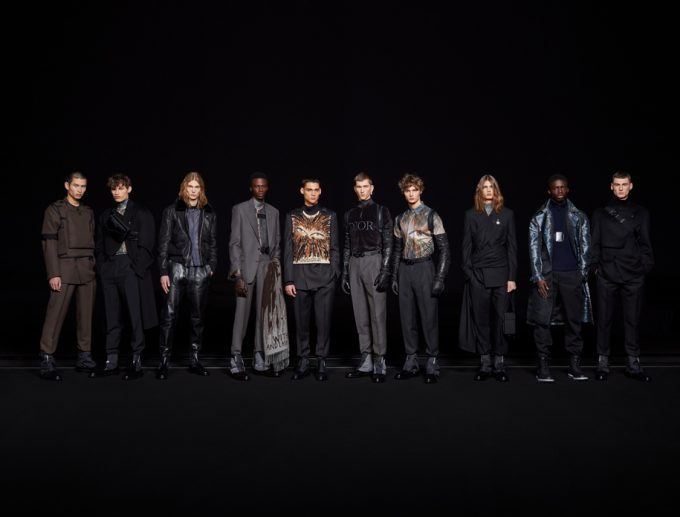 A sensibility of couture, a spirit of now. The Dior men's winter 2019-2020 collection by artistic director Kim Jones draws on the attitudes and imprints of the house of Dior's couture heritage – shapes, techniques, materials, ethos – then reinvents them anew. Alongside this continues Kim Jones' examination of Christian Dior the man – namely, his background as a gallerist of the avant-garde of his time. It is mirrored today in a collaboration with the artist Raymond Pettibon. All become, in essence, acts of translation: from feminine to masculine, from art to fashion, from then to now. Examining the past, making it speak to the future.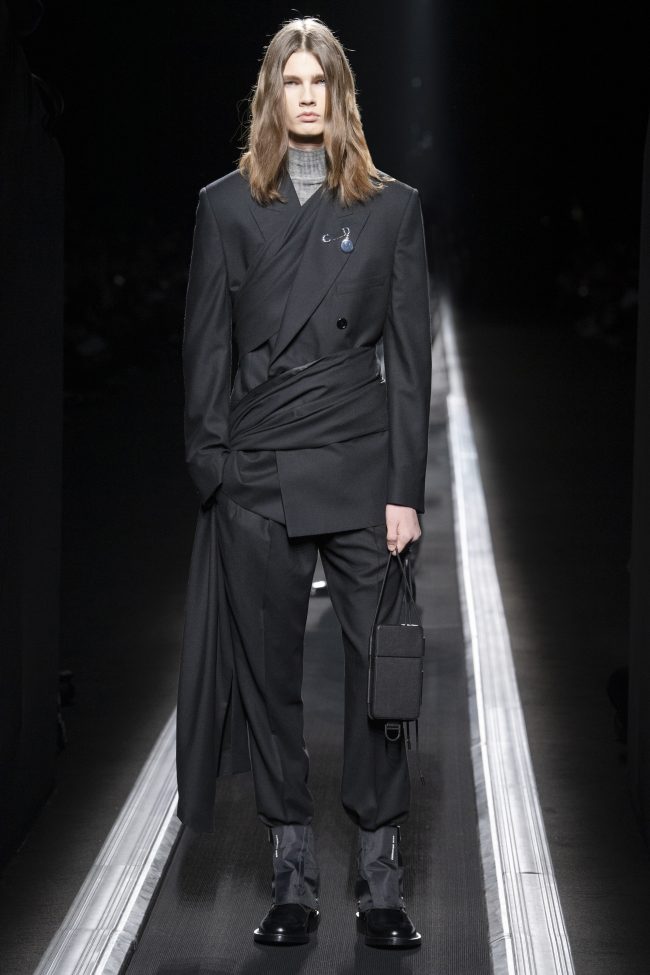 The inspiration is all derived from Dior, from the house's emblems and markers, and then evolved.
Animalier, drapery, architectural tailoring, a soft color palette, de luxe haute couture materials. An unmistakable, often imitated but never equaled elegance. A parisian sentiment. The animalier comes to the fore as Monsieur Dior's beloved panthère – introduced in his first collection in 1947 – is joined by tiger and leopard patterns in knitwear and intarsia furs. The notion of couture is expounded through tailoring, sometimes inlaid with panels of satin as if the lining is exposed. That idea is heightened in pieces that are entirely reversible – expressive of the idea that couture should be as perfect inside as out. A utilitarian bent to harnesses and vests reinforces the notion of couture as a craft.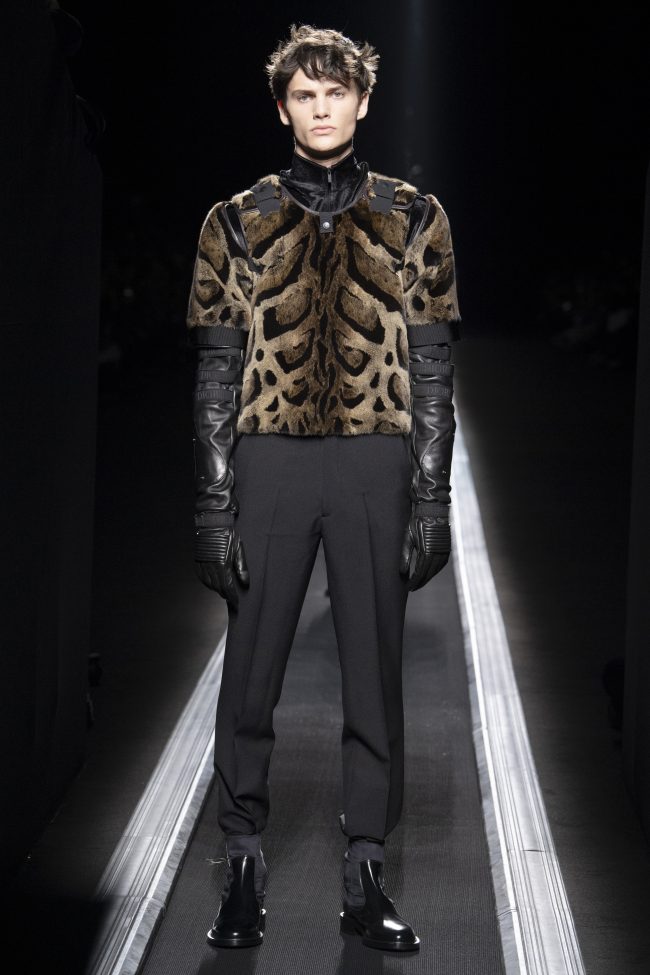 Alongside tailleur comes flou. The technique of moulage – the couture method of draping directly on the form – inspires gestures of fabric used to frame tailoring. The asymmetry of the diagonally-wrapped tailleur oblique is further explored through coats with panels that wrap across buttons, disrupting the precision of their shape. Other jackets have panels of fabric that button inside, draping to the floor – theoblique, extrême.
The preciousness of haute couture is reflected through fabrications – cashmere, silk satin, furs, that are combined with technologically advanced materials to give fabrics a high-gloss sheen. Knitwear is made with a new technique, which resembles moiré; lace is cut into body-hugging sweaters. Nylon is used to mirror silk with its lustrous surface texture: beautiful yet lightweight and practical, it is representative of a modern idea of luxury. The color palette is archetypal dior: palest blue, mauve bisque, a symphony of pearlized grays, midnight blue and black.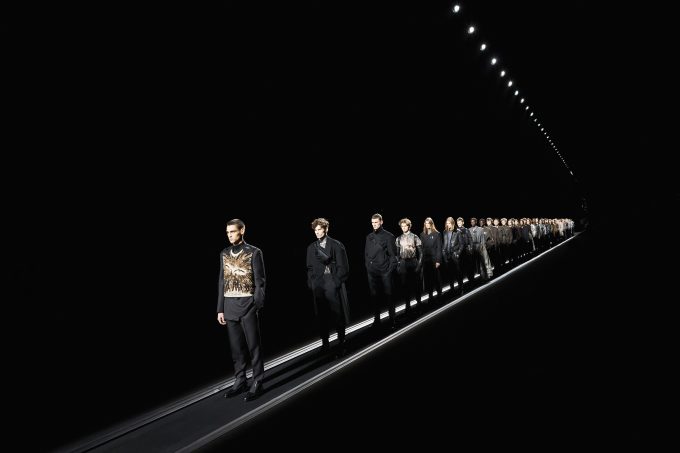 A curation of existing drawings are shown alongside debuts of entirely new works specially-created by pettibon, and evolved into prints, knits, jacquards, and hand-embroideries. A figure subconsciously influenced by the mona lisa; a pair of eyes staring into the future against an impressionistic sky. These references to classical art are joined by works inspired by Dior; a spray-painted version of the dior animal print – punk panthère – which resembles a floral, and a reimagining of the house's logotype, used in jewelry. As kim jones reinterprets Dior, he invites others to do the same.
Christian Dior's personal obsessions and superstitious nature are the theme behind the jewelry by yoon ahn, featuring mementos and charms, worn like amulets and as charm bracelets. The Dior 'CD' emblem becomes the fastening on a safety pin. It simultaneously speaks of punk – of the now, and the contemporary art of Raymond Pettibon – and the world of Haute Couture.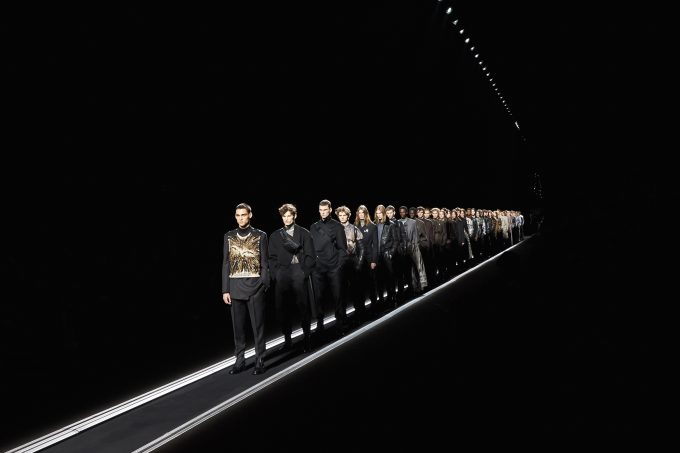 Underscoring the crossing from the feminine to the masculine world, accessories continue to translate the dior 'saddle' bag into a men's wardrobe.
Today, Kim Jones' reinterpretation is executed in nylon or lush leopard-patterned mink as a new cross-body style; backpacks, also in nylon, feature dior's signature cannage quilting. The 'saddle' becomes a pocket on utility gloves elongated to opera length. Other bag styles draw on classic dior shapes, their scales altered and adjusted. These sit alongside the hyper-modern: a series of cases designed for the electronic essentials of life today include sleek cases in raymond pettibon-printed plexiglass, leather or dior oblique canvas, designed to fit not one but two iphones – new necessities. The shoe styles feature nylon gaiters, the leather intricately brogued or laser-etched with panther spots.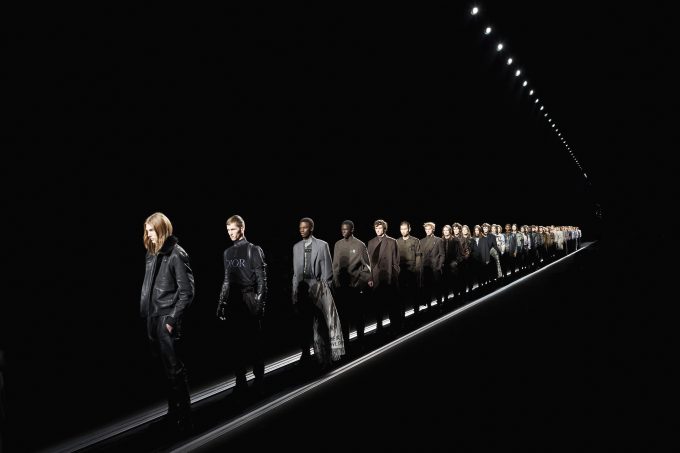 The collection is presented as a series of tableaux vivants along a vast, 76-meter-long moving walkway, like a couture salon showing of the past but on an operatic scale. In place of the monolithic statues of the previous two seasons, here the looks form the centerpiece, striking poses in sculptural attitudes that, like classical artworks, throw shade.
Shown in the heart of the french capital, this dior men's collection – like the house of Dior, like the art of haute couture itself – is fundamentally, quintessentially parisian.
Credits: © Courtesy of Christian Dior Couture