Maria Grazia Chiuri showcased Dior's colorful Pre-Fall 2021 collection at Shanghai Fashion Week.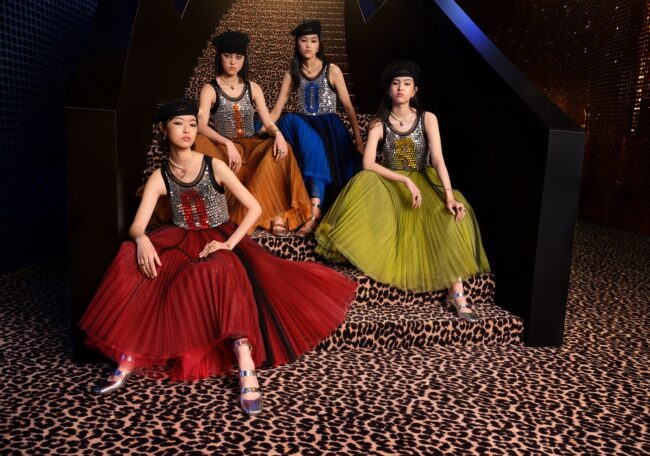 For Maria Grazia Chiuri, unveiling the Fall 2021 collection at the Long Museum West Bund in Shanghai* represents an extraordinary opportunity to infuse her pieces with a visual force in motion and a new energy. A celebration of the House's creativity and the power of world cultures, as Dior becomes, like a tribute, a guest of honor on the official calendar for Shanghai Fashion Week.
The show reinterprets a range of themes and revisits the Dior vocabulary with a transversal Pop aesthetic, from Richard Hamilton's** English Pop to the rather acidic New Futurism of Marco Lodola. A coat in the iconic leopard print, one of Monsieur Dior's hallmark designs, features among the emblematic pieces. Spotted effects radiate in a range of fluorescent hues; silver embroidery punctuates pink tulle, and the toile de Jouy motif transforms into lace.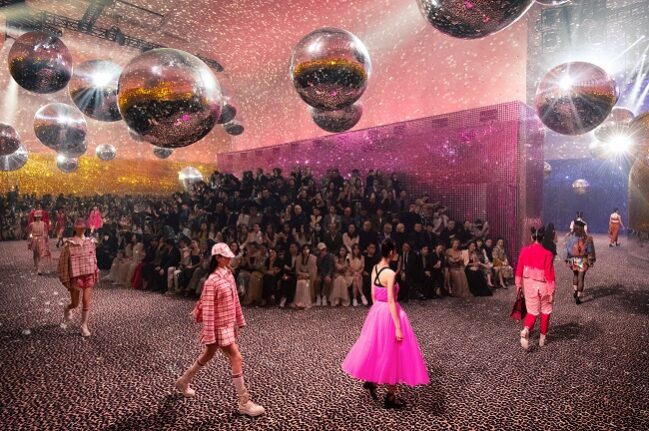 Black is an absolute black, while checks come in navy, gray, raspberry and chartreuse, and a Dior millefleurs motif in black silk velvet metamorphoses according to the materials. Embroideries, meanwhile, are composed of giant sequins, like mirror discs, recalling the faceted disco balls that illuminate the show's décor as well as four brand new dresses.
Maria Grazia Chiuri showcases a phantasmagoria of materials and shapes, including icons and must-haves such as the revisited Bar jacket. A series of five others exclusive models, each in a different neon hue – as well as red, "the color of life" as Monsieur Dior noted – with tributes to the House's archives also enriching the collection.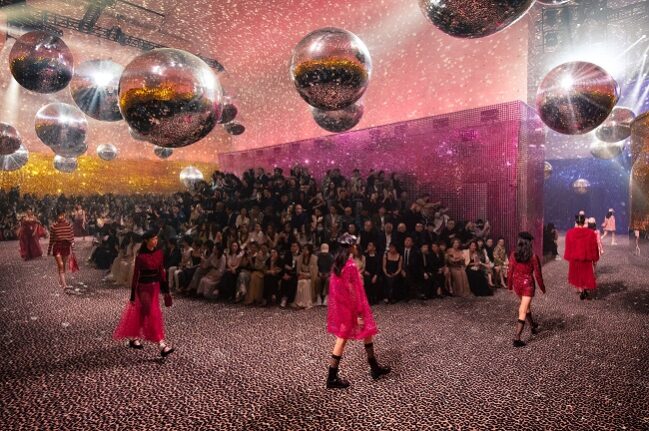 Presented to the rhythm of a musical composition by Giorgio Moroder – punctuated by the voice of Maripol – these creations are designed for facing the current context with the high energy, hyper-sophistication, and profound lightness of the Pop spirit.
As a final surprise, singer Joey Yung – wearing a dress specially conceived by Maria Grazia Chiuri – and the Chinese rock band Black Panther give an exceptional live performance.
*A city with the kind of cultural energy Monsieur Dior loved, where the exhibition Christian Dior: Designer of Dreams was also presented at the Long Museum West Bund in 2020.
**One of the figures in the seminal exhibition This is Tomorrow, held at the Whitechapel Gallery in London in1956.
© Dirk Weiblen  for Dior
Credits: © Courtesy of Christian Dior Couture