Dior SS23 celebrate Power of Women at PFW. Drawing inspiration from Catherine de Medici.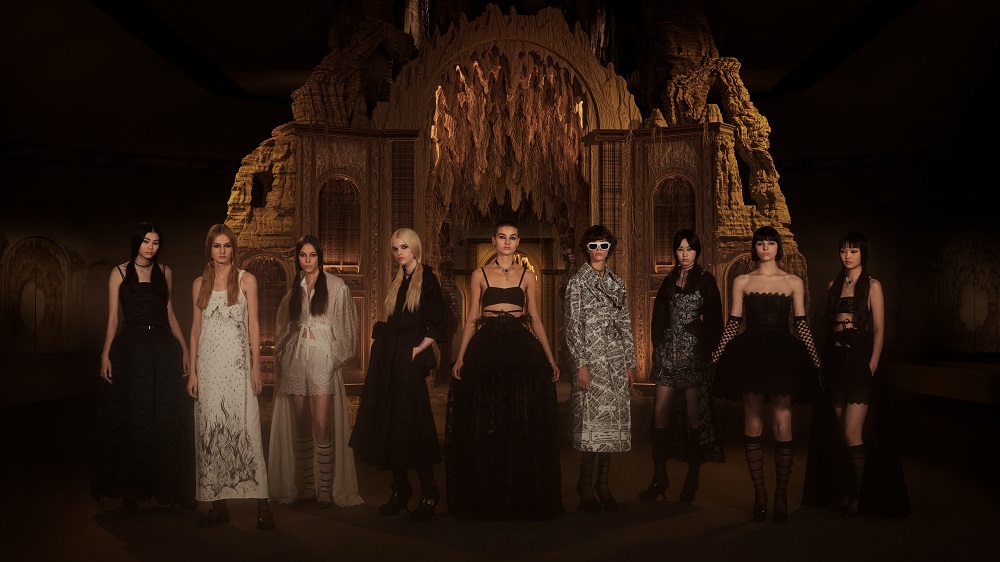 Each Maria Grazia Chiuri collection is about opening up room for the creative imagination. For this Dior spring-summer 2023 ready-to-wear show, the Creative Director of Dior women's lines has adopted the image of a map of Paris from the House's archives*.
With this she traces her own path, between autobiography and reflection. Then come the Tuileries Gardens created according to Catherine de Medici's wishes. An Italian noblewoman who arrived at the French court in 1533, she is an emblematic figure of the relationship between women and power, and Maria Grazia Chiuri is fascinated by her political intelligence and the innovations she pioneered, such as heeled shoes, the corset, and Burano lace, which were all brought into the royal manufactures. Thus, the guêpière, sometimes concealed, sometimes visible, sketches a Dior silhouette reminiscent of the wide skirts donned at Court.
Contemporary craftsmanship also revisits an ancestral tradition: raffia coats adorned with floral and bird motifs are enhanced by a scenography designed by artist Eva Jospin that reinvents Baroque grottos.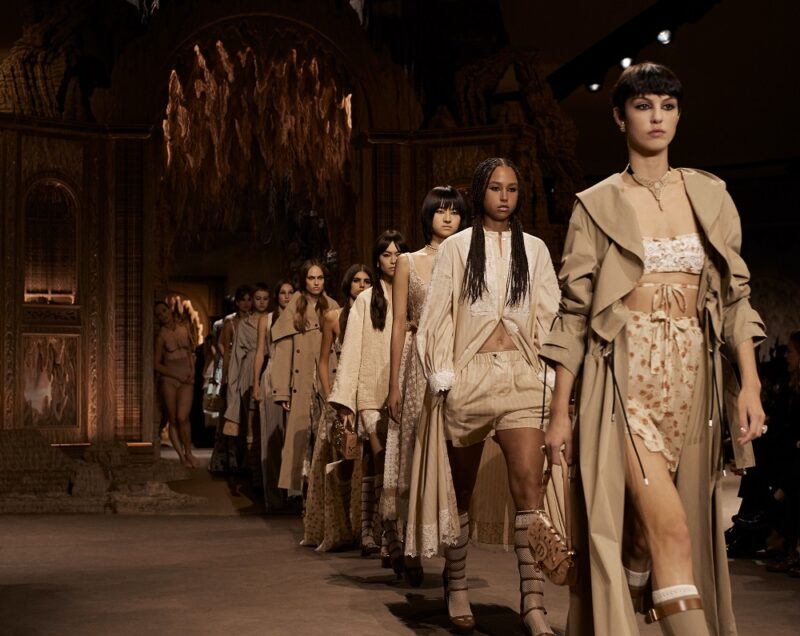 In the heart of this extraordinary setting, the duo of dancers and choreographers Irme and Marne van Opstal offer a magnetic performance striking a stunning balance between the beautiful and the disconcerting, mystery and virtuosity. A fascinating collective energy exploring the multiple facets of feminine power.
* Featured on a Dior scarf, created in the early 1950s, structured around the Avenue Montaigne
Groupshot © Laura Sciacovelli @laurasciacovellistudio for Dior
Finale: © Adrien Dirand @adriendirand @ for Dior
Credits: © Courtesy of Christian Dior Couture