After the V&A London in 2022 "Africa Fashion" is now featuring at the Brooklyn Musuem New York until October 22nd 2023, exhibiting selected pieces from IMANE AYISSI couture collection.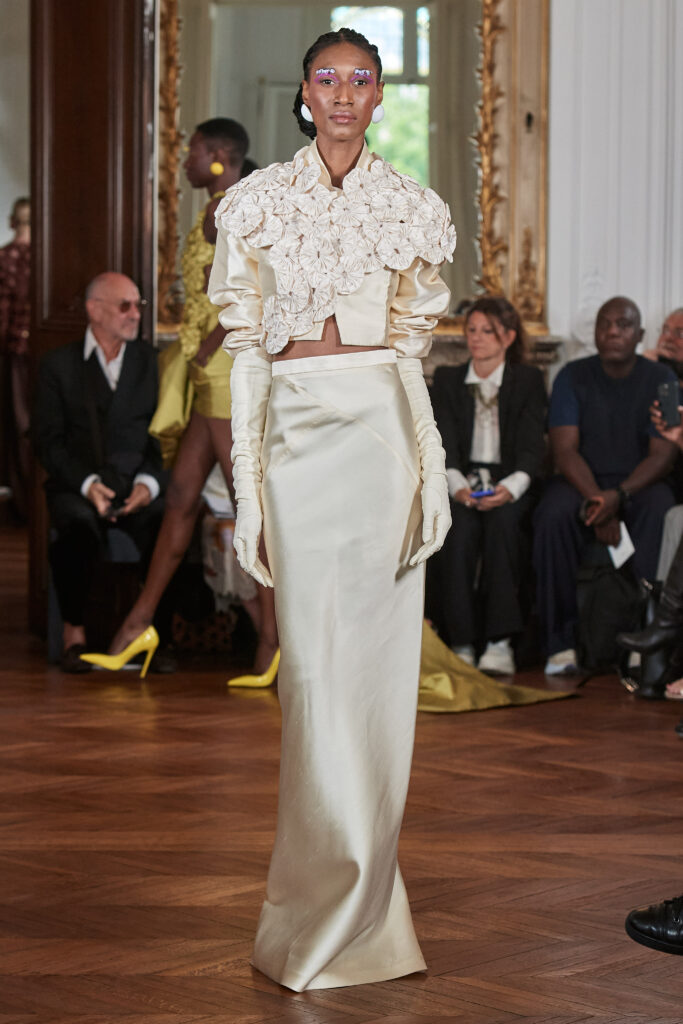 The starting point for this collection was the discovery of works by the painter Paul Chmaroff in the Thierry Schneider collection, which contains several hundred of his works. I knew absolutely nothing about this painter, who comes from a culture (Russian) far from my own culture and difficult for me to classify in a known artistic movement, but yet I was immediately able to appreciate the beauty of this painting. From this, the reflection on the fact that the search for beauty spans cultural differences, that it is, on the contrary, what binds all members of humanity, and that everywhere in the world, the starting point of a graphic work is always a set of lines and curves, a line and a circle (Mguilguidigueu-Mteun in the Ewondo language of Cameroon) and any creator can recognise themselves in the work of another creator.
Echoing the work of Paul Chmaroff, this collection is above all a pure search for lines, shapes, volumes, movements, colors and textures. But no aesthetic research today can do without questioning its environmental impact, which is both a constraint, a limitation on creativity, and at the same time an incentive to be more creative with these constraints. Hence the decision to use mainly natural fibers in this collection, including linen, undoubtedly the most ecological fiber, in combination with silk, or bamboo viscose, which has a low ecological impact and is biodegradable, and embroideries made from fabric scraps. As always, I also used fibres and textiles that are characteristic of the African continent: raffia, Obom (tapped tree bark), "bazin teinté", Kenté…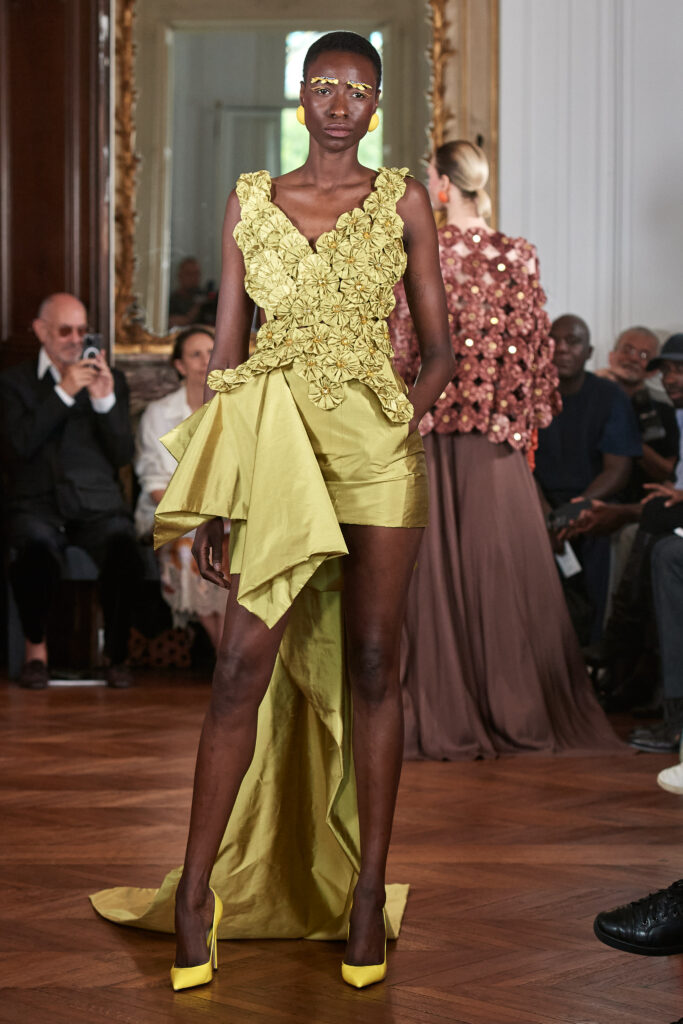 Imane Ayissi
Imane Ayissi was born in Cameroun, the son of a family of artists and sportsmen: his father was a champion boxer, his mother had been elected Miss Cameroun in 1960 and his brothers and sisters are dancers and singers.
He was a member of  the Ballet National du Cameroun and subsequently toured with singers and choreographers, such as Patrick Dupont, which involved travelling to the four corners of the world.
At the same time, he worked as a model, presenting the men's collections of famous luxury and pret-a-porter brands such as  Cardin, Dior, Lanvin, Givenchy, Yves Saint-Laurent and Valentino. He was also the subject of fashion features, advertising campaigns and artistic projects in fashion shoots by famous photographers.
But, above all, it is to his work as a couturier and designer that he dedicates himself.
He became interested in fashion as a child in the Cameroun (it was there that he made his first garments for his mother and subsequently for one of the largest ateliers in the country). Re-located in Paris,  he started to design small collections which were sold on request to private clientes and made-to-measure. Since 2010, he has decided to present complete collections during Paris Haute Couture week. Since January 2020 his collection are integrated in the official Haute Couture Calendar, invited by the Fédération de la Haute Couture et de la Mode in Paris. He is the first subsaharian designer to be invited int the official Haute Coutur Calendar in Paris as guest member.
The garments of Imane Ayissi's « Couture » and  prêt-à-porter lines, meld African traditions and realities with western fashion. His collections, often featuring evocative names in Ewondo, Imane Ayissi's native Language, (Mindzing, Beussanda, Asseulenn…) combine  african craftsmanship, heritage materials and fabrics (such as Kenté, Kita, Faso Dan Fani, Bogolan…) together with his use of innovative design and haute Couture skills. There is also often an infusion of typically African-style bricolage or recycling work with references to Parisian Haute Couture and contemporary creativity (Madeleine Vionnet, Cristobal Balenciaga, Yves Saint Laurent or Azzedine Alaïa are some Imane Ayissi references) to create a fashion targeted to an international public.
Imane Ayissi is a luxury "slow fashion" brand involved in ethical and sustainable production with the exclusive use of natural and, as much as possible, organic materials, the respect of craftwork and traditional skills.
Imane Ayissi is also involved in fashion training projects and the development of a textile industry designed to help foster economic growth in Africa and particularly in Cameroon.
Photo: @fabricephoto
Make up: @bymarcellocosta
Hair: @beppedeliaofficial
PR: @stationservice
Credits: © Courtesy of Station Service