Kim Jones pays tribute to the late Judy Blame in his latest campaign, re-purposing the same ethereal backdrop we saw earlier this year for a series of moody group portraits that evoke the style of the old Dutch Masters.
Lensed by Steven Meisel, the images in the Advertising Campaign for the Winter 2020-2021 Collection by Kim Jones capture the Artistic Director's silhouettes in a dreamlike setting. Reinterpreting the Scenography of the Show, these striking compositions evoke the mysterious beauty of Dutch Master paintings.
"I Loved the Show we did to celebrate Judy Blame and wanted to highlight the Couture aspects of the Collection by recreating the set for the shoot", Kim Jones points out.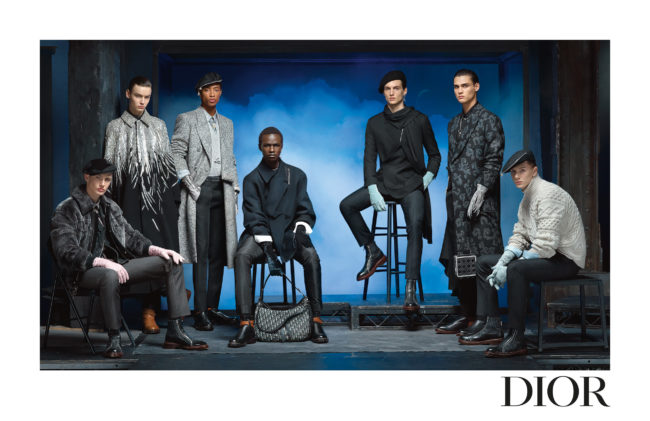 Further prolonging the spirit of the show, a glass cube filled with enchanting billowing clouds colors the darkness with bluish evanescence; a poetic tribute to the passionate souls Christian Dior and Judy Blame, the iconoclastic personality whose visionary modernity inhabits this collection.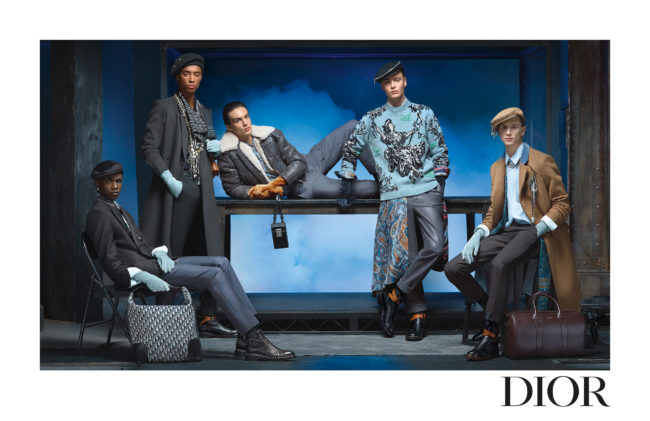 The models wear pieces that combine Dior's timeless allure with the subversive attitude of the English artist, who appropriated everyday objects – such as padlocks and safety pins – as daring accessories. House codes steeped in haute couture references are embodied in the moiré sheen of silk and embroideries, and in the arabesque scrolls of paisley.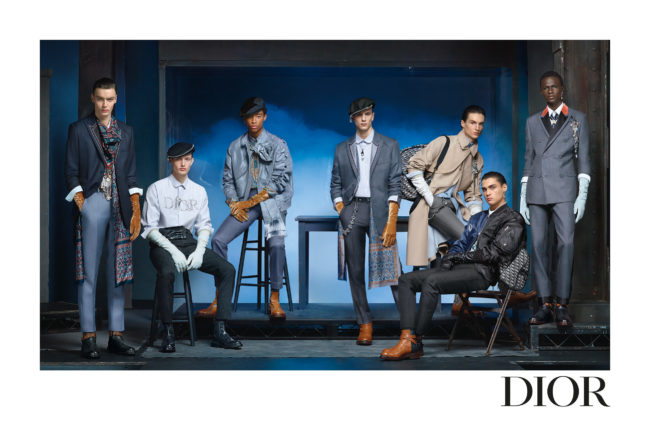 Opera gloves complete each look, along with the Saddle and Soft Saddle bags, the latter a hobo version of the House icon –, the new double pochette with shoulder strap that redefines the Saddle's curves, to boots that revisit the "Jodhpur" style, these objects of desire punctuate a series of luminous images celebrating the reinvention of grace.
Credits:
Ad Photographer: Steven Meisel
Art Director: Ronnie Cooke Newhouse
Stylist: Melanie Ward
Make Up Artist: Pat MacGrath
Hairdresser: Guido Palau
Models: LUCAS EL BALI @NEW MADISON – LUDWIG WILSDORFF @PREMIUM – PATRICK WALDRON @PREMIUM – THATCHER THORNTON @CHARLIE – MALICK BODIAN @SUCCESS – OTTO NAHMMACHER @IMG – JECARDI SYKES @HEROES
© Courtesy of Christian Dior Couture