Lucas Ossendrijver explores a series of contrasts for Lanvin's spring-summer 2019 collection.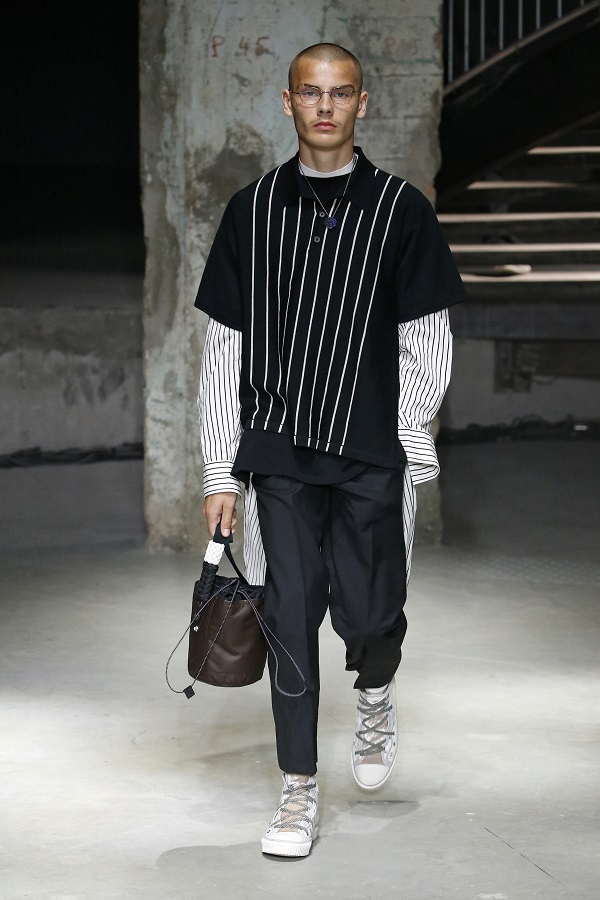 "For summer 2019, I wanted to go beyond streetwear, to find a new form of sophistication, to place value on design and craftsmanship. I wanted to rediscover a more intimate form of luxury", Lucas Ossendrijver, the artistic director of menswear at Lanvin, explains.
Elements confront each other in every silhouette of this collection, which showcases a new attitude. "There are contrasts between daytime and evening, colour and black, structure and softness, flatness and volume", Lucas continues. References and universes combined. Everywhere, the details put forth a look, a movement: on a parka, woven striped satin is applied onto a cotton veil. A suit with an almost military appearance incorporates the feeling of a tuxedo. A simple strip of fabric sewn between the outside and inside of a bomber jacket inflates the garment and gives it volume: it's a constant game between full and flat forms. As for the blazers, they disrupt the evening feel: on a model in grain de poudre, an offbeat satin yoke is placed on the shoulder. On another tailcoat, this time the satin appears on the sleeve. On the same design, the satin hangs towards the front. Underneath a jacket the collar is gathered giving the appearance of a hood.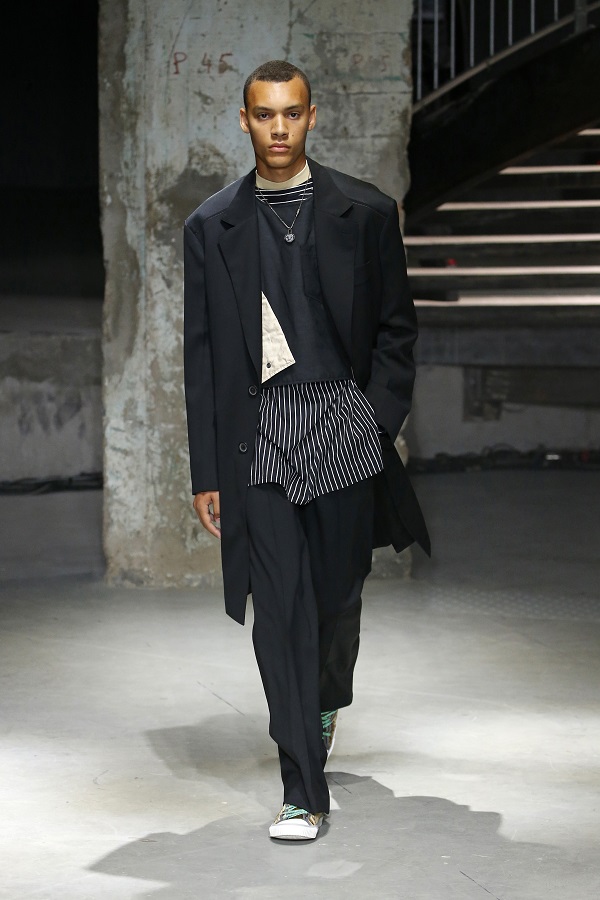 The look is  versatile, hybridization reigns: tops are constructed by taking the back of a shirt and the front of a T-shirt in cotton crepe. Due to the craftsmanship of the cut, they can be worn on both sides.
In turn, a mesh fisherman's waistcoat or a quilted cotton vest lined with satin is placed on top, recalling protective clothing. Once worn, these pieces mix and lines become blurred. Even though an impression of softness is suggested, the silhouette is nevertheless controlled, sophisticated. Poetry contrasts graphic effects, where stripes subtly stand alongside floral prints and metal rose necklaces. Both colour and material confront one other: wool and velvet; mint green, brown, and blue violet; lavender and bright red. This season, a tattoo artist has imagined prehistoric animal drawings, mystical symbols, where stars and insects form an imaginary encyclopaedia, printed on silk or viscose shirts.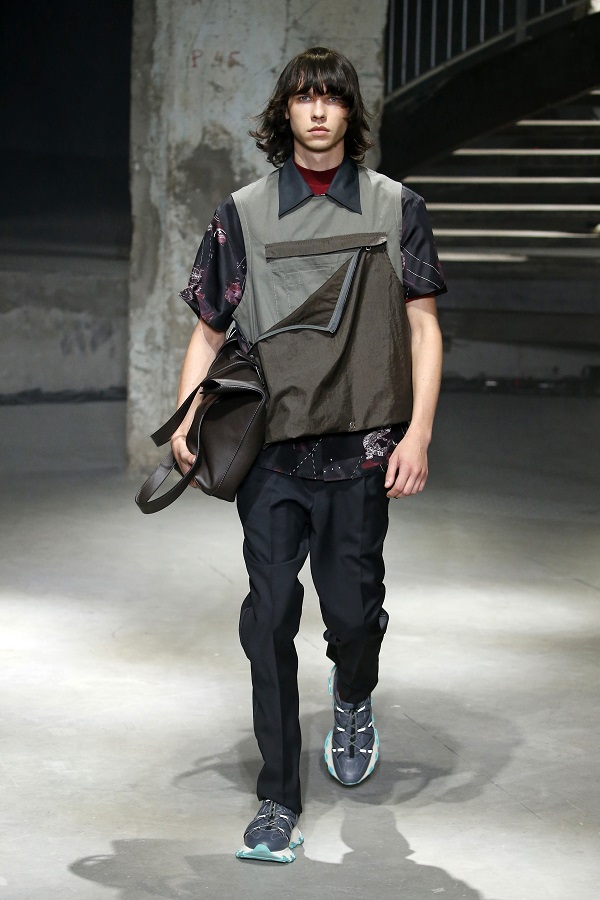 Trainers with vulcanized soles, pieces in velvet or striped canvas, a tuxedo belt designed as a belt bag or hand-painted with flowers… The accessory collection is also complemented by these contrasts. Garments mingle with giant pieces, like huge moving bags draping asymmetrically. More than ever, the jewellery is talisman-like: bracelets with hammered and varnished finish and necklaces which hide secrets and constellations within metal balls or on the back of reversible medallions.
Credits: © Courtesy of LANVIN PR