Louis Vuitton Myriad Les Extraits Collection: a singular dialogue between architecture and perfume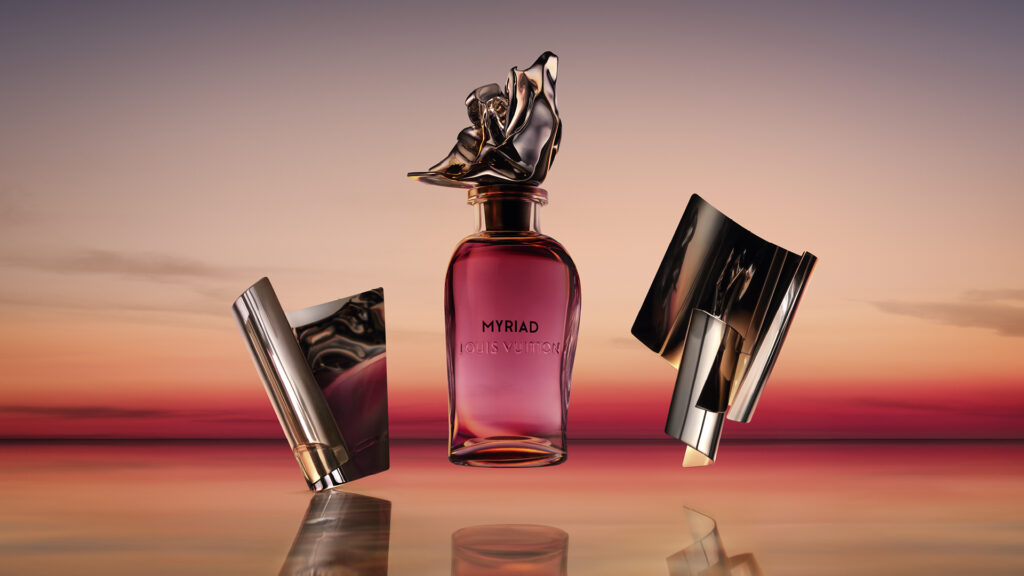 More than a collaboration, a shared work by two leading contemporary artists.
In 2021, the Maison Louis Vuitton orchestrated an exceptional meeting between its Master Perfumer, Jacques Cavallier Belletrud, and the legendary architect Frank Gehry. From that encounter was born an extraordinary collection that elevates perfume to the level of high art. With Myriad, this collection today is enriched by a new creation in homage to a monumental ingredient in perfumery.
As the ultimate expression of perfume, the Louis Vuitton Les Extraits Collection embodies the harmony between two creatives guided by a shared obsession. A common leitmotiv, the thread running through their life's work: breaking free of convention to create pure emotion.
Myriad: from black gold comes colour
For the sixth opus in the Les Extraits Collection, Jacques Cavallier Belletrud continues his reinterpretation of great themes in perfumery. With Myriad, he offers an original score for oud, a wood so precious it's known as "black gold." A scent so profound that it seems to contain all the others. "It's an exceptional note that has always fascinated me," explains the Master Perfumer. With its fabulously complex smell and uniquely rich history across cultures and eras, oud offers perfumers a vast territory of inspiration. As a theme, it lends itself to infinite variations. Which is why, all on its own, it comprises an olfactory family unto itself.
But how to showcase such a monument in perfumery as it never had been before? How to infuse such a dense, powerful material with the fluidity and lightness that is the Extraits' signature, from their olfactory composition to the line of the flacon? Adapting oud to the grammar of this singular collection proved quite a feat. To achieve that, Jacques Cavallier Belletrud sought to "pierce it with light," to reveal all the facets of its scent. Like a diamond that diffracts light in all the colours of the rainbow, oud unfurls a myriad olfactory nuances…
The point of departure was an exceptional essence of Assam oud, which the Master Perfumer selected in Bangladesh from a supplier that now is exclusive to Louis Vuitton. Under the terms of a long-term reciprocal commitment, Louis Vuitton has reserved the entirety of this essence, "a perfect balance between the woody, spicy depth of oud and its characteristic animalic note." To contrast the high proportions used in this formula, floral notes became the obvious choice. Jacques Cavallier Belletrud created a made-to-measure rose, combining the freshness of Bulgarian rose essence with the roundness of May rose absolute, from Grasse, of course. As a counterpoint, saffron amplifies the naturally leathery, spicy effects of oud, while cocoa extract offers a sensual and raw ambivalence. Like a kaleidoscope of colours and textures, this ultra-faceted note was ready to take wing. A dense cocoon of ambrette and white musk lifts the fragrance, animating it and letting it linger on the skin, while a note of moss brings a final touch. The velvetiness of a sleek, timeless trail. A virtuoso expression of the Extraits style, Myriad is best expressed in oxymorons. Luminous depth. Intense lightness. Black comprised of a thousand colours.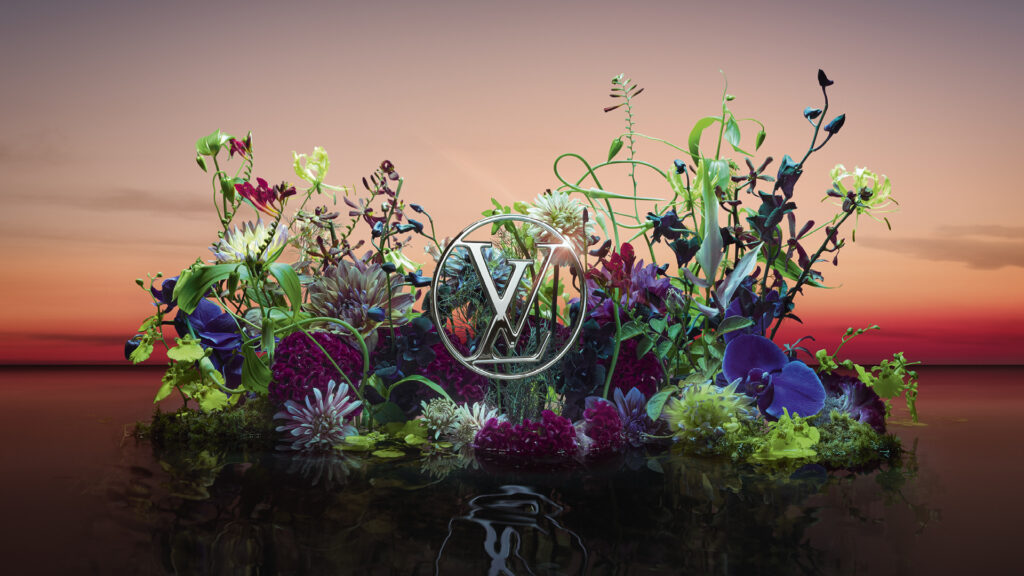 An Ode to Nature
Through the Les Extraits Collection, Jacques Cavallier Belletrud and Frank Gehry explore an essential point of convergence in their respective callings: the omnipresent inspiration of Nature. An ode to its fabulous diversity, Myriad pays tribute to the extraordinary colour palette of Life in a shimmering trail of infinite nuances.
"She is our guide," Master Perfumer attests. "Frank and I both love the wind that gusts through the world around us. We love movement and fluidity, two notions that are at the heart of the Les Extraits Collection."
A pioneer of biomimicry in art, Frank Gehry has always looked to Nature for inspiration. In addition to its beauty and infinite diversity of models, Nature also makes it possible to create sustainable architecture that is adapted to the challenges of today's world.
For his part, Jacques Cavallier Belletrud exemplifies a profession that is inseparable from nature and its treasures. From Les Fontaines Parfumées in the heart of his native Grasse, he works daily with ingredients from near and far. Through essences of flowers, herbs, spices and wood, Nature provides him with both the materials for his art and the ideal of harmony that underpins all his creations.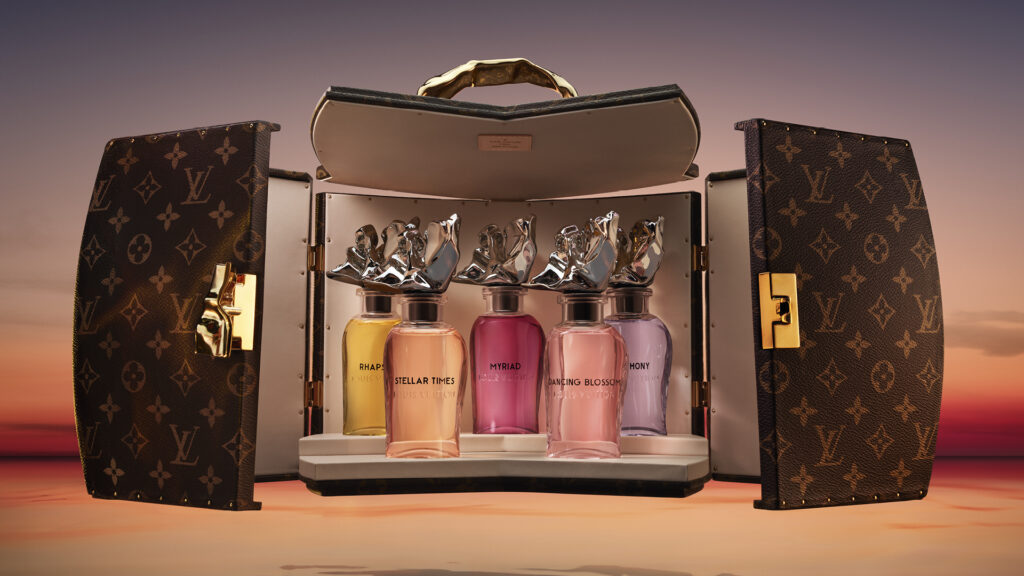 A Hue that Defies Categorization
Because a fragrance is seen before it is smelled, Myriad's message is expressed in the colour of its juice, which wavers between tawny red and amber pink. This bold hue recalls the eternal wonder of Nature's infinite chromatic palette.
The Perfume Extract, Reinvented by Jacques Cavallier Belletrud
Jacques Cavallier Belletrud set out to reinvent perfume in its noblest form. The aim was to give the extract a contemporary expression that was attuned to the 21st century. Inspired by the principle of the expansion of the Universe, the Master Perfumer sought to stretch and reshape the Extrait. To give it outward momentum from within. To coax light into it. A breath of fresh air.
A proud native of Grasse, Jacques Cavallier Belletrud inaugurated the Les Extraits Collection with five creations that revisit as many major themes in modern perfumery. A tribute to the history of an art that, as the son and grandson of a perfumer, courses through his veins. A way of celebrating heritage, while also redefining its contours.
Freed of the traditional top/heart/base note structure, Les Extraits break with classic perfume architecture to reveal the quintessence of the olfactory theme that inspires them: floral (Dancing Blossom), musky (Cosmic Cloud), citrus (Symphony), chypre (Rhapsody) and amber (Stellar Times). On the skin, these creations are discovered and rediscovered as never before. Abstract olfactory forms are suspended in weightlessness, as if captured in movement. Extracted from the passage of time.
The bottle: Movement captured by Frank Gehry
The perfume bottle was one of the few territories that Frank Gehry, one of the greatest living masters of architecture, had not yet approached. In answer to olfactory creations by Jacques Cavallier Belletrud, Gehry imagined a dynamic, fluid form that seems unbound by the laws of physics. Free floating, in sum.
Taking as his starting point the original bottle by designer Marc Newson for Parfums Louis Vuitton, Frank Gehry began by stretching its lines into curves. From there, he designed a spectacular hood, like an imaginary flower, whose foundations he shaped by crumpling a sheet of aluminum in his hands. This ephemeral, now eternal, form reflects both technical and aesthetic prowess. A work of art in its own right, both sculptural and ethereal.
Credits: © Courtesy of Louis Vuitton Italia