Un nuovo ciclo di miartalks segna la rinnovata collaborazione tra miart e In Between Art Film: tre giornate di conversazioni aperte al pubblico coinvolgeranno oltre quaranta artisti, curatori e direttori di musei, collezionisti, designer e scrittori internazionali, riuniti attorno al tema "Il bene comune".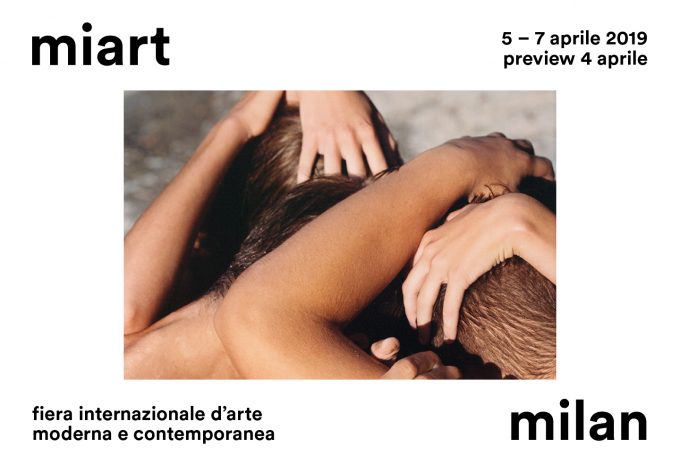 miart – la Fiera Internazionale d'Arte Moderna e Contemporanea di Milano è lieta di annunciare la lista dei relatori della nuova edizione dei miartalks, realizzati per il quarto anno consecutivo sotto la direzione di Alessandro Rabottini e in collaborazione con In Between Art Film, la casa di produzione cinematografica fondata da Beatrice Bulgari nel 2012 per incoraggiare lo scambio tra i diversi linguaggi dell'arte contemporanea, della video arte e del cinema.
Riuniti sotto il titolo Il Bene Comune i miartalks 2019 esploreranno i diversi significati di questo concetto e le sue future espressioni nel campo dell'arte moderna, contemporanea e del design attraverso il contributo di:
Maria Thereza Alves, Artista, Berlino
Paola Antonelli, Senior Curator, Architecture & Design, MoMA, New York
Sammy Baloji, Artista, Bruxelles – Lubumbashi; Co-Fondatore, Picha asbl e Lubumbashi Biennale, Lubumbashi
Christian Benimana, Titolare e Direttore Generale, MASS Design Group e Direttore, African Design Centre, Kigali
Tulga Beyerle, Direttrice, Museum für Kunst und Gewerbe, Amburgo
Elana Brundyn, Chief Executive, Norval Foundation, Città del Capo
Grégory Castéra, Co-Direttore, Council, Parigi
Beatrice Catanzaro, Artista, Milano
Tony Chambers, Fondatore e Direttore Creativo, Studio TC & Friends, Londra
Aric Chen, Curator-at-large M+, Hong Kong e Direttore Creativo, Design Miami
Mel Chin, Artista, Egypt NC
Ilse Crawford, Fondatrice e Titolare, Studioilse, Londra
João Fernandes, Vicedirettore, MNCARS – Museo Nacional Centro de Arte Reina Sofía, Madrid
Amy Franceschini, Artista e Designer, Futurefarmers – Presence / Persistence, San Francisco CA
Flavia Frigeri, Docente di Storia dell'Arte, UCL – University College London
Corinna Gardner, Senior Curator per il Design e il Digitale, Victoria and Albert Museum, Londra
Teresa Grandas, Curatrice, MACBA – Museu d'Art Contemporani de Barcelona
Vivien Greene, Senior Curator, 19th- and Early 20th-Century Art, Guggenheim Museum, New York
Matilde Guidelli Guidi, Assistente Curatrice, Dia Art Foundation, New York
Sharon Hecker, Storica dell'Arte e Curatrice, Milano – Los Angeles
Stefanie Hessler, Scrittrice e Curatrice, TBA21–Academy, Londra e Royal Institute of Art, Stoccolma
Choghakate Kazarian, Storica dell'Arte e Curatrice, Parigi
Teresa Kittler, Docente di Arte Moderna e Contemporanea, University of York
Beatrice Leanza, Curatrice e Direttrice Creativa, The Global School, Pechino
Jessica Morgan, Direttrice Nathalie de Gunzburg, Dia Art Foundation, New York
Ippolito Pestellini, Partner, OMA, Rotterdam – Milan
Nataša Petrešin-Bachelez, Curatrice Indipendente, Scrittrice e Editor, Parigi
Ahmet Öğüt, Artista, Amsterdam – Berlino
Nancy Olnick e Giorgio Spanu, Fondatori, Magazzino Italian Art Foundation, Cold Spring NY
Michelangelo Pistoletto, Artista e Direttore Artistico, Cittadellarte – Fondazione Pistoletto, Biella
François Quintin, Direttore, Lafayette Anticipations – Fondation d'enterprise Galeries Lafayette and Fonds de Donation Familie Moulin, Parigi
Alice Rawsthorn, Autrice di Design as an Attitude, Londra
Marinella Senatore, Artista, Roma
Gabriele Schor, Fondatrice e Direttrice, Sammlung Verbund Collection, Vienna
Marco Scotini, Direttore Artistico, FM – Centro per l'Arte Contemporanea, Milano e Direttore, Arti Visive e Studi Curatoriali, NABA, Milano
Francesco Stocchi, Curatore per l'Arte Moderna e Contemporanea, Museum Boijmans Van Beuningen, Rotterdam
Andrea Trimarchi e Simone Farresin, Studio Formafantasma, Amsterdam
I miartalks sono curati da:
Matteo Lucchetti, Capo Curatore, Visible (Cittadellarte – Fondazione Pistoletto / Fondazione Zegna)
Hugo Macdonald, Critico del Design e Giornalista, Londra
Alberto Salvadori, Direttore, ICA, Milano
In Between Art Film ha promosso prestigiose partnership culturali in collaborazione con importanti istituzioni internazionali tra cui: Serpentine Galleries (2019); Loop Barcelona (2018); Videocittà (Roma, 2018); Manifesta 12 (Palermo, 2018); Dhaka Art Summit (Dhaka, 2018); Lo Schermo dell'Arte (Firenze, 2017-2018); Documenta 14 (Atene – Kassel, 2017); Italian Pavilion, 57th International Art Exhibition of Venice Biennale (Venezia, 2017); Maxxi Videogallery (Roma, 2017-2018); Tate Film (Londra 2017-2018); Biennale de l'Image en Mouvement (Centre d'Art Contemporain Geneva, 2016 – 2018); Italian Pavilion, 55th International Art Exhibition of Venice Biennale (Venezia, 2013).
miart 2019
5 – 7 aprile 2019
VIP preview e vernissage su invito: 4 aprile 2019
fieramilanocity, padiglione 3, gate 5
Milano
Credits: © Courtesy of Lara Flacco Press