Pronounce Men & Women Fall Winter 2019 London show report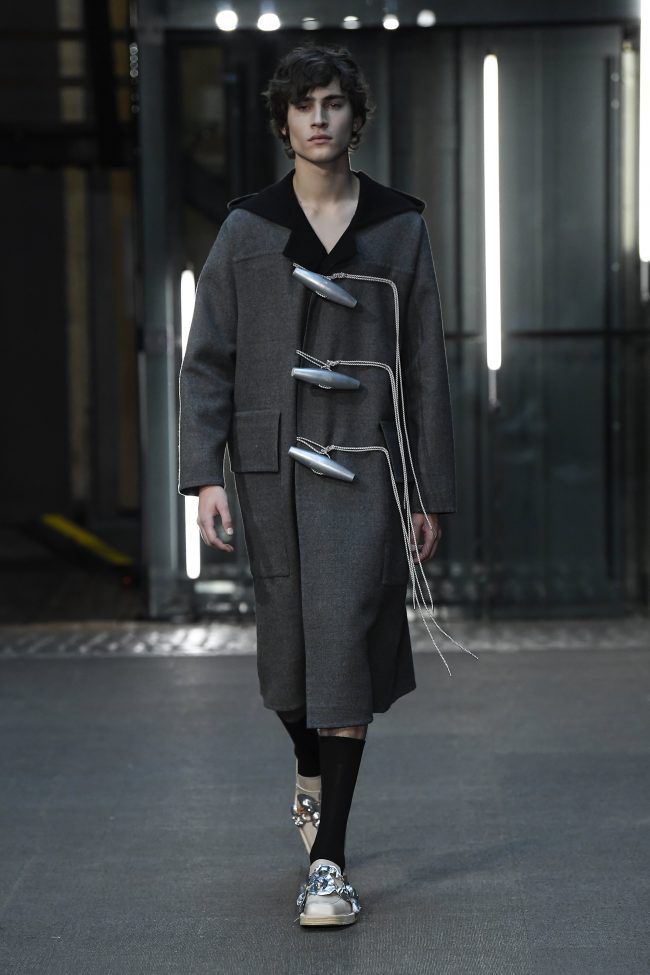 Continue exploring the 'Zhòng Shēng Xiàng' (All Beings' from 'The Diamond Sūtra') visual project; This season, Thomas Mailaender's creative use of light in his "Illustrated People" photographs, which hugely inspired the two designers to discuss the abstract relationship between light and individuals through their designs.
Each individual is a beam of light.
For their fourth London collection, PRONOUNCE further extends the language of the brand, F/W19 is a visual poem of relaxed tailoring and more, appreciating the beauty of crafted structure lines, delicate hand-sewn piping techniques are one of the highlights, which represent beams of light.
/ Piping / Abstract collages /
/ Hand polished massive button / Mongolian craftsmanship hand-knit /
A series of textured-collaged abstract faces are developed under several Chinese influential figures: poet Gu Cheng, artist Wang Guangyi, martial artist Yip Man etc. – Celebrating each one's talent as a single powerful soul.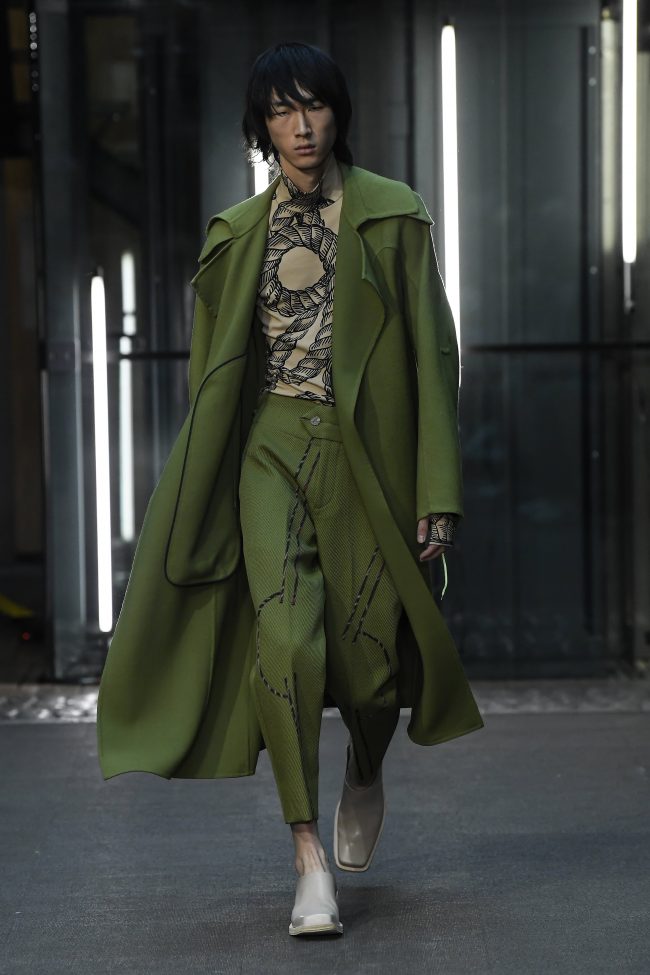 PRONOUNCE collaborated with UNDETECTED for the hand-carved 'INDIVIDUALS' metallic ornamental sculpturs.
Each face-like sculpture of metal reflects texture, absorbs light and highlights: "Each individual is a light beam".
Mao suit and Cheongsam, a staple that has been featured over the past three seasons, continues to be featured and are further developed in F/W19 collection.
Shanghainese shoe craftsman continue to create hand made exclusively developed footwear for PRONOUNCE, in a nude colour, the original skin colour of the leather.
The AW19 collection is defined by conflicting and transitional states: functional and decorative, truth and fiction, copy and unique.
This collection is dedicated to each individual – each of us is a beam of light.
* Three full looks of "PRONOUNCE X LI-NING" collaboration preview is also featured in the catwalk show. It is the first-time Chinese sport brand LI-NING united Chinese young emerging brand (PRONOUNCE). "PRONOUNCE X LINING" will also launch a capsule collection on the first season in 2019 internationally.
ART DIRECTION. DOPPIO J
STYLING: Harry Lambert @ BRYANT ARTISTS
CASTING: Nachum Shonn
HAIR. Brendan O'Sullivan @ GO•247
MAKE UP: Michelle Webb from AOFMPro @ Dermalogica
PRODUCTION: AW+C
PR AGENCY: ELEVEN
SOUNDTRACK: ELI OSHEYACK
JEWLERY: UNDETECTED
Credits: © Courtesy of Agency Eleven