Celebrating 20 years of his eponymous fashion house, Syrian couturier Rami Al Ali retraces the steps it took to build – and why he's now moving with purpose to pay it forward.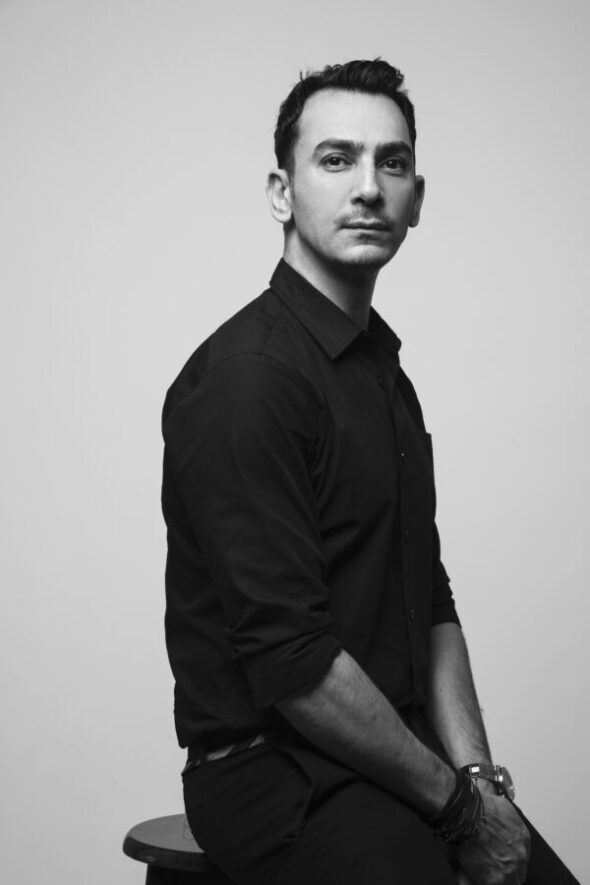 Couture designer Rami Al Ali marks the 20-year anniversary of his eponymous fashion house.
For more than two decades, Rami Al Ali has been synonymous with luxury, elegance, and opulence. His collections and identifiable brand aesthetic have become a voice for the region, which have led to his ascent to international acclaim.
In celebration of the enormous milestone, the house has commissioned 20 stylists from around the world to shoot 20 of the most iconic couture looks from the brand's archive.
The series of looks showcases the evolution of the house, from the designer's early years right through to the present day.
Each of the 20 designs have been carefully curated and signify chapters in the brand's story. Syria, Lebanon, America, France, Saudi Arabia, and Italy are amongst some of the countries chosen to stage the looks – each having influenced the house over the years.
Among the pieces photographed is a gown from the designer's Spring Summer 2012 collection worn by Beyonce at the Mrs Carter Tour.
A dress from the Spring Summer 2021 collection, inspired by a Damascene night also appears in the brand's montage of greatest hits. Another iconic look is of the 2020 Spring Summer collecton inspired by orchids that showcased the designer's penchant towards craftmanship.
The sartorial line-up highlights Al Ali's contemporary vision and ability to translate Middle Eastern and Western aesthetics to form a unique design hybrid.
"This photography series looks back, but also forward – it explores the codes of the house, the evolution of the brand and the identity I've built up over the last two decades. It's been an honor to live out my dream and in doing so, represent the region that has shaped me into who I am today. I have been fortunate enough to receive the support of many celebrities, influencers, members of royal families and loyal clients from around the world, to who I am truly grateful." Rami Al Ali, Founder and Creative Director
In 2001, Rami Al Ali started paving his professional design career, with the launch of his own showroom and atelier.
He entered the fashion arena with bold creations and uncompromising couture designs. Garnering attention from global brands such as Swarovski, he was asked to be a part of their book, Unbridaled, featuring couture veterans Giorgio Armani, Vivian Westwood and John Galliano, amongst others.
In 2006, Al Ali was asked by La Mode En Images to be part of the Asian Games opening ceremony in Qatar.
Al Ali also collaborated with many notable arCsts, such as the architect Viktor Udzenija – designing an installation in Dubai Design District. He went on to collaborate with other notable brands such as jewellery designer Nadine Kanso, international high street giant Charles & Keith, the private airline Royal Jet, and fine jewellery brands Bulgari, Cartier, Van Cleef & Arpels and Messika.
Al Ali's ultimate breakthrough came in 2009, when he was invited as a guest member of Alta Moda Alta Roma, showing his spring/summer couture collection on the official couture week calendar. This further strengthened relationships with the European fashion media and his success was reaffirmed when The Middle East Magazine named him as one of the top 50 most influential Arabs.
In January 2012, Al Ali debuted at Couture Fashion Week in Paris, showcasing his Spring/Summer 2012 collection.
Since then, the designer has gone on to release three more line which include his pret-a-porter, bridal and White collections. Rami Al Ali's designs have gone on to dress celebrities including Aishwarya Rai, Beyoncé Knowles, Chanel Iman, Eva Longoria, Googoosh, Helen Mirren, Nawal Al KuwaiCa, Isabeli Fontana, Jennifer Lopez, Kelly Rowland, Kerry Washington, Giuliana Rancic and Youssra, amongst others.
Rami Al Ali goes beyond fashion to support philanthropic causes close to him. Since 2017, he honors his commitment to rising couturiers with his mentoring program at the prestigious ESMOD Fashion Institute in Dubai. In 2019, the designer took part in the non-profit organization Atassi Foundation's exhibition in Dubai that aimed to shed light on the women's art movement in Syria. He is also working with Dubai Design & Fashion Council (DDFC) as a mentor to help regional talent and has established an initiative titled Ard Dyar that helps to support Syrian talent in the region.
Al Ali's most recent project is with Expo, the designer will support the programme MENASA, an Emirat design plaoorm bringing together local and international designers to celebrate Emirat crafts and tradition to nurture the rich culture and creative dialogue of the region.
Credits: © Courtesy of Station Service Pr