Rokh RTW Spring 2021. Rok Hwang went to an imaginary place where anxiety, curiosity and imagination converge.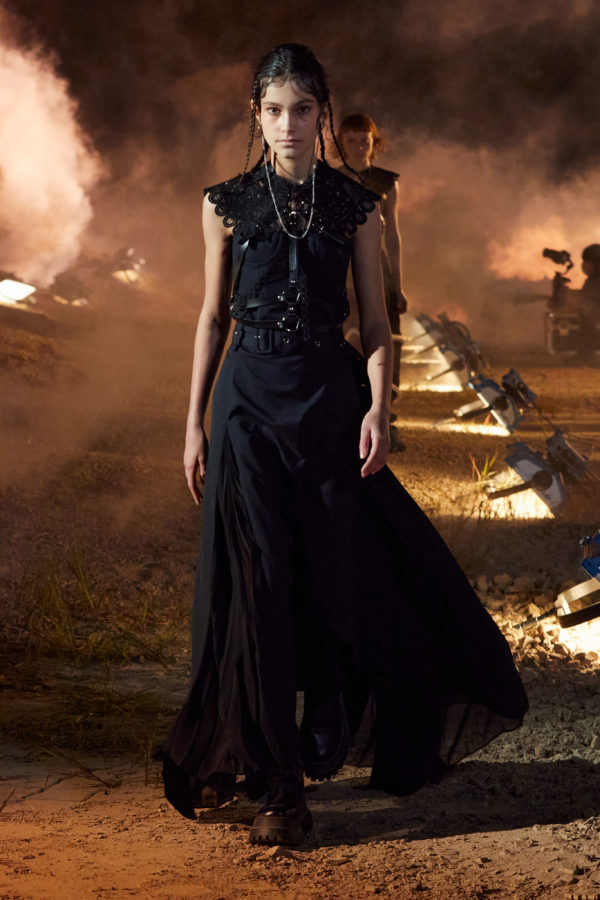 "Night Wanderer"
I began this collection with the same desire as always: To explore moments of my youth and express the personal emotions those memories bring. This time, I wanted to capture the experience of walking at night time when you are young. The air is tense yet filled with the thrill of adventure.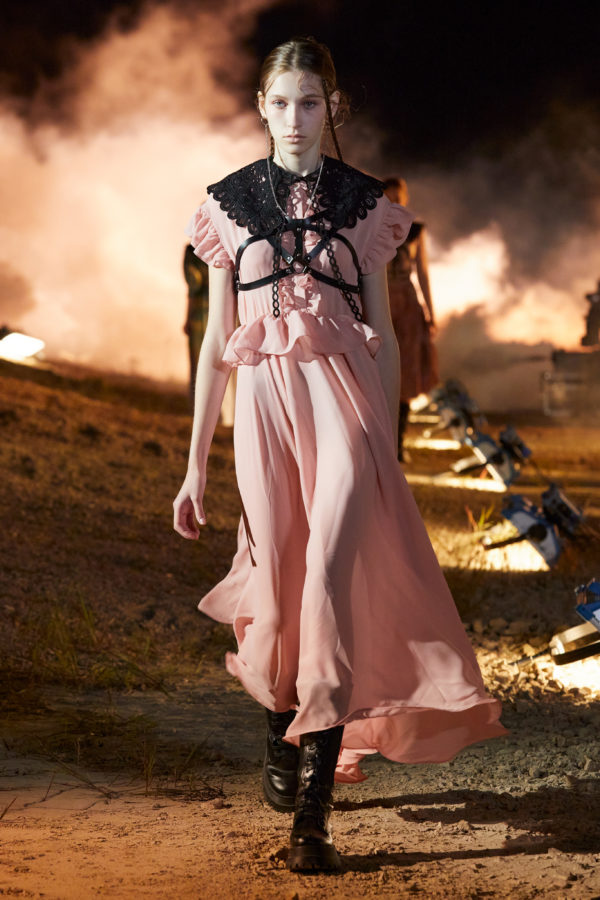 That's how I felt whenever I went to a friend's house in Austin, Texas. Though I would walk only two or three blocks, the night breezes carried a mysterious sensation that stayed with me. On those evenings when we friends stepped out together, we could feel infinity stretching out before us into the darkness.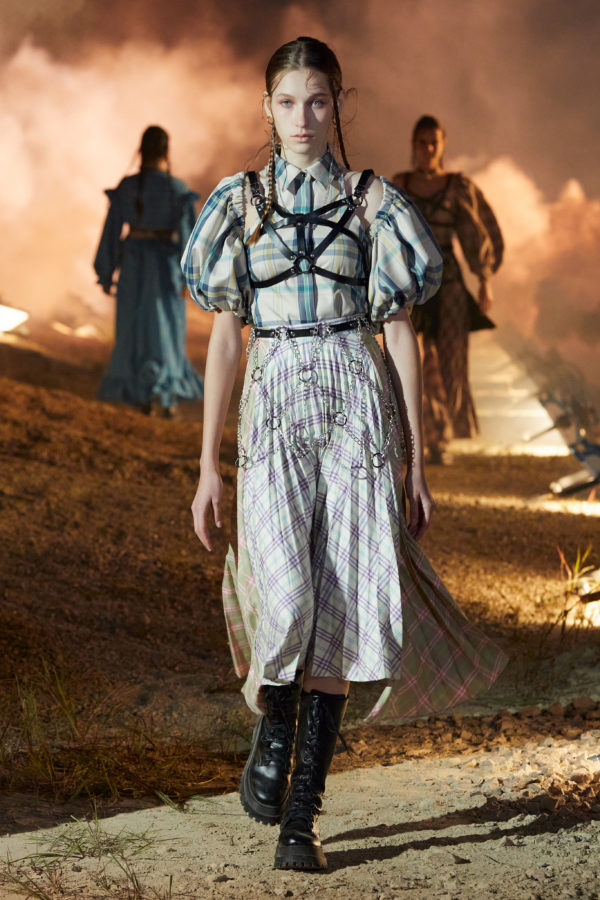 In the spring, stuck at home in London, I read through Miss Peregrine's Home for Peculiar Children with the memories of my night wanderings in mind. I knew then that I wanted this season to escape to a place with no connection to the world that we live in. By taking everyone to the moon or to Mars, to some unknown land, I hoped I could create a story of joy and wonder for women.
I draped all the pieces with my own hand, mixing couture elements with Victorian references. There are puff sleeve dresses with cut-outs or twisted fabric at the waist, as well as  hand-embroidered collars with jacquard floral prints that resemble a carpet bag. Many of these delicate draped garments are covered with leather belts. I always challenge myself to innovate with traditional textiles. This time, you can see that the classic tartan, which we have developed since the beginning of Rokh, has been weather-proofed with a transparent rubber coating in an extremely thin layer to maintain a light and fluid texture.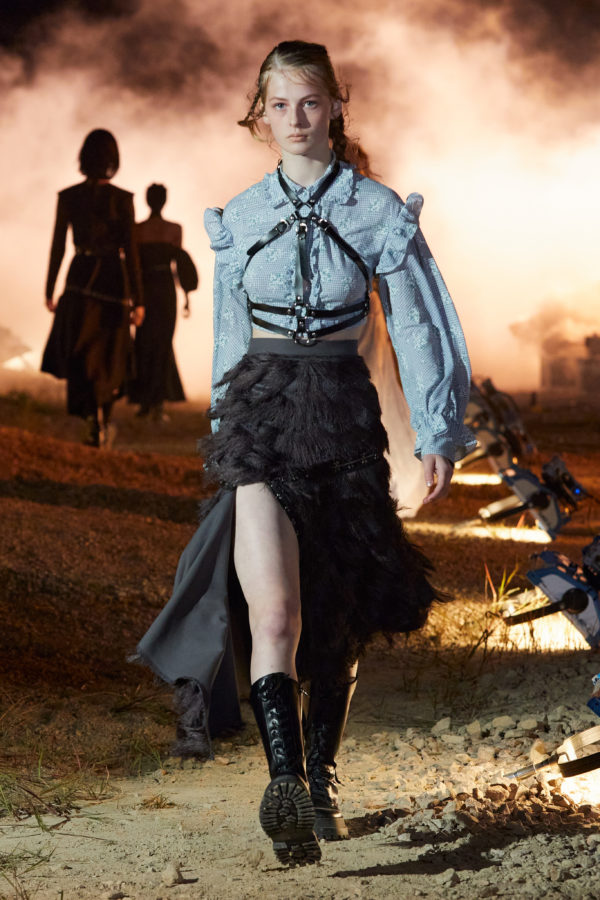 There are two new silhouettes: A romantic trench that falls gracefully away from the body yet holds the waist line, and a sharp new suit with draping across the hips. Lastly, we have a series of graphic prints in collaboration with L.A.-based artist Parker Jackson, whose dark vision of '80s-inspired art brought color and fantasy into the Rokh universe.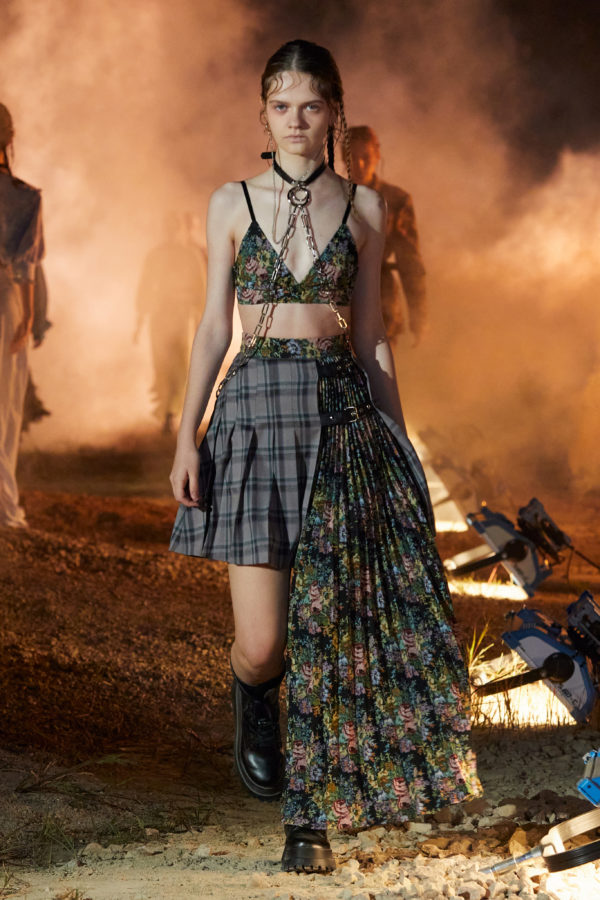 This season, more than any other, I wanted watching my show to recall the act of reading a book. I wanted to conjure a pure, almost childlike state of mind and transport viewers into my imagination. To a place that is wild and adventurous, where everyone has a dream. It is my hopeful message in these difficult times. — Rok Hwang, Rokh
Credits: © Courtesy of ROKH