This Art Edition gathers David LaChapelle's new two-volume collection in a luxurious box set, accompanied by a portfolio of three signed prints.
David LaChapelle returns with his first new publication in a decade. This two-volume collection narrates the photographer's career through his own lens; the first tome traces LaChapelle's rise in the heat of 1980s New York, while the second explores his spiritual and artistic renaissance in 2006–2016. Together, they constitute an unparalleled visual map to the inner workings of a unique creative mind.
Nurtured under Warhol's wing in the '80s, hailed as the Fellini of photography in the '90s, emerging from a retreat in rural Hawaii in the noughties, David LaChapelle has spent the past three decades shooting some of the most luminous stars of his generation and transforming the realms of fashion and celebrity, sex and style with his own distinct, unorthodox aesthetics.
In this exclusive Art Edition, the artist's first publication in a decade, TASCHEN presents two defining periods in LaChapelle's career: his rise to stardom in the white heat of '80s New York, and his creative renaissance following his "disappearance" from the fashion scene, post-2006.
Volume 1, Lost + Found, traces LaChapelle's emergence through Warhol's Interviewmagazine and his ascent to the status of global icon in the fashion world. Meanwhile, Good News explores LaChapelle's spiritual and artistic revival following his retreat to a rural idyll in West Maui, Hawaii.
This Art Edition represents a typographical map to a dizzyingly creative mind, presenting over 300 unpublished works to trace LaChapelle's career through his very own lens. Along the way, we encounter such high-voltage subjects as Miley Cyrus, Amy Winehouse, Michael Jackson, Lady Gaga, Tupac, and Naomi Campbell, as well as LaChapelle's stylistic experimentation throughout the years, spanning classical, Baroque, and Pop art elements. We follow his ascent to the apex of glamour and his subsequent thematic exploration of consumerism, redemption, and spirituality.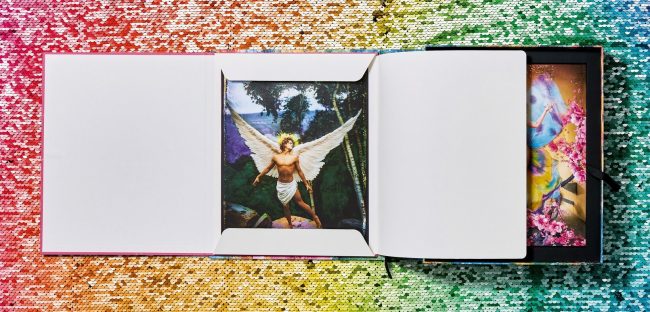 From the controversial Rape of Africa (2009) series and the Kardashian-heavy Black Friday at Mall of the Apocalypse (2013) to the classic Angels, Saints and Martyrs (1984) and the brand new Paradise (2017), this is an intimate tour through LaChapelle's thematic evolution, narrated by the world-class photographer himself. Throughout, we discover an unrivaled critical and creative eye, in thrall to hyper-polished sexuality, as much as to the profound questions of human existence.
Art Edition of 500 copies, each with three prints signed by David LaChapelle.
David LaChapelle. Lost and Found – Good News, Art Edition
Edition of 500
David LaChapelle
Hardcover, 2 vols. in a box with fold-outs, 27.8 x 35.5 cm, 554 pages total; with three prints on Canson Baryt paper, each numbered and signed by David LaChapelle.
Multilingual Edition: English, French, German
Credits: © Courtesy of TASCHEN