He's a pioneering designer, a master couturier, a style icon. Now he's working with Gucci. Dapper Dan says he's just getting started.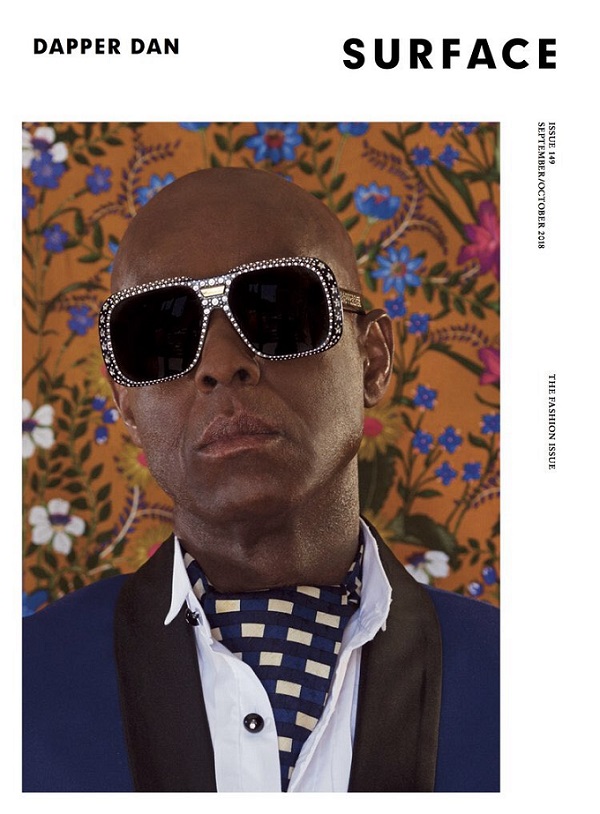 Surface magazine, the American authority on global contemporary design, presents an in-depth cover story on legendary fashion designer and couturier Dapper Dan. The story can be found inside Surface 's 2018 Fashion Issue, available through the new subscription portal at SurfaceMag.com, now featuring Apple Pay integration.
During the 1980s, Dapper Dan's Boutique in New York created clothing with a pioneering blend of streetwear and high fashion. These bespoke pieces often featured unlicensed use of designer logos and patterns. The boutique closed in 1992 after being raided by anti-counterfeiting agents, and Dapper Dan went underground. He remerged last year, and has now partnered with Gucci to relaunch his atelier.
Captured by award-winning photographer Meron Menghistab and written by David Walters, former deputy editor of NYLON magazine, this 13-page Surface feature provides unprecedented access to Dapper Dan's intimate new workspace, at a classified location in Harlem. In an extended interview, the fashion icon opens up about his upbringing, his discovery of African tailoring and its influence on his designs, his self-taught techniques and iconic personal style, and dressing elite clientele like LL Cool J. He also discusses his unique collaboration with Gucci, which led to this year's acclaimed "Dapper Dan-Gucci" collection, as well as his forthcoming memoir.
"This is the first time in my life I can be creative above-ground, without worrying about big brands getting upset", Dapper Dan told Surface. "Just wait until I finish writing the chapter. And I'm not talking about the book. I'm talking about the things I'm going to do from this point on—because now I have a voice".
"Dapper Dan was the ideal choice for the cover of our 2018 Fashion Issue," says Stephen Watson, the editorial director of Surface magazine. "His story touches on so many timely themes—authenticity, transformation, inclusion. This transcends fashion. It's time we started celebrating Dapper Dan's contributions to design on a grand scale".
The 2018 Fashion Issue of Surface includes a photo essay on the skateboarding roots of modern streetwear; an insider's guide to shopping in Paris; a survey of today's best-dressed designers; and an exclusive excerpt from the "The Waiter," a stylish new novel by contemporary artist Matias Faldbakken. It also features dozens of influential design and fashion personalities, including Norma Kamali, Chris Benz, Olivia Kim, Harry Nuriev, Susanne Bartsch, Michele Oka Doner and Peter Shire.
Photographer © Meron Menghistab