In the pages of time. Presenting the latest
Dior Book Tote
Club edition featuring House friend Rosamund Pike as she ventures into one of London's oldest bookshops for a magical rendezvous.
A new rendez-vous merging writing and fashion, the Dior Book Tote Club celebrates the unfailing, ever-reinvented links between Dior and the arts.
Today, it is Rosamund Pike's turn to tell us about the reading material she chooses to slip into her Dior Book Tote, one of the House's emblematic bags. A singular, passionate encounter at Hatchards, the iconic, prestigious London bookshop, where the actress unveils her most vivid literary memories: from Thomas Hardy's classic The Mayor of Casterbridge to Hanya Yanagihara's more contemporary A Little Life, (re)discovering works where beauty is also born of images, she plunges back into the pages of Barnaby Barford's graphic novel The Apple is Everything, the irresistible prose of which is magnified by spellbinding illustrations. An ode to the power of books, culture and creation in all its forms. A suspended moment, inviting dreams and escape.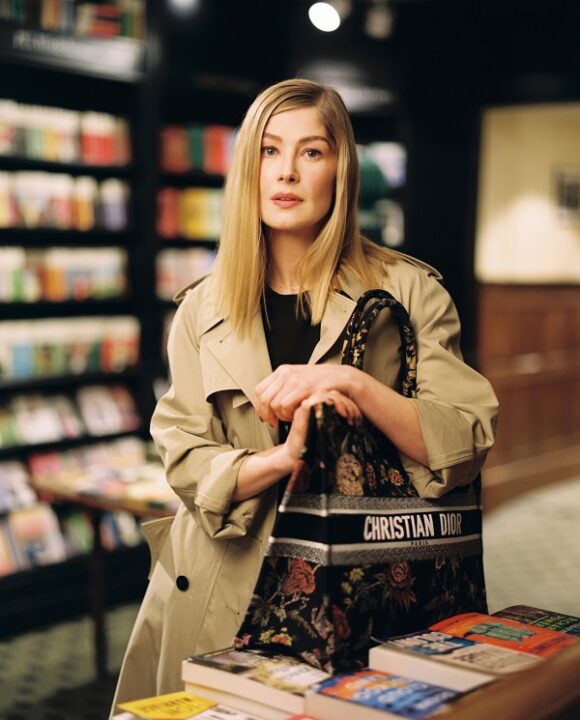 * The works featured in the video are On the Road,

 

Jack Kerouac, Penguin Classics, 2000; Slouching Towards Bethlehem, Joan Didion, Fourth Estate, 2017; A Little Life,

 

Hanya Yanagihara, Picador Collection, 2015; The Apple is Everything,

 

Barnaby Barford, ACC Art Books, 2022; The Mayor of Casterbridge,

 

Thomas Hardy, Everyman's Library Classics, 1993; Moms, Yeong-Shin Ma, Drawn and Quarterly, 2020.
Credits: © Courtesy of Christian Dior Couture