"Dior Et Moi". A high jewellery collection bringing together exceptional and contrasting stones. By Victoire de Castellane.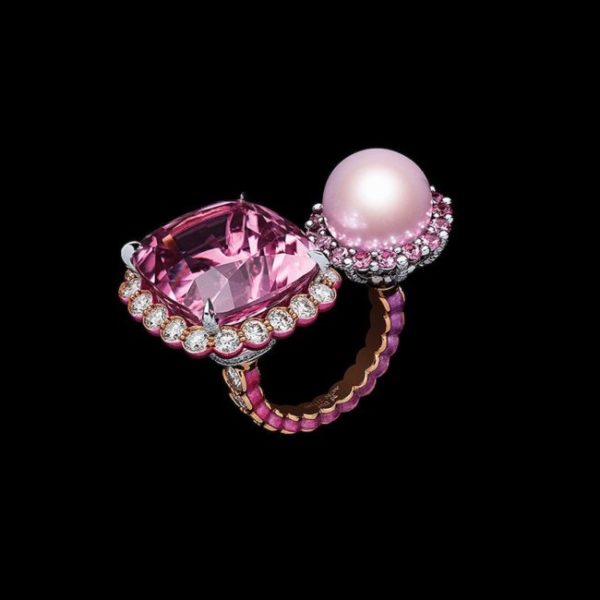 Inspired by sentimental jewellery symbolically known as "Toi et Moi", Victoire de Castellane has dreamt up Dior et Moi, a transgressive new high jewellery collection that brings together exceptional and semiprecious stones.
Thirty-nine creations bearing the audacious imprint of Dior Joaillerie's Artistic Director revisit the notion of these emblematic duos. In a break with tradition, between-finger rings, bangles, necklaces and earrings dare to bring together unconventional colors, proportions and shapes. Lacquer is also a part of the mix, appearing in fifteen unexpected colors, in either solid or gradient shades that were developed thanks to the savoir-faire of the House's jewelry ateliers. Sprayed on brushed gold, it lends a new allure to each stone with its intense colors and shine. Diamonds, emeralds and blue or pink sapphires, with brilliant, pear, cushion or oval cuts, find a joyful counterpoint in red spinels, tourmalines, rubellites, kunzites, turquoise, opals and pearls.
One of Victoire de Castellane's favorite stones, the opal takes pride of place in an XXL version, enhanced with a hypnotic dash of lacquer on a necklace set with a diamond. Asymmetrical earrings illuminated with bright hues ranging from green to pink reveal their mischievous, contemporary character. Each piece is worked on both sides, like secret jewels. In this way, motifs and geometric shapes subtly reveal themselves, recalling the art of detail according to Dior.
In the continuity of the Gem Dior high jewellery collection, this new line asserts its abstract and artistic essence as well at its technical virtuosity.
Credits: © Courtesy of Christian Dior Couture Pr