Take a tour of Dimore Studio's exhibition at the Casa degli Atellani in Milan, presenting 14 exclusive design objects for Dior Maison. Outlines of paintings mingle with real objects in the illusionistic black-centric decors spread across five of the historic site's rooms.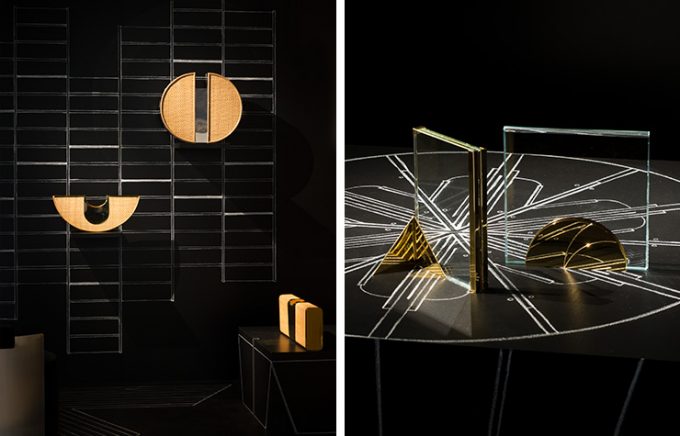 On the occasion of the Salone del Mobile in Milan, Dior Maison is unveiling 14 exclusive creations designed by Dimore Studio – founded in Milan in 2003 by the Italian-American duo Emiliano Salci and Britt Moran. An architecture and interior design studio specializing in furniture design, lighting and textiles, Dimore Studio was given carte blanche to create a series of precious objects for Dior Maison.
Available exclusively by special order – for a one-year period – the collection, spanning vases, trays, a candelabra, a lighter and an ashtray, place-settings, frames and an umbrella stand, is previewing from April 9th to 11th at the beautiful Casa degli Atellani in Milan.
This highly exclusive collection combines the virtuoso alloying of different metals (gold, silver and bronze) with the interplay of Plexiglas and natural woven rattan celebrating cannage, the House of Dior's iconic code. Echoing the Napoleon III-style chairs Christian Dior used for seating guests at his fashion shows, cannage is one of the motifs that punctuate this collection, along with sophisticated silver-leaf work and golden nuances – gold being the House's signature color and metal – that revisit Monsieur Dior's passion for the 18th century in a contemporary way.
Credits: © Courtesy of Christian Dior Pr