Helmut Newton Foundation: "HELMUT NEWTON ONE HUNDRED" – an outdoor-exhibition in the city of Berlin
On 31 October 2020 Helmut Newton would have been |00 years old. His foundation was established in Berlin-Charlottenburg in the fall of 2003, and then opened in the summer of 2004; since then it has presented more than 50 exhibitions.
Now, the Helmut Newton Foundation in Berlin is taking this special anniversary as an occasion to celebrate the exceptional photographer — for the first time by presenting his legendary, timeless, and innovative work in a large public outdoor exhibition in Berlin.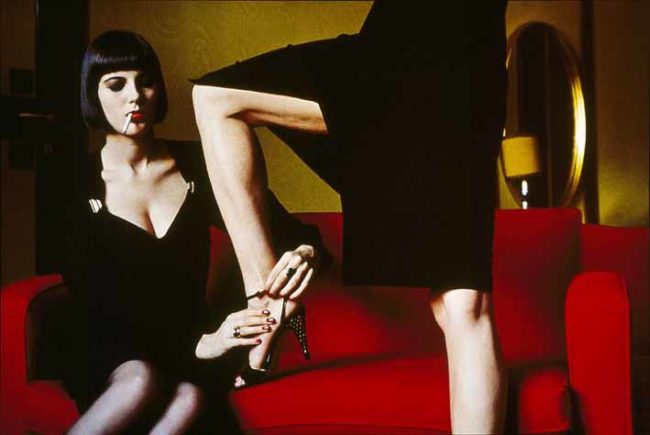 Helmut Newton was born in 1920, the son of a Jewish button manufacturer in Berlin Schéneberg. From 1936 to 1938 he trained as a photographer under the renowned fashion photographer, Yva; his first self-portraits were created in her studio in Schliiterstrasse. But soon thereafter, Newton had to flee Berlin. One of the last buildings he saw as his train left Zoo Station for Trieste was the military casino on Jebensstrasse.
65 years later, this building became home to his foundation and archives, where the work of Helmut and his wife June (aka. Alice Springs), is presented in regularly changing exhibitions. Despite the tragic circumstances under which Newton left Berlin, the city remained close to his heart. He often returned to his hometown to take pictures on behalf of various magazines. For the second issue of German Vogue in 1979, for example, he created a photographic homage to the places of his youth in Berlin.
In memory of Newton's time in Berlin and his exceptional work, the Helmut Newton Foundation will present a large outdoor exhibition along the 85-meter-long wall at Kraftwerk Berlin on K6penicker Strasse 70, in the Kreuzberg district.
On view from 31 October to 8 November 2020, the exhibition will be publicly accessible 24/7. Some 30 images from all of Newton's creative periods have been selected for this temporary show, HELMUT NEWTON ONE HUNDRED.
Additionally, 250 City Light posters depicting Newton's work will be on display during this time throughout Berlin, with the generous support of WALL. Never before has Newton's work been seen in this way.
Newton's series Naked and Dressed which he produced for French Vogue and which marks his transition from fashion to nudes, along with his Big Nudes, catapulted Newton to world fame in the early 1980s and inspired countless photographers and visual artists to imitate or reinterpret them.
Newton went on to refine his stylistic and subversive interplay of exhibitionism and voyeurism while working around the world for nearly every major magazine and fashion label. His focus was rarely the fashion itself, but an original parallel story, imbued by a sense of Hitchcockian suspense or inspired by Surrealism. The lines between reality and artifice often blur; the visual elements converge in an enigmatic game of power and seduction.
Newton created an incomparable body of work full of subtle allure and timeless elegance. His images draw on broad references, from mythology and art history, such as the story of Leda and the swan, to reminiscences of his youth, against the backdrop of swimming pools and luxurious hotels. Newton's photographs also document and comment on the changing role of women in Western society at the time.
HELMUT NEWTON ONE HUNDRED also includes a film program dedicated to the work of Helmut Newton, which will be screened on the ground floor of the museum from 31 October to 8 November 2020. Highlights include Helmut by June (1995), the expanded version of SUMO, directed by Julian Benedikt, and the documentary, Helmut Newton — The Bad and The Beautiful directed by Gero von Boehm, which premiered in Berlin in early July 2020.
HELMUT NEWTON FOUNDATION
Helmut Newton One Hundred
Outdoor exhibition celebrating Helmut Newton's 100" birthday
31 October — 8 November 2020
85m wall at Kraftwerk Berlin, Köpenicker Strasse 70, Berlin-Kreuzberg
Credits: © Courtesy of Helmut Newton Foundation