Kim Jones is adding to his long string of collabs at Dior. This time, for the atelier's anticipated pre-fall collection he is teaming up with the legendary New York street artist Kenny Scharf.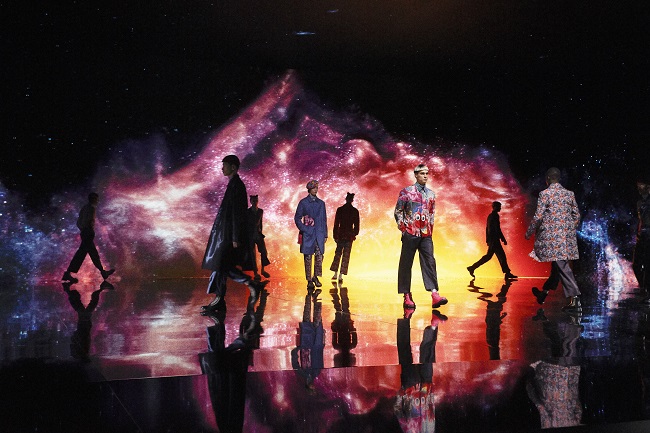 Hypercolored, hyperreal. Showcasing a conversation between heritage and technology, investigating the space where virtual and reality meet. For the Fall 2021 Collection, Dior Men's Artistic Director Kim Jones fuses tradition with digital innovation, an ideology echoed in the presentation of the collection – a show staged purely virtually, to be experienced globally – and also in the designs themselves. It mirrors the evolution of a couture house in the 21st century – its synchronicity between the realities of fashion today, the dream of history, and the optimistic possibilities of tomorrow.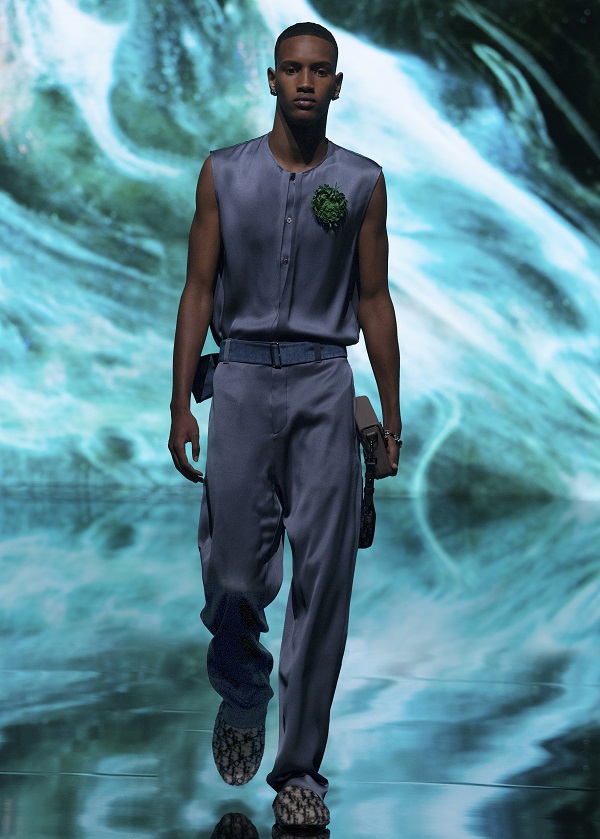 Building on Dior's new tradition of partnering with contemporary art figures from around the world, Kim Jones collaborated with the American Artist Kenny Scharf*.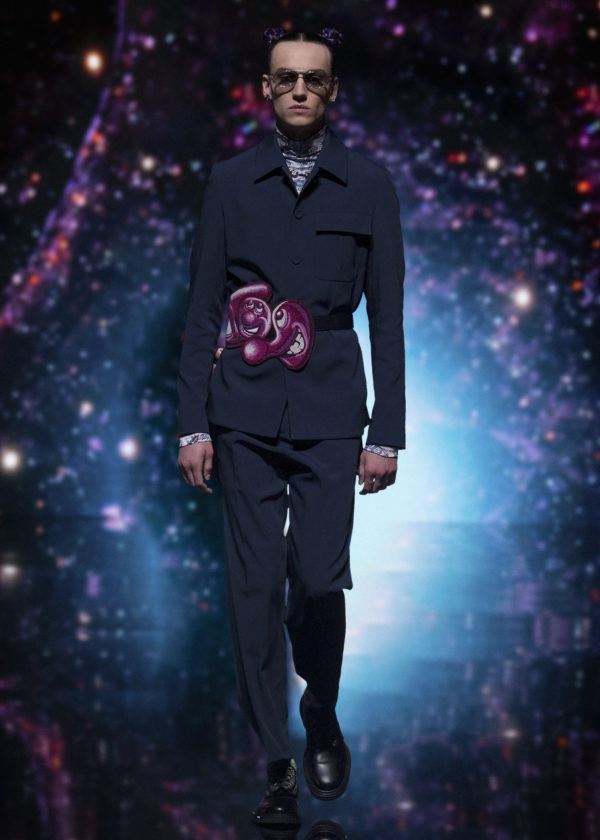 With a distinct, immediately recognizable aesthetic drawing on worlds of pop culture and science fiction, Kenny Scharf creates cartoon-inspired works that nod to the future and knowingly reference historical art movements. In the Dior Ateliers, Kenny Scharf's works were translated into prints and embroideries, with archival pieces appearing alongside a series of new commissions created specifically for the Fall 2021 Dior Men's Collection: drawings denoting the animal characters comprising the chinese zodiac.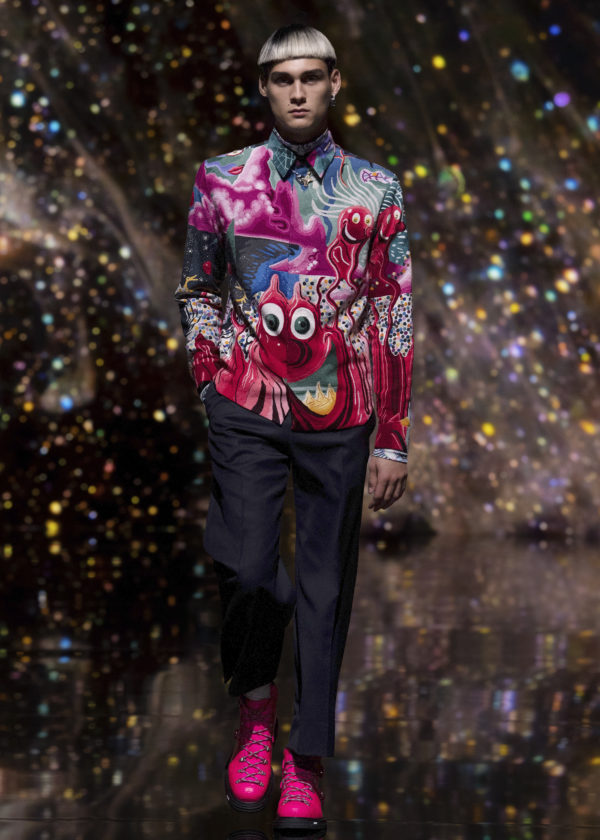 The hallmark of the House of Dior – tailoring – is the foundation, underscoring a heightened mood of dressing up. The tailleur oblique, tailored coats and slender single-breasted jackets are eased around the body, relaxed, and belted at the waist in homage to the bar jacket. An evolution of the New Look revolution and of this fundamental Dior Icon.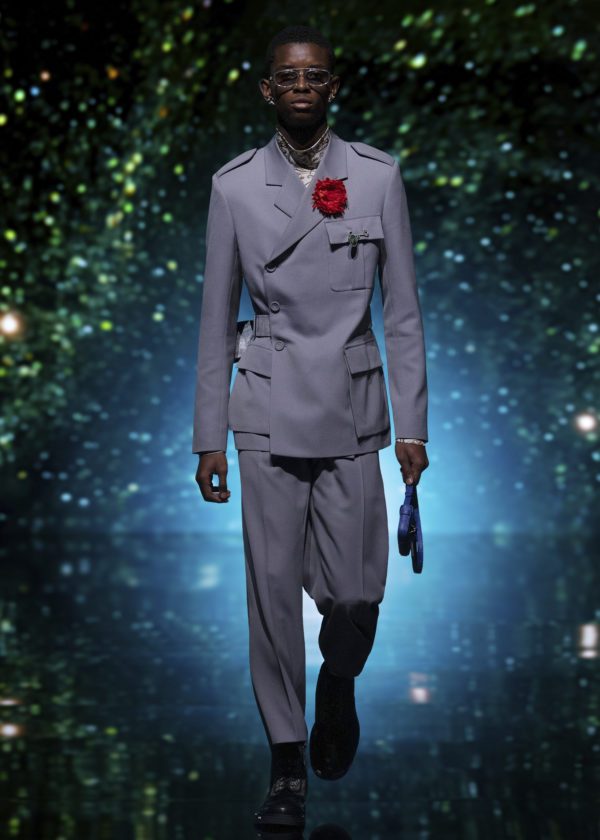 Inspiration is drawn from china: a source of influence on the designs of Christian Dior himself, and a hub of creativity and craft for centuries. Emphasizing the global nature of artistry, traditional chinese techniques and materials are translated into the idiom of a French Couture House. Yoon Ahn's modern jewelry uses jade and lapis, and the Maison Lemarié reinvents chrysanthemum blooms as boutonnieres. Tamborin-style berets by Stephen Jones also punctuate the looks.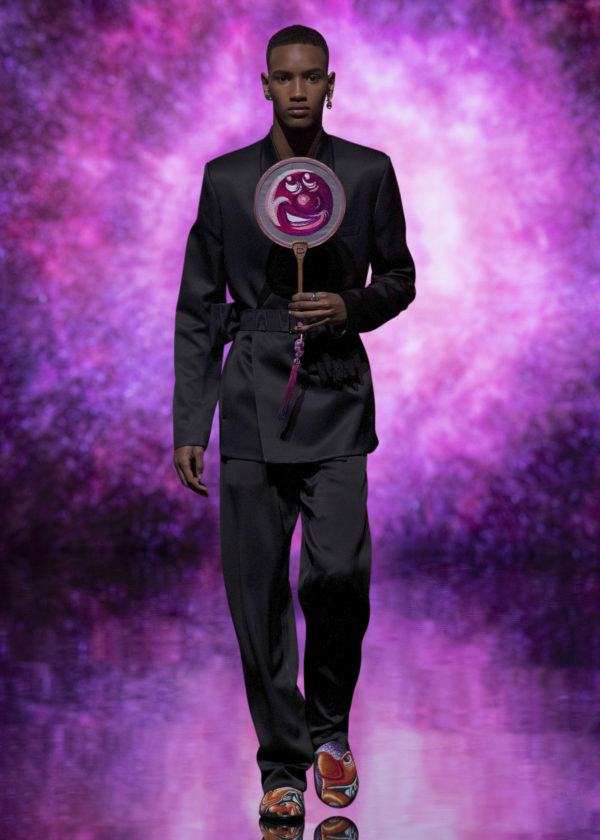 A French House, an American Artist, a celebration of chinese excellence and craftsmanship. Dior knows no bounds. The collection is being revealed via an exclusive video prolonging the captivating artistic dialogue between Kim Jones and Kenny Scharf; an unprecedented creation that explores transformations of the perception of time and space in this particular global context.
*partnership done in collaboration with artestar, a global licensing agency and creative consultancy representing high-profile artists, photographers, designers and creatives.
© Photo: @AdrienDirand
Credits: © Courtesy of Christian Dior Couture