Check out the Issey Miyake Autumn Winter 2016 campaign video directed by Jacob Sutton
La collezione Issey Miyake AW 2016 – "Beyond" – ci porta verso galassie inesplorate alla ricerca di nuove stelle. Grazie alla tecnica su tessuto "3D Steam Stretch" che crea forme sorprendenti e pieghe tortuose, la collezione prosegue la sua avventura nell'invisibile e sconosciuta bellezza ricreata da A Piece Of Cloth (un pezzo di stoffa).
La campagna video della collezione è diretta nuovamente dall'artista Jacob Sutton. Utilizzando un impianto composto da sette telecamere e alternando sei scatti in fermo immagine ed uno scatto in movimento ad alta velocità, Jacob Sutton ha voluto giocare con i pattern dal sorprendente effetto ottico che sono stati presentati in collezione.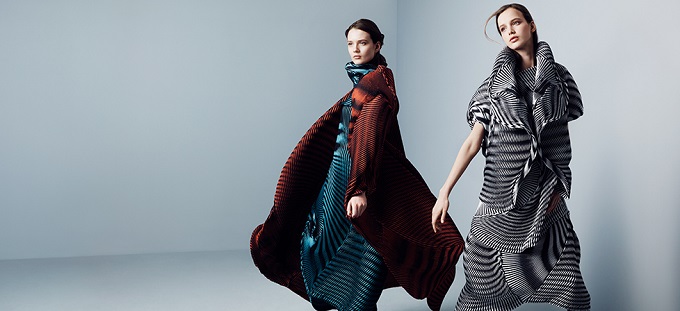 "Ho voluto che lo spettatore vivesse una viscerale esperienza 3D di come il tessuto si muove. I fermo immagine in stretta successione sembrano sospendere il tessuto nel tempo e le immagini in slow motion gli ridanno movimento". Un gioco di pattern dal sorprendente effetto ottico raccontato dal fotografo londinese Jacob Sutton.
Credits: © Courtesy of Giorgiana Ravizza PR