MFW is back with the Men's Spring/Summer 24 taking place on 16-20 June 2023. Discover the calendar with all the shows and events in program by tapping the link and follow us for all the updates!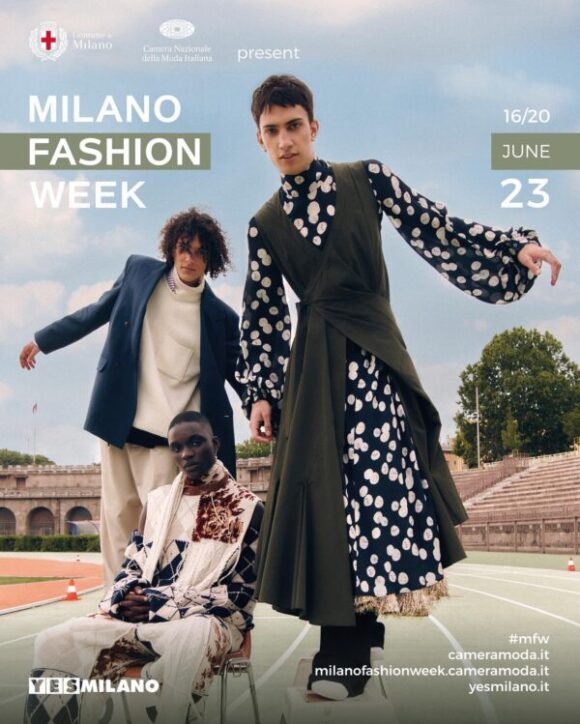 Siamo lieti di inviarvi la versione definitiva del calendario della prossima Milano Fashion Week Men's Collection 16/20 giugno 2023 che prevede 27 sfilate di cui 5 digitali, 36 presentazioni di cui 4 su appuntamento e 16 eventi per un totale di 79 appuntamenti di cui 74 fisici.
Sfilate, presentazioni ed eventi fisici si terrano da venerdì 16 giugno a lunedì 19 giugno, mentre martedì 20 giugno sarà dedicato ai contenuti digitali.
La Milano Fashion Week si aprirà il 16 giugno alle ore 14.00 con la sfilata di Valentino, che torna a Milano con la Collezione Valentino The Narratives. A chiudere il calendario delle sfilate fisiche sarà ZEGNA, lunedì 19 giugno alle ore 14.00.
Sfilerà per la prima volta in calendario il brand Andersson Bell e presenteranno per la prima volta in calendario i brand Cavia, Maccapani, Maison Laponte, Mcm, Skin of Nature e i due beneficiari del Camera Moda Fashion Trust Grant 2023 Marcello Pipitone – Bonola e Setchu.
Tornerà in calendario sfilate il brand Neil Barrett, mentre nel calendario presentazioni i brand Ralph Lauren Purple Label e Paul&Shark.
Martedì 20 giugno sarà dedicato ai contenuti digitali presentati sulla piattaforma di CNMI: per la prima volta saranno presenti in calendario con contenuti digitali i brand Carnet-Archive, Gams Note, Maragno e Uni Form.
Lunedì 19 giungo si terrà la conferenza stampa di presentazione della seconda edizione dei CNMI Sustainable Fashion Awards 2023, alle ore 15.00 presso il Teatro alla Scala.
16 – 20 JUNE 2023
SPRING/SUMMER 2024
Photographer: @marcoimperatore
Stylist: @roberta_astarita
Looks: @federicocinaofficial / @maisonlaponte_official / @mtlstudio_official
Hairstyling: @wellaprofessionals_italia
Make-up: @marycesardi
Casting Director: @simobartcasting
Models: @alejandroadz / @edem_oueslati / @andrewoketchh
Credits: © Courtesy of Camera Nazionale della Moda Italiana