London Fashion Week: Mimi Wade AW17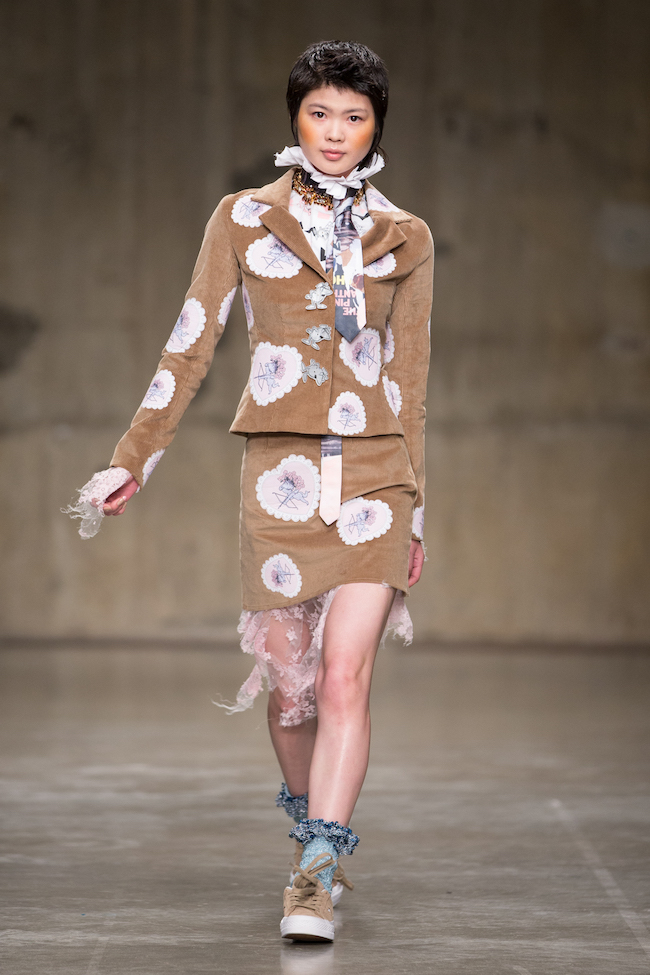 "Without realising I've designed an alternative to my school uniform" says Mimi Wade of her AW17 collection. Specifically, the corduroy which appears for the first time in a collection by the London based designer. "At school, the uniforms were so ugly that everyone would put their dark green skirts on a boil wash in the machine 20 times over so they would become a more attractive pale, blue-y turquoise". The same pale, blue-y turquoise features throughout Mimi's collection.
Prior to finding inspiration in boil washing, Mimi has looked to movies once more. "I was thinking about the cartoons that have been ingrained in my consciousness". It was one particularly cool cat that was the forefront of her memory.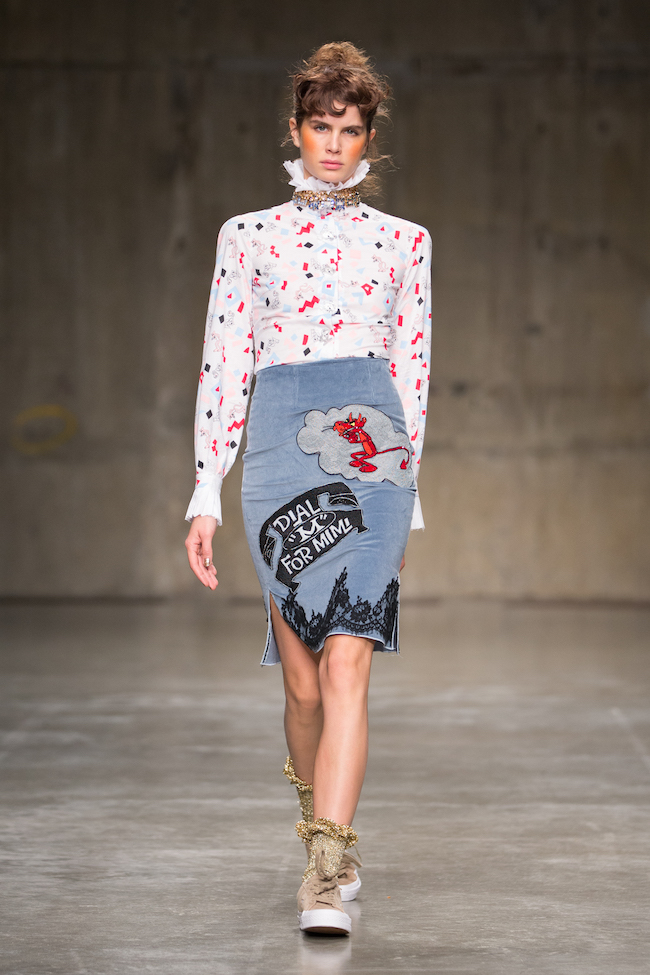 Pink Panther. Pearlescent, acrylic buttons in the shape of Pink Panther's nemesis Inspector Clousseau made in collaboration with Tatty Devine sit on the tailored brown cord jacket with matching mini skirt. While magnifying glass applications with popping pink paws tread a careful path across a bustier dress.
Sophie Hallette lace comes back to Wade's clothing in volumes adorning neck lines in abundance and as more delicate finish at the bottom of several of the pieces. A full lace trouser also compliments its sister top in pistachio green.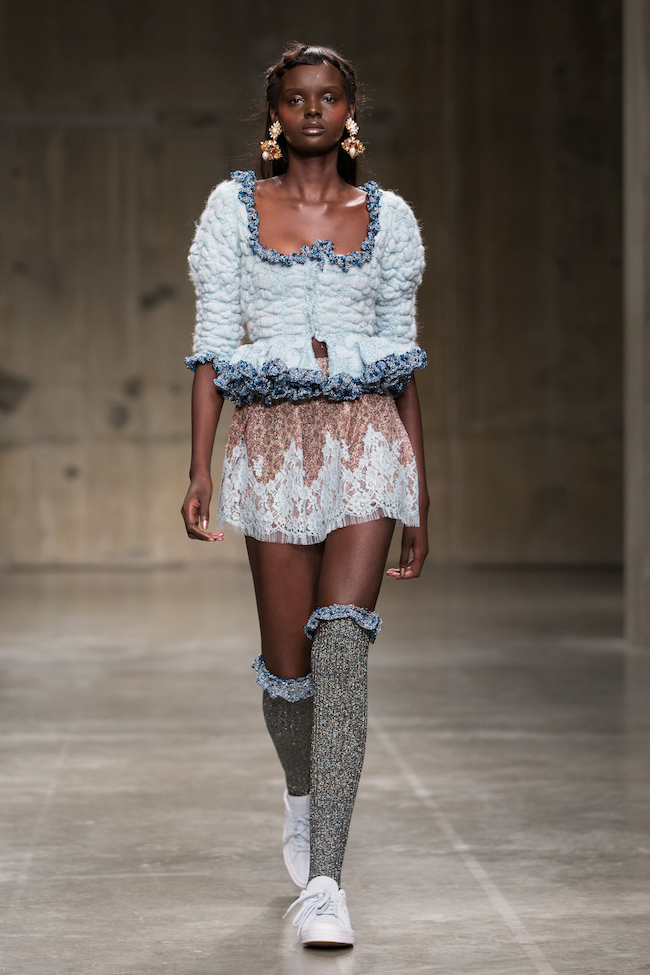 This season's motifs offer the same tongue in cheek realism as Spring Summer's. Embellished in house or heat transferred by specialists Avery Dennison on several of the pieces reads: "Dial M for Mimi" – a reference to the Pink Panther's "Dial P for Pink" which in turn referenced Hitchcock's "Dial M for Murder". Woven patches featuring comical stills from the cartoon, also made by Avery Dennison feature on a lace trimmed T-shirt.
Autumn/Winter sees Wade introduce a new body of prints to her first catwalk collection with Fashion East, taking cue from François Dufrene of the French Nouveau Réalism movement. Lacerated 70's movie posters from the Pink Panther films are layered on top of cartoon stills and treasured photographs of her Granny Pammy.
For the first time Mimi has introduced knitwear to her collection. These take their shape in tight, peplum tops and skirts with lurex backgrounds and mohair clouds, three dimensional paws and embroidered mimi mohair sweater-vests. If Marie Antoinette had known about neon lurex at the Hamneau de la Reine she would have worn these. The Vicki Sarge collaboration jewellery echo's a bygone era of opulence. Earrings, chokers, and bracelets dropping with pearls and costume like coloured glass with Swarovski in shocking pinks, emerald greens, Tudor reds and more.

Styling: Anna Trevelyan
Styling assistant: Frederick Huether
Casting: Madeliene Ostlie – AAMO Casting
Hair: Ali Pirzadeh @ CLM using Bumble and bumble
Makeup: Laura Dominique @ Streeters and the M.A.C Pro Team
Nails: Ami Streets and team at LMC Worldwide using Artistic Colour Revolution
Jewellery by Tatty Devine
Jewellery by Vicki Sarge
Shoes provided by Converse
Music: Begyn
Credits: © Courtesy of Ella Dror PR