Ports 1961 
| 

For Autumn Winter 2019, it was all about "unclassical" pieces.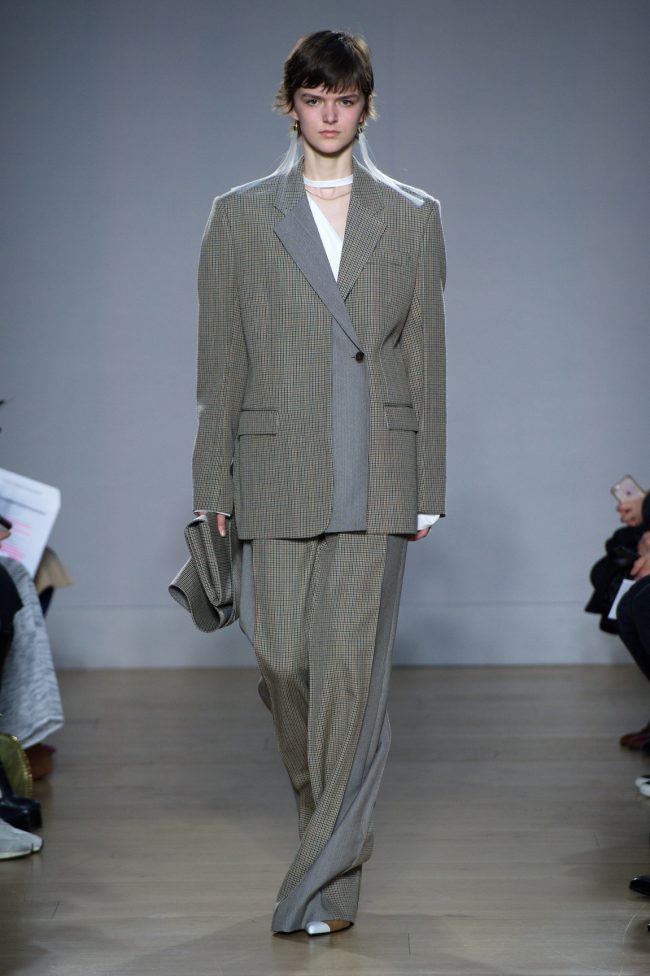 A new view on elegance. For Autumn/Winter 2019, PORTS 1961 Creative Director Nataša Čagalj and her team examine archetypes of bourgeoise dressing, twisting the classic, the known, to become different.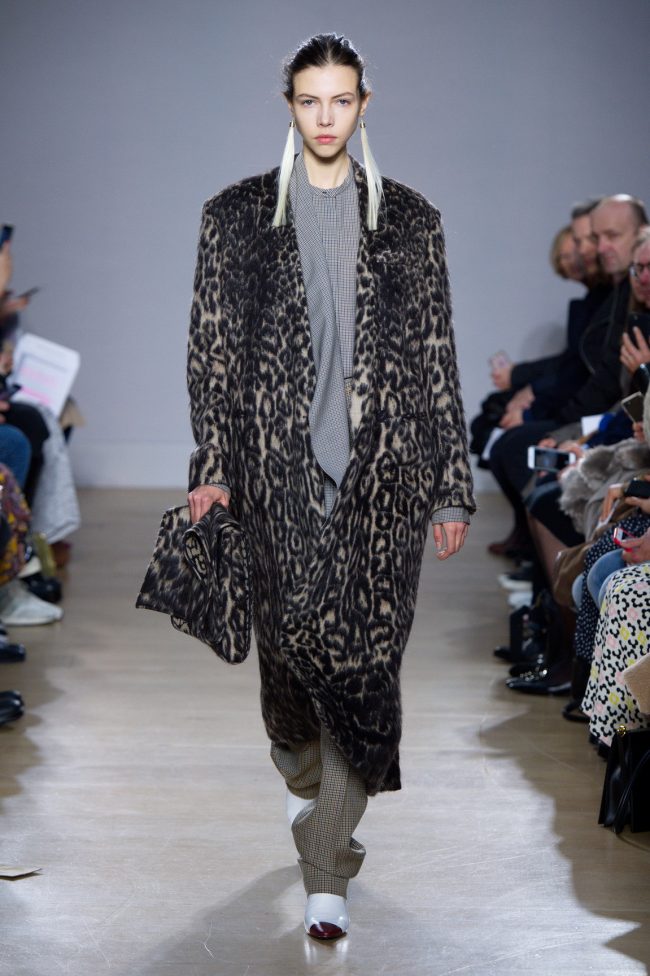 Pared back and precise, the collection is built around cut. Gestures of draped cloth, inspired by foulards and handkerchief swatches, animate silhouettes with flying panels and scarf-effects. Layering evokes an idea of protection, of revelation in the unwrapping. The interiors of bonded fabrics in generously-cut outerwear match the clothes worn underneath, a take on a conservative twinset.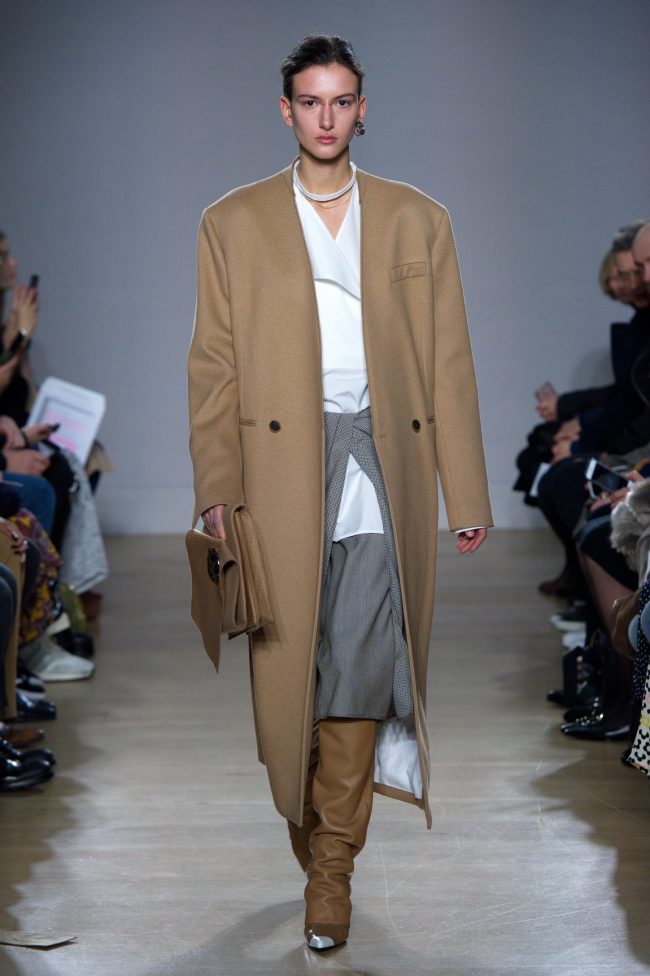 Evoking scenarios of bourgeoisie life, a baroque wallpaper pattern becomes a placement print on cottons and wools, interrupting the surfaces. Sometimes a skirt is literally twisted, to show its other side.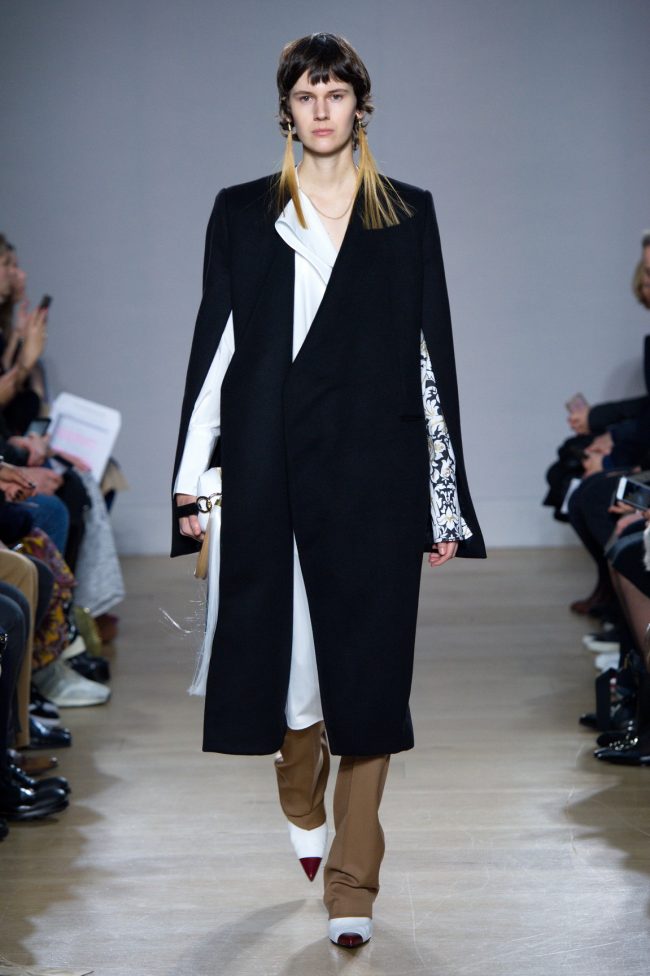 There is play with the age-old building-blocks of a wardrobe: coats, suits, dresses -classics. The clothes are layered up and stripped away, a lady coming undone.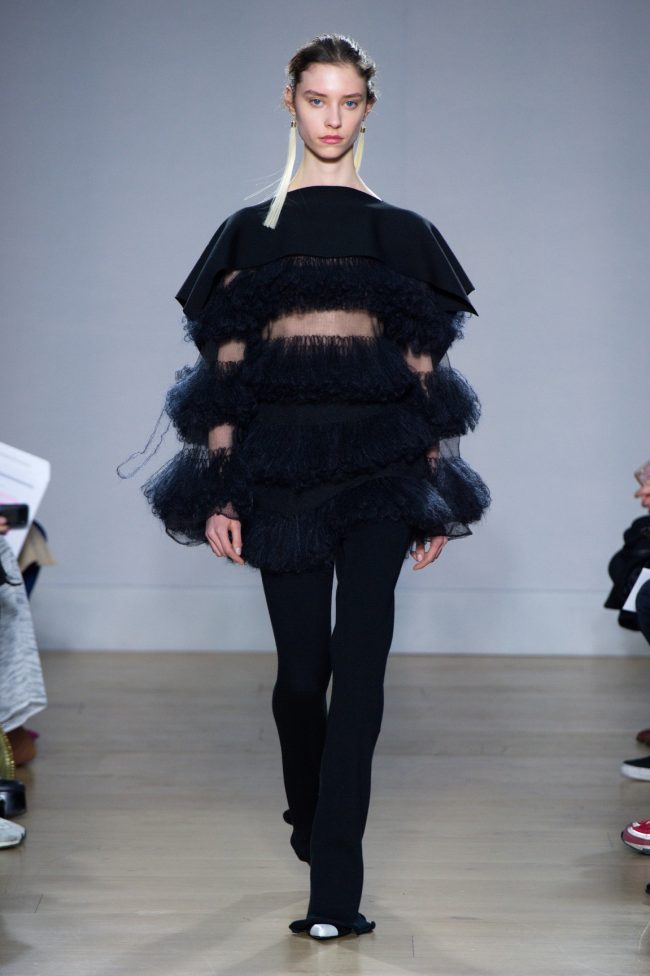 The signature PORTS 1961 white shirt is dissected, deconstructed – the collar becomes a decorative device, skin exposed. Knitted dresses are dissected into composite parts,  allowing slashes of skin to be revealed. Woollen work shirts are carved out in back.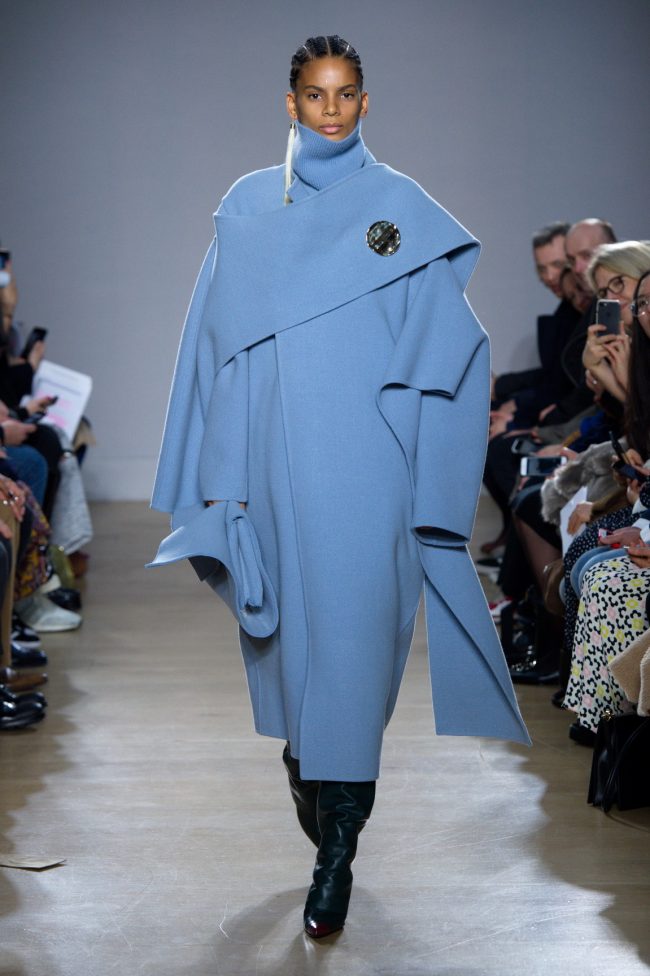 There is a touch of trompe l'oeil toying – again, a twist on the expected. Jackets appear with doublefront, as if layered over other pieces; trousers worn underneath dresses are actually boots, with attached sleeves of cloth; jewellery features locks of hair, the earrings appearing to add length to the wearer's own. And a sequence of furs are actually created from weightless looped yarn knits.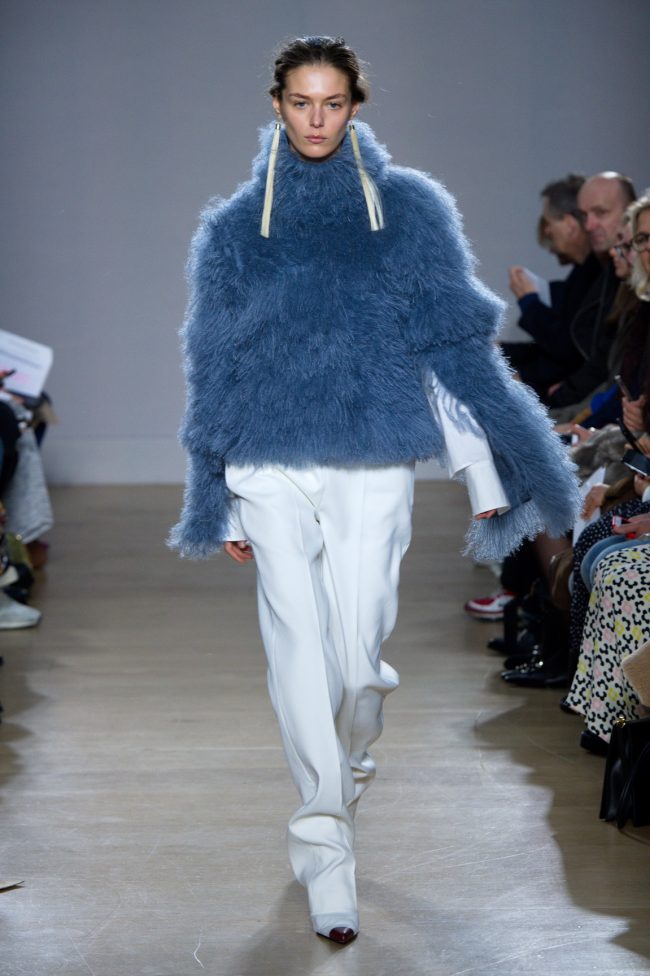 Fabrics are pure, assured: cashmeres and camelhair, wools coated and bonded, houndstooth and prince-of-wales tailoring, cottons. They are rendered in a hyper-classic palette of grey, camel, black and white, weighted with off-kilter touches of carmine, satsuma and eggshell. Animal patterns – reworked zebras, leopard – are recreated in jacquards and knit. For evening, stretch and double face duchesse satins in striking black and white evoke masculine tuxedo dressing, but feminised.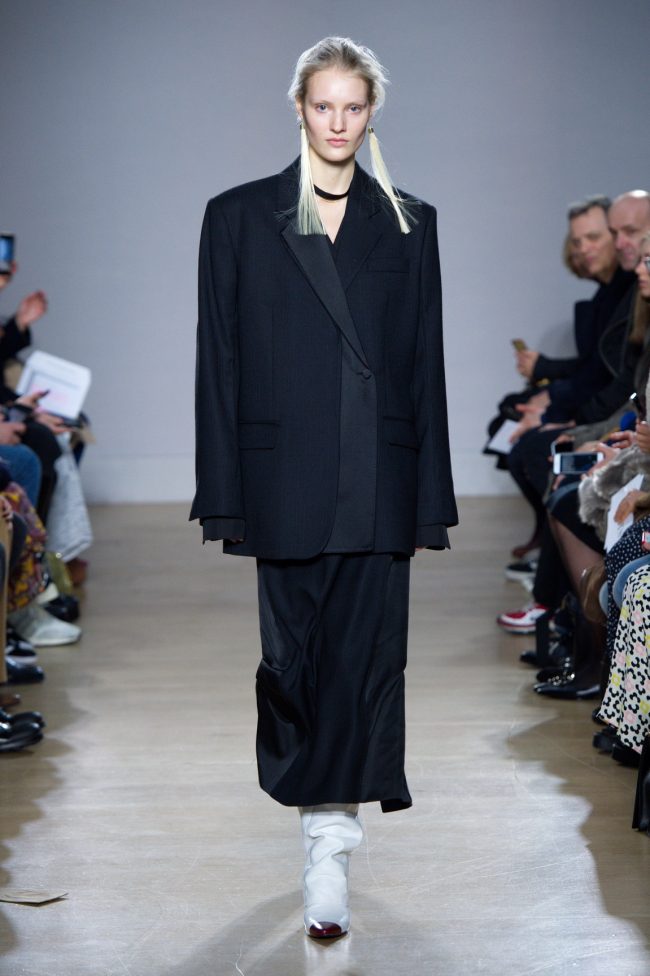 The whole is an emotional journey – pulling apart, putting back together. Twisting, turning, voyaging. A layered exploration, each outfit offering a fresh port of call.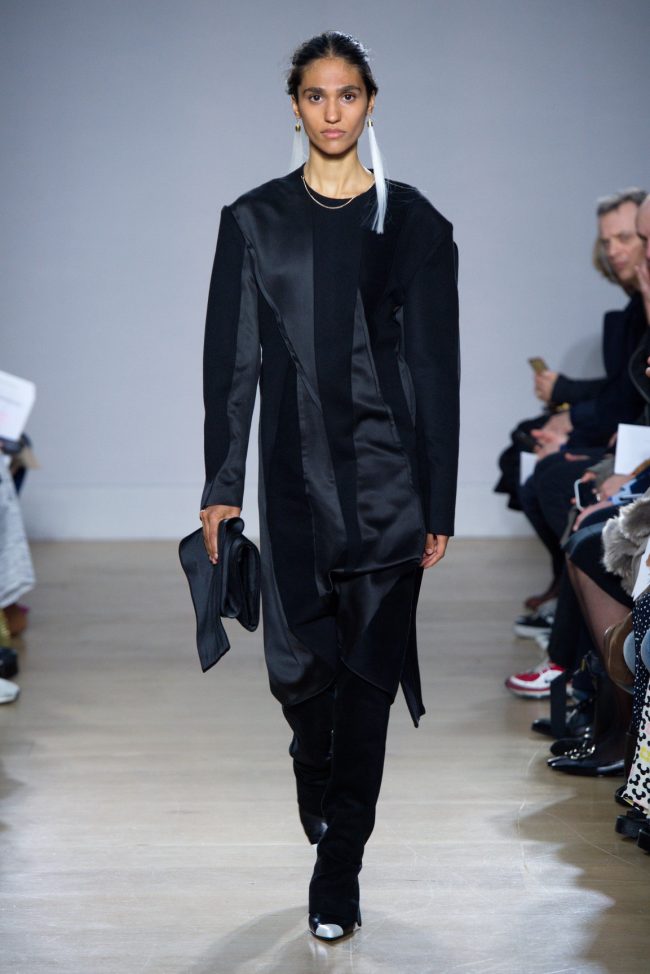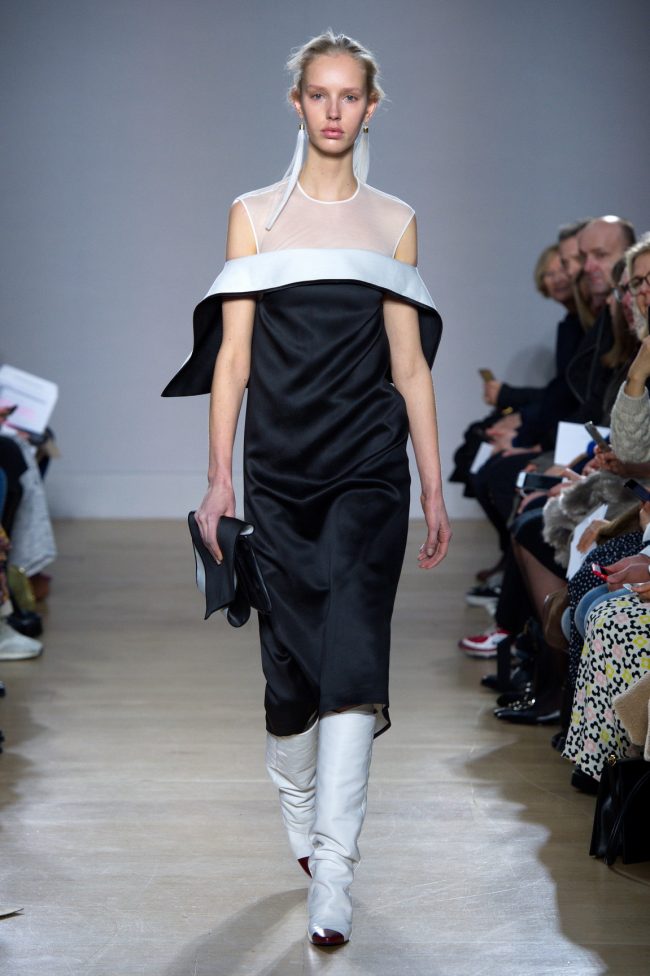 Stylist Karl Templer | Music Michel Gaubert | Casting Michelle Lee | Hair Guido Palau | Make Up Mark Carrasquillo | Nails Marian Newman | Production Family | Front of House KCD Location Christie's London
Credits: © Courtesy of KCD London