Schiaparelli Haute Couture Spring Summer 2020 Paris by Daniel Roseberry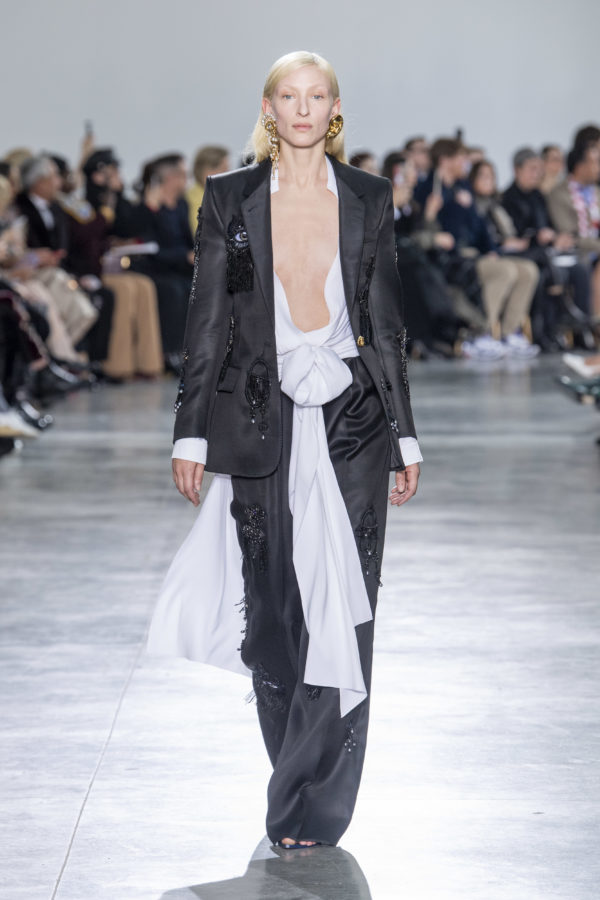 Double Fantasy
Ever since I began this job last spring, I've been thinking a lot about women. In one way, this isn't so unusual: long before I became a designer, long before I even knew what the word "muse" meant, I was looking at and up to women and girls I admired—my mother, my sisters, my friends.
One of the things you realize early as an observer of femalehood is that the gender all but invites a duality; for most of history, being a woman meant having to hide part of yourself at least part of the time — it was dangerous to be too powerful, too seductive, too alluring, too subversive. And so, as I sat down this past fall to imagine this collection, I thought a great deal about how the women I love the most — now and throughout history — have always inhabited two realms at once.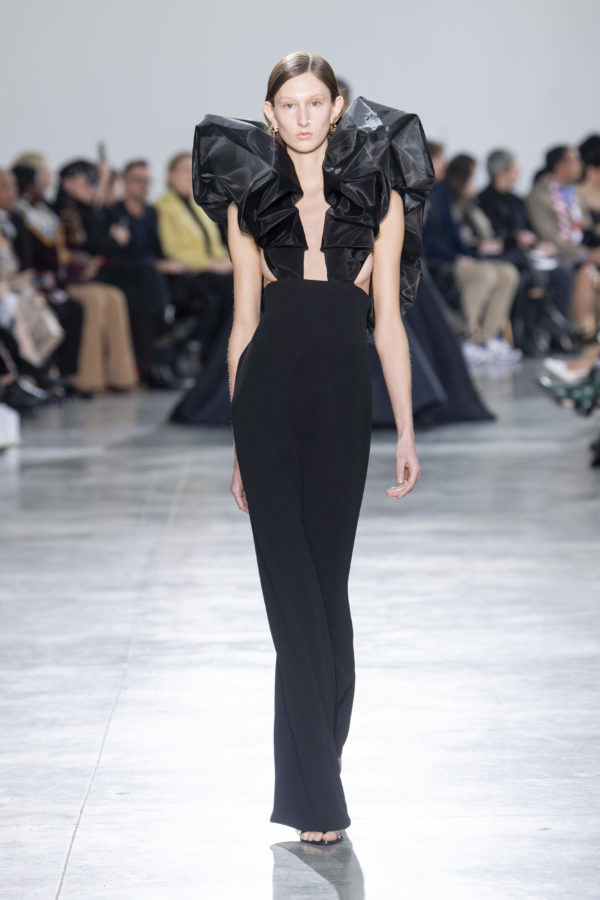 I began, of course, with Elsa Schiaparelli herself. She was a dreamer, but not in the drifty, careless sense of the term: Her dreams were active, propulsive, exuberant, extravagant, rebellious, ambitious. She created (and dressed) for no one but herself. She was irreverent in the truest definition of the word — someone who had little time or respect for the restrictions of the conventional or traditional. Living as she did, thinking as she did, takes real courage — of conviction, yes, but also of imagination.
And yet being a woman of singular tastes and vision didn't mean that she also didn't embrace glamor, performance, the thrill and power of her own sexuality. We all know this woman, the kind who can still a room upon entering it, the kind defined by her own unshakable self-possession.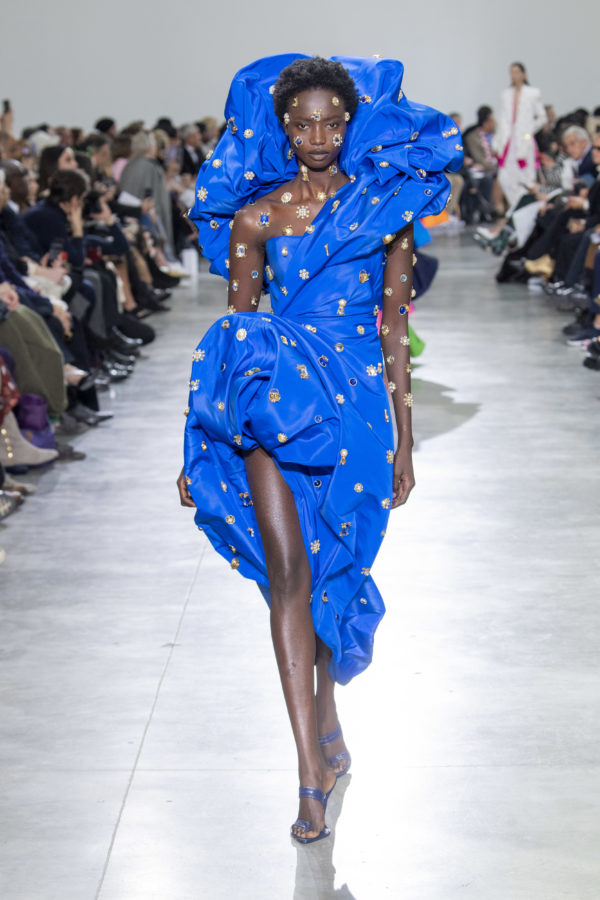 I came to think of these two personas as the Surrealist and the Seductress, and it is these two personas — and the fictive space between them — that I celebrate in this collection.
For the daytime, Surrealist, side of the woman, I created slouchy suits in drapey, summer-weight wool that project an almost louche carelessness, all rendered in a rich, subdued palette: chocolate, butterscotch, cream, navy, black.
And for the nighttime Seductress, I made coolly glittering gowns in overdyed silk faille and satin in crisp blacks, whites, and hypersaturated royal blues. Uniting these two versions of the woman—day and night; witty and sensual—are a dedication to the tactile: in the suits' dry wool that crinkles in the hand like leaves; in the butter of a leather bodysuit, and, especially, in the bijoux that embellish not just ears, throats, and fingers, but everywhere. I wanted to pay tribute both to the Surrealists' and Dadaists' fixation on body parts — the eye, the back, the torso — as well as to Alberto Giacometti's spindly forms, in which the human shape is reduced to a series of poetic lines. You can see allusions to his work in the sticklike brass bijoux, tributes to the human skeleton.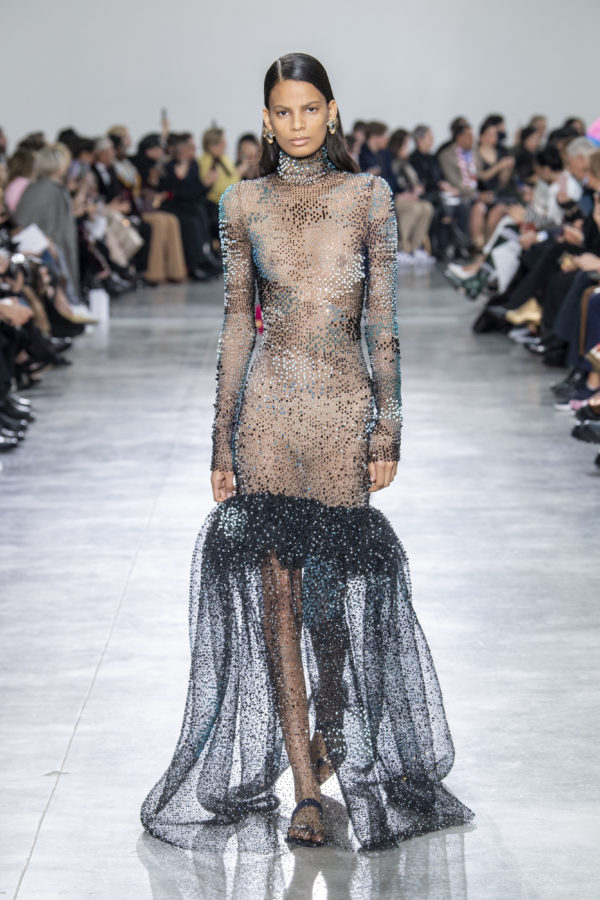 In this collection, jewelry is disobedient: It affixes itself to forearms, to chests, to navels, to clavicles, to eyelashes, displacing space and volume. It's a reminder that every part of a woman can be adorned, and also that adornment takes many forms, from pearls jammed into gold, diamond-crowned teeth and delicate wristbones fashioned out of thin rods of brass stitched to fragile tulle gloves and embroidery that sparkles across ribs and hipbones, a nod to Elsa's groundbreaking 1938 silk crepe Skeleton Dress. Here, jewelry is not an accessory or an appendage, but an organ, as essential and vivid as a heart or a lung.
My own dream, always, is to make the women I dress feel seen. Not just for what they look like, but for who they are within — the persona they want to show the world, but also the one they save for just the ones they love. These are clothes for the realm of the fantastic — but they are also ones that reveal the truth. Daniel Roseberry.
© Courtesy of Schiaparelli