Celebrating 10 years of Mary Katrantzou, Spring Summer 2019 explores the urge to collect, catalogue and organise, infused with themes and motifs from Mary's decade of designing.
The urge to collect – to amass like objects of a particular kind, to record, to study and identify, to protect and cherish – has existed since ancient times. Sometimes expressive of a contemporary interest in material things bordering on compulsion, it is also primeval, a reflection of humanity, of the hunting and gathering instinct necessary for human survival, of curiosity and inquisitive nature, of a thirst for knowledge. It is also connected to memory by association – the need to catalogue and organise, to give meaning to ones actions, to better understand the world. For Spring/Summer 2019, Mary Katrantzou creates a collection inspired by collections, collecting, collectors. This is a collection of collections, celebrating the extravagance of understanding, and also Mary Katrantzou's ten-year anniversary.
A fashion show always presents a catalogue of interconnected outfits, united by a focus. In this instance, the theme is this collecting urge, allied to specific object types – postage stamps (Philately), works of art, insects (Entomology), jewellery, and perfume bottles and blown glass. These five themes form the basis of this season, dividing it into distinct aesthetic categories. Each different collection within the collection inspires a specific approach, shapes, embellishments and of course print, Mary Katrantzou's signature, her own obsession.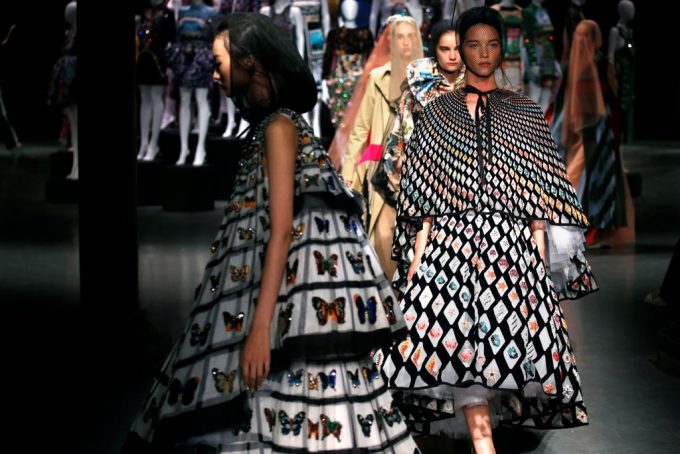 It also reflects Mary Katrantzou's personal 'heritage' – her archive of a decade of designs, which this new season celebrates. Inside each item can be found echoes of themes and motifs from collections past, a fil rouge connecting every piece to her heritage. This collection offers opportunity to accumulate and catalogue silhouettes, approaches and techniques from prior seasons, to refine and re- examine, to build an aesthetic lexicon. The resultant is a Cabinet of Curiosities, drawing compelling and unlikely parallels between different passions.
Collections cannot be isolated from their collectors – and women have frequently collected, an assertion of their freedom of expression and intellect in less enlightened times, and today a reassertion of their personal taste. Famous philatelists include Adelaide Lucy Fenton, notable female entomologists Margaret Fountaine and Miriam Rothschild; Peggy Guggenheim and Gertrude Vanderbilt Whitney amassed art collections that form eponymous museums that help defined modern taste; Elizabeth Taylor and the Duchess of Windsor collected jewels with a legendary largesse. The legacies of extraordinary women like these and their extraordinary things, of the collectors behind collections, also inspires.
The collection is presented in a series of passages – each inspired by a different object type or form that has obsessed women, they are nevertheless all interrelated. Silhouettes are inspired by different time periods, reflecting the different women who have collected. They also echo the objects themselves – postage stamps inspire a linear graphicism; lepidopterology influences dresses that unfurl like butterfly wings in tulle; collages of world-famous art pieces across nylon explore the notion of a dress not as canvas, but as gallery wall; velvet evening gowns are foils for inset jewellery box inspired embroideries. In typical Katrantzou fashion, the unexpected is expected. The idea of exploring around the collectibles include embroidery motifs of bijoux composed of symbols, given equal prominence to gemstones, and of custom appliqués of packaging tapes ironically slashing through famous artworks. The very notion of collecting can become a fixation, rather than the objects themselves, and sometimes these collections roam wide – butterflies transform into shells and flowers, reflecting not the objects themselves but a mania for accumulation, a treasury of treasures. Scale is important as micro becomes macro and repetition creates patternation.
The concept of capturing and framing is reiterated constantly – a means of ordering items within a collection, of unifying the disparate, they are found around art pieces and stamps, trapping butterflies, shells and flowers. The casings of collectibles (velvet jewellery-boxes, framed specimens, even butterfly netting) become precious objets in themselves, reflected in pattern and print. The acoustic 'frame' of this collection is unique: the Academy award-winning musician Vangelis has composed a soundtrack specifically for the show, as precisely engineered as a Katrantzou print to the rhythm of the models. For the first time, the millinery Stephen Jones has created hats which in turn 'frame' the face, sporty baseball caps or streamlined helmets, sometimes veiled. Shoes, created in collaboration with Jimmy Choo, encase a heel inside a transparent dome, recalling those used to protect butterflies and oddities, and the glass cabinets of museum collections. They are a witty underscore of the theme.
For the finale, the women themselves become collectibles – a reflection of Katrantzou's love of trompe l'oeil. Embroideries on blown glass shapes and hand painted precious Swarovski crystal mesh transmogrify women into perfume bottles, the contemporary counterpart to Katrantzou's very first runway collection, pushed to a new zenith. Her women, finally, become their own collectibles – in Mary Katrantzou's hands, they are a living, breathing work of art.
Credits: © Courtesy of Mary Katrantzou