Experience the boundless vision of one of the greatest architects, designers, and art directors of the 20th century. Shaped in close collaboration with the Gio Ponti Archives and its founder Salvatore Licitra, Gio Ponti is an immersive book scaled to his kaleidoscopic universe featuring texts by Lisa Licitra Ponti and an extensive biographical essay by Stefano Casciani.
This numbered Art Edition (No. 1–1,000) is accompanied by the "Planchart Coffee Table" – an exclusive, square format reproduction of the famous Arlecchino design, produced for TASCHEN by Molteni&C – and a set of four numbered prints of Ponti's interior ocean liner studies.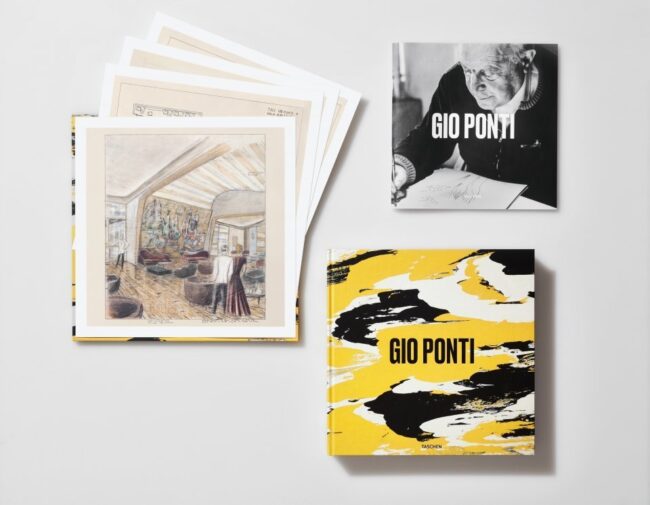 To study Gio Ponti's prolific body of work is to appreciate the clear, unifying vision behind a complex creative universe. A synthesis of the arts, his creations expand intuitively with the Italian grandeur and studied lightness that defined his iconic style. Ponti's rare capacity to move seamlessly between scales allowed him to approach the design of a teaspoon with the same conviction as he did an entire city. He was as much an architect and designer as he was a publisher, poet, and man. A treasure in its own regard, his contribution is also a distinctive landmark of Italy's mid-century Renaissance and the modernist values it sought to realize.
This new book is the most comprehensive account of Ponti's work to date, unprecedented in scale and scope. It tracks the development of his oeuvre over 6 decades, with 136 projects indexed and reproduced in high resolution, each object framed by the context in which Ponti had created it. Like windows onto his elusive life, unpublished materials and candid imagery create new dialogues between his famous masterpieces and his lesser-known feats. A rich layer of texts, featuring an extensive biographical essay by Stefano Casciani, was produced in close collaboration with the Gio Ponti Archives offering an intimate insight on his life's work. Materializing Ponti's core philosophy of modernity, this book presents architecture as a performing object, a "self-illuminating" stage for his humanistic art de vivre and boundless creativity.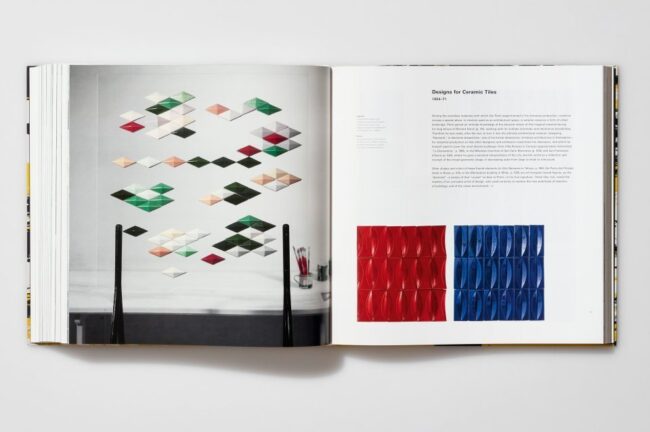 The Arlecchino lattice coffee table is regarded as one of Gio Ponti's most iconic designs. Echoing the pictorial approach of De Stijl artists Piet Mondrian and Theo van Doesburg, its surface relies on a vibrant structural grid for multiple color combinations that vary according to the viewer's movement around the table. Contrary to the more commonly available round design, TASCHEN is proud to reissue the celebrated piece in a square format, originally created in 1954 as a unique example for Ponti's Villa Planchart – the "Planchart Coffee Table".
The four prints are drawings by Ponti from 1948–49 now conserved in the CSAC, an institution of Parma University to which the Ponti family entrusted a stupendous archive of original drawings. These are valuable, fragile, competition drawings for the interiors of the ocean liners Conte Grande and Conte Biancamano, which were both launched in 1949. They testify to Ponti's efforts to create different spaces for these ships, each with its own very particular design. In Ponti's mind, they were spaces invented to foster the elegant and contemplative atmosphere inherent to a luxury cruise accompanied by the best that the arts and most sophisticated craftsmen of Italy could offer.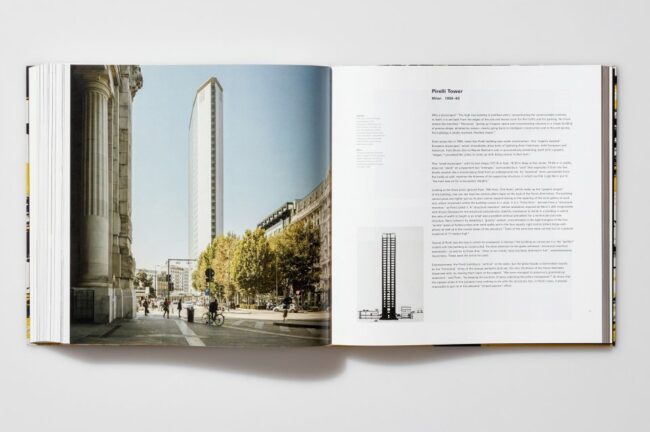 Gio Ponti. Art Edition
Edition of 1,000
Salvatore Licitra, Stefano Casciani, Lisa Licitra Ponti, Brian Kish, Fabio Marino, Karl Kolbitz
Hardcover, 36 x 36 cm, 572 pages; with an exclusive table designed by Gio Ponti, 56.5 x 56.5 x 38 cm; and four art prints, each 40 x 40 cm, printed on 305gsm Hahnemühle Photo Rag Ultra Smooth
© 2021 – TASCHEN