Dior presents Blue Mizza: an Ode to the Caryatid of Elegance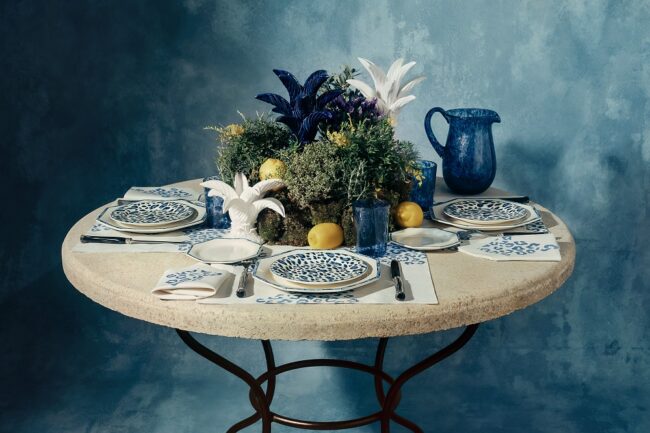 A symbol of the New Look and a tribute to the feline grace of Monsieur Dior's muse of muses*, an ultramarine blue version of the leopard print adorns the Mizza line by Cordelia de Castellane.
The subtly reinvented spotted patterns are displayed on a carafe, glasses, placemats and napkins – embroidered and hand-painted – as well as on dessert plates. The latter are combined with an octagonal porcelain service – inspired by the Dior Summer 1973 tableware collection – featuring a border delicately embellished with a bamboo motif. As a final surprise, the new series is accompanied by a re-edition of vintage pieces – silver-plated metal cutlery, small bowls and decorative bowls – as well as a new version of the Corolle portable lamp specially created for Dior Maison by designer Noé Duchaufour-Lawrance.
Irresistible objects of desire, promises of elegance and refinement.
*Mizza Bricard (also known as Mitzah), was described by the founding couturier as "One of those people who make elegance their sole raison d'être."
Credits: © Courtesy of Christian Dior Couture