Erdem Moralioglu took as his muses two Victorian men, cross-dressers who were nightlife celebrities and by day lived quietly as sisters.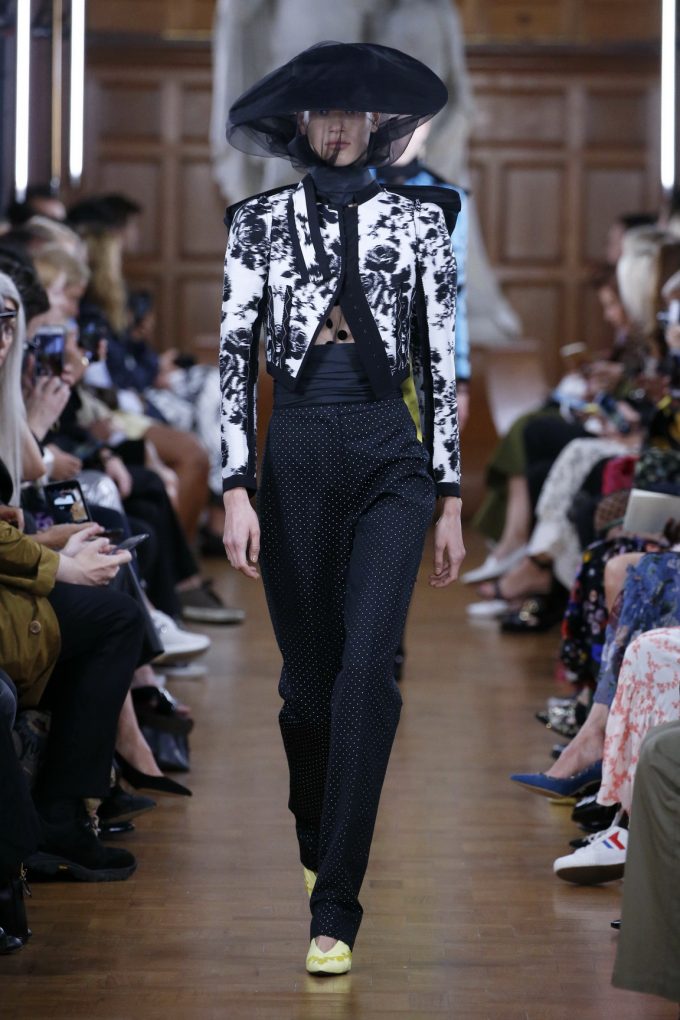 Prologue
In 1870 two women, Fanny and Stella, were arrested leaving the Strand Theatre in London and charged with "the abominable crime of buggery". Fanny and Stella were in fact Frederik Park and Ernest Boulton. As their female alter egos they were wildly popular nightlife celebrities, but this was a time when the freedom of self-expression was being challenged, implicitly and explicitly, by authorities fearful that their fragile, moral world order was under attack. Darwinism was rife, the republican movement was rising and the dark satanic mills were ripping up the countryside: flagrant cross-dressing was an easy target. Yet, Fanny and Stella were found notguilty of their charges by a jury in less than an hour. They were released and continued to live as women. Did the jury understand that curbing self expression was a far greater crime?
—-
Fanny and Stella were just two figures in a diverse crowd of men and women at the time exploring the power of dressing up to feel free beyond the prescribed boundaries of sex. Some were famous entertainers, others were respected professionals who remained undercover until death; some inhabited their alter egos entirely, others dressed up habitually to pose for celebrated photographers. Far beyond any perceived thrill of cross dressing, these were individuals with the courage to explore the power of self-expression.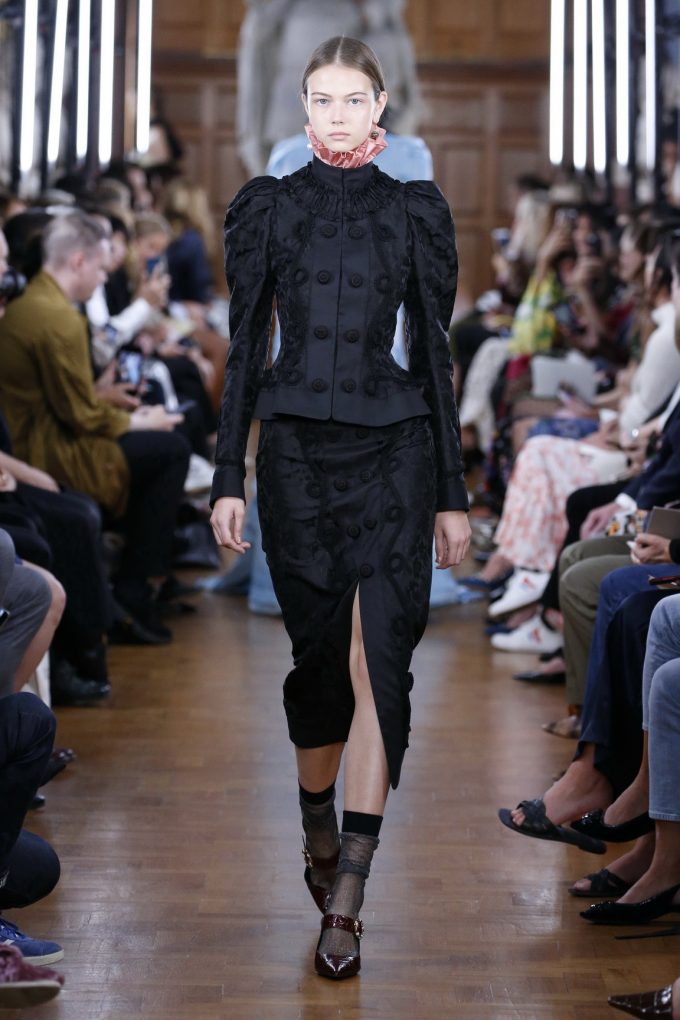 For Spring Summer 19, Erdem has studied this cabal of Victorian characters and transported them from the music halls and theatres to London's legendary club scene of the early 1990s. The underground experimentation and celebration of counter-culture feels familiar. The venues are darker and the music is louder but the daring of dressing to become what you are remains unchanged. The energy of personal and collective liberation is palpable.
Throughout the collection, shapes hark back to Victorian fashions with sheered volumes, tulle dresses with flounces, puffed sleeves, beaded capes and voile dresses. Embroidered taffeta, ruched silk voile, sheered lace and satin dresses with yolks and ruffles have an almost couture-like richness that feel decadently playful in their nightclub setting. By contrast, tailoring wool on houndstooth wool, dotted ottoman jacquard and pink wool feels boyish, at times fitted and others over-sized. Various elements are nipped in and puffed out for dramatic effect.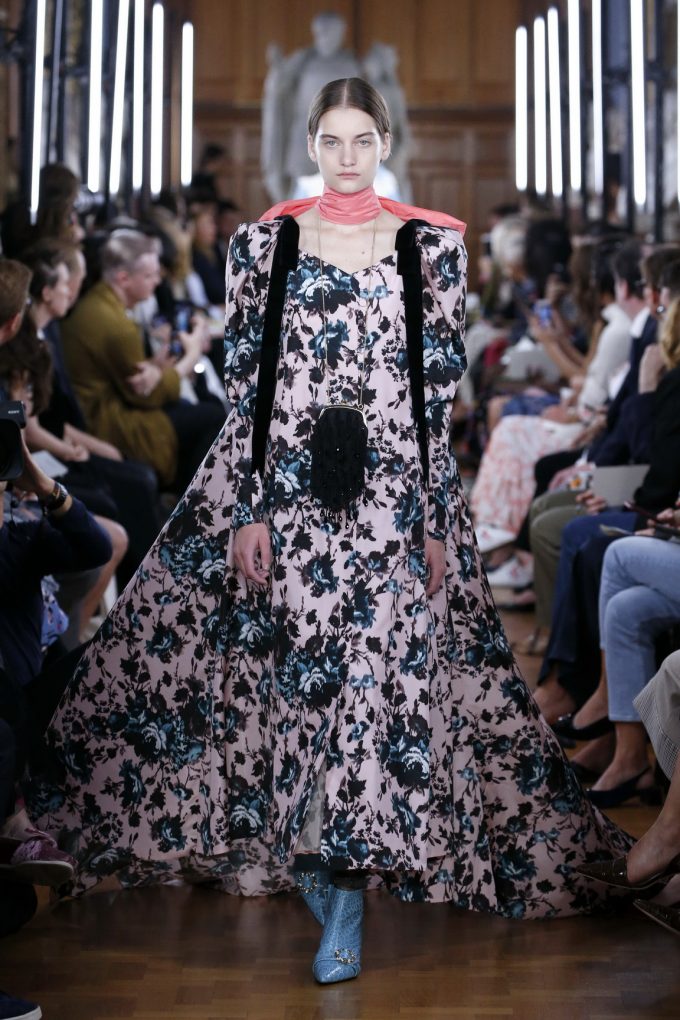 Textiles are printed, distorted and embellished in different ways to feel modern. Polka dots, stripes and sheerness feature widely. A Chine Jacquard is woven and the threads are then shifted for graphic effect. A smudgy, dusky rose print on glassy, reflective satin, taffeta and voile feels simultaneously bygone and bold. There is a striking juxtaposition between softer, subtler lace, satin, voile and organza dresses and more structured taffeta, linen, moire and cotton ottomans pieces. Colour and print treatments are inspired by famous club night posters and flier designs the nineties. Colours have an almost garish brightness reflecting the acid palette of the period and crowd. Sharp pinks, fluorescent blues, yellows and greens are decorated with inky black embroidery, beading and print. They add a vibrant update to the Victorian silhouettes, bringing an electric energy of celebration to the collection. Black tulle boaters with mosquito nets gathered over the face introduce a poetic element to the occasion.
In places they could be for disguise or for glamour; to preserve anonymity or to attract attention. Whether in repressed Victorian times or the hedonism of Nineties club land, dressing up or down to explore one's individual identity was a bold act of self-expression. It defined the counterculture and inspired the culture of the era. Fashions change, attitudes come and go but the courage of dressing to become what you are remains something powerful and primal.
Credits: © Courtesy of Erdem PR